Church offers 'The Living Last Supper'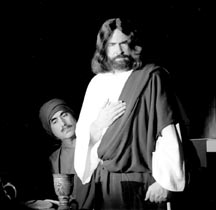 Peace Lutheran Church, 737 Barracksview Road, will celebrate Maundy Thursday, April 17, with a presentation of "The Living Last Supper."
This chancel drama depicts Leonardo da Vinci's famous 1495-1498 painting that shows Jesus partaking of the Pass-over meal with his 12 disciples just be-fore his arrest and crucifixion.
During the meal Jesus told them, "One of you will betray me." The painting shows the startled expression of the disciples, as each wondered if Jesus meant him.
In this presentation of "The Living Last Supper," actors from the church will recreate the poses of the disciples in da Vinci's masterpiece.
One by one each character comes to "life" to share his thoughts and to wonder: "Is it me?" The Chancel Choir from the church adds to the drama with various musical selections and the service culminates with the celebration of Holy Communion.
Services are at 6 and 8 p.m. Maundy Thursday, April 17. Tickets are necessary to guarantee seating in the nave and may be obtained free by calling the church office at 892-5610.