Charter 'citizens' bill of rights' is rejected, won't go to voters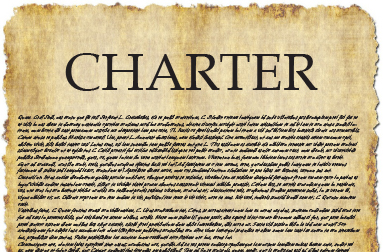 An effort to add a "citizens' bill of rights" to the St. Louis County Charter was struck down by the county Charter Commission.
The bill of rights, introduced by Commissioner Chris Grahn-Howard, would be placed directly after the preamble in the Charter.
The proposal was referred to the commission's Diversity and Equity work group for further discussion Oct. 10, before being edited and re-introduced for a vote at the Dec. 5 meeting.
The proposed bill of rights outlines eight "guaranteed" rights for citizens of St. Louis County: the Right to Access, the Right to Truth in Government, Public Records Access, the Right to be Heard, the Right to Notice, Notice of Actions and Reasons and County Executive/County Council public status reports.
The bill of rights states, "The foregoing enumeration of citizens' rights vest large and pervasive powers in the citizenry of St. Louis County. Such power necessarily carries with it responsibility of equal magnitude for the successful operation of government in the county. The orderly, efficient and fair operation of government requires the knowledgeable participation of individual citizens…."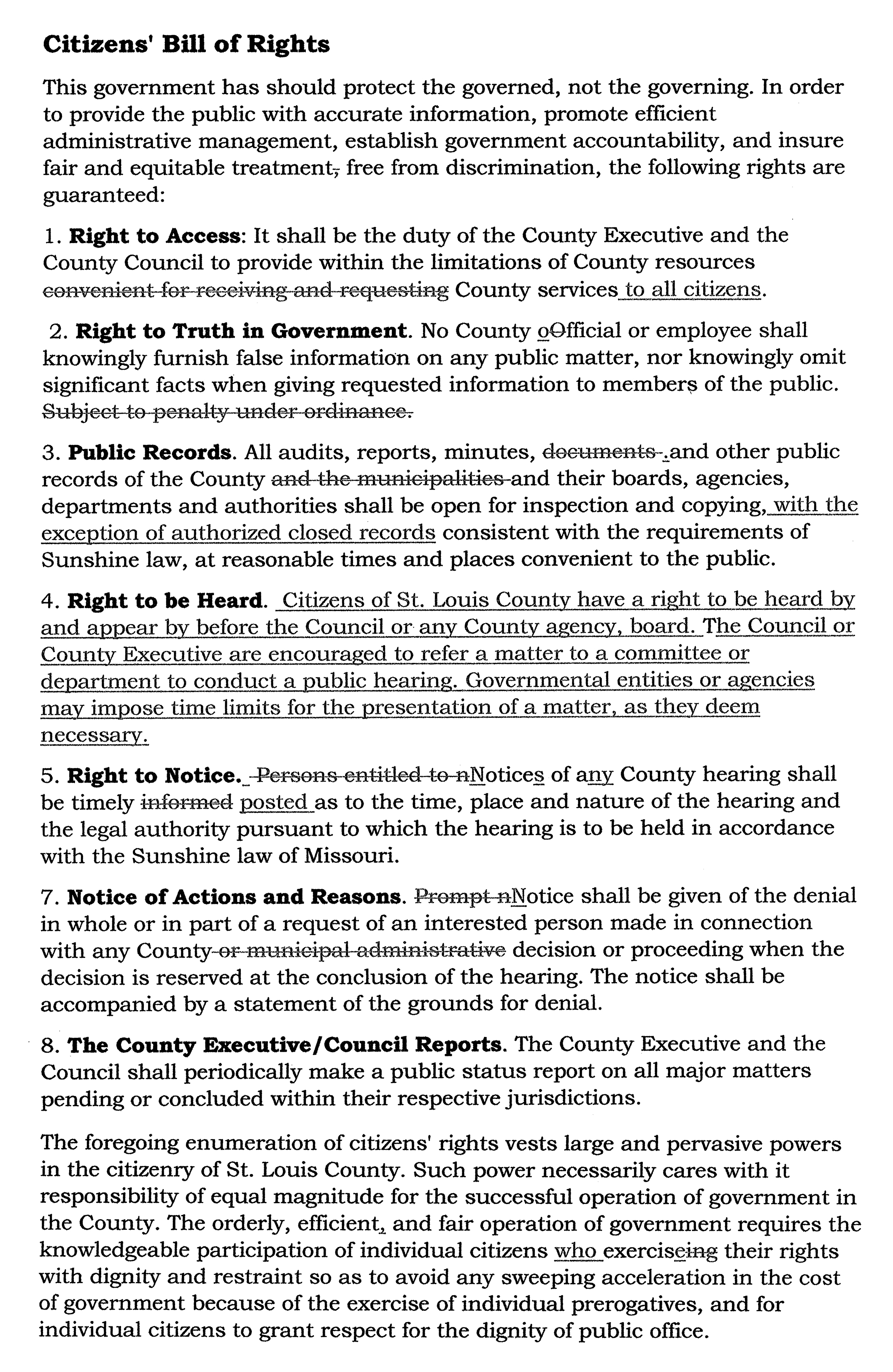 Howard modeled the rights after other counties' bills of rights, like Miami-Dade.
"When I first looked at this I was like, 'You shouldn't have to say any of this.' But I think that in our environment that we're in, we have to say this. I think that if you went to certain places in our county and said, 'Do you believe that you've been granted access to the services of St. Louis?' I don't think we'd get a unanimous yes," said Howard. "Is it perfect? Nothing's perfect. I get that. But I think it's worth stating that we believe if you are in St. Louis County, you have a right to access services and protections that exist within the county."
Commissioners Bob Grant, former deputy county counselor, and Andrea Jackson-Jennings, director of human services, both questioned Howard if the purpose of the "Right to Access" was because of existing deficiencies in the county.
"Is it your belief that our constituents don't believe they are heard and have access?" asked Jackson-Jennings.
"I don't think that we would get a unanimous 'yes' that they feel like they have access… Is it not worth saying that we believe they have a right to that access?" said Howard. "I don't think anyone here believes in discrimination, but we still make a point of saying that we will look at things through an equity lens and we don't want to discriminate… We say it, so why shouldn't our Charter say it? If you don't want to go there, I get it, but I think we're missing an opportunity."
Grant also questioned the use of "citizens" in the bill of rights, particularly with the "Right to be Heard," which states that "citizens of St. Louis County have the right to be heard by or appear… before the council or any county agency, board."
"I still think it's too broad in that I just don't think that it's workable… First of all, we start out by saying 'citizens of St. Louis County.' I think there's a problem there because (it's saying) those are the only people that have this right," said Grant. "If we have someone appear before the County Council, they don't have the right unless they are a citizen of St. Louis County to speak. We're saying only citizens of St. Louis County have the right to be heard by the County Council, which isn't the case."
Commissioner and former Councilwoman Colleen Wasinger said, "It's more of a… welcoming statement about the county at the beginning of the Charter. I think we're getting weighed down in the nitty gritty, which is not the intended result."
The proposal failed 5-4, with Reggie Jones, Sarah Crosley, Howard and Wasinger voting "yes" while Tony Weaver, Gene McNary, Maxine Schumacher, Grant and Jackson-Jennings voted against the proposal.