Campisi elected chairman of St. Louis County Council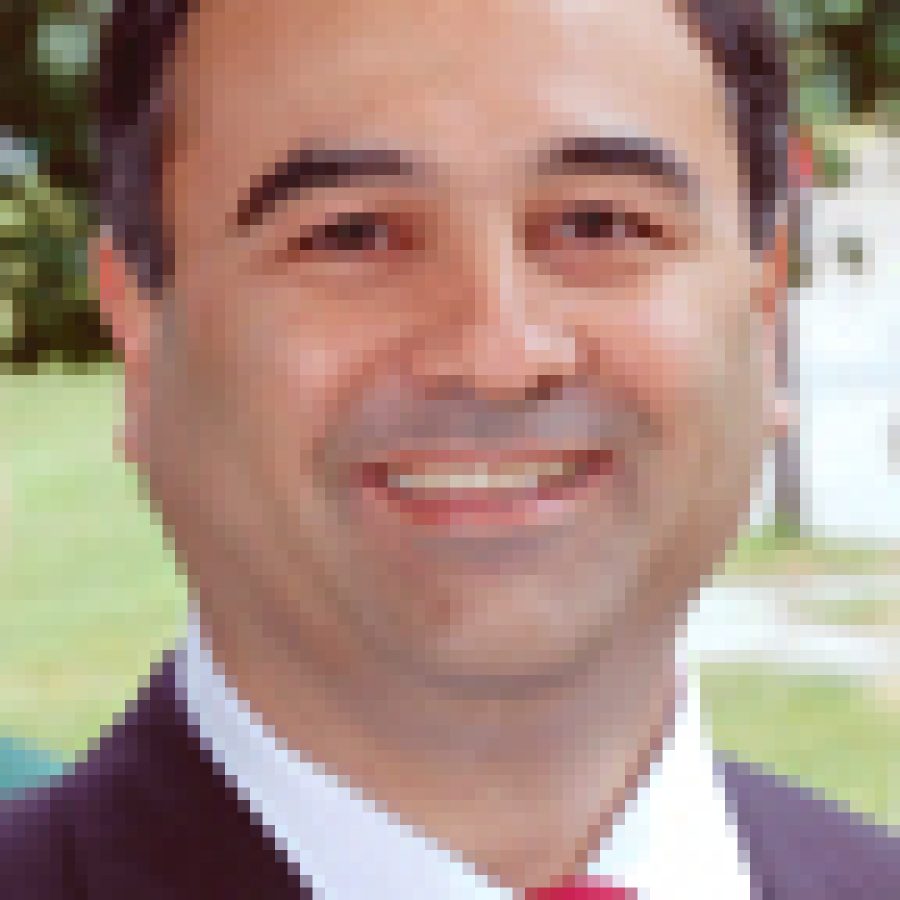 By SCOTT MILLER
Staff Reporter
Diet and exercise aren't on County Coun-cilman John Campisi's New Year's resolution list for 2005 — his plate is full.
Campisi was sworn into his second four-year term as the 6th District councilman Jan. 1, and the council elected him chairman at its first meeting of the year last week.
The south county Republican had served as vice chairman since 2003.
With four more years of work ahead of him, Campisi told the Call he has a slew of goals for 2005.
In particular, Campisi wants more money for the Jefferson Bar-racks Historical Museum, redeveloped residential living quarters in Lemay, a MetroLink expansion in south county and continued business growth throughout south county.
"It's a pretty big chunk to bite off, but if you don't have goals you'll never get anything done. Those are my goals," he said. "Those are my New Year's resolutions."
To know what is on Campisi's future agenda, look to his past.
Campisi acknowledges he had a rocky start to his first term four years ago, not knowing the ins and outs of county government or the avenues to promote growth and change where needed in the community. But he found a path and rode it, roll-calling businesses, seeking them out and giving them incentives to relocate to south county.
Packaging Concepts built a new facility in Green Park, employed 300 people and intends to create 200 more jobs, Campisi said. Gardner Electric reoccupied the va-cant Hill Behan Lumber Co. building and Campisi is working to redevelop the former Stupp Brothers Iron and Bridge Works in Lemay as a manufacturing and warehouse complex.
Plus, Pinnacle Entertainment Inc. is wrapping a deal to bring a $300 million casino to the blighted National Lead Site in Lemay, a project that will generate about 2,000 permanent jobs and nearly 1,000 construction jobs.
"I'm hoping I can expand on that (business stimulation)," Campisi said. "And I want to keep communicating with the people (business owners) I've already helped to make sure nothing falls through cracks."
Posh residential subdivisions also interest Campisi. He has worked with several de-velopers to bring "$350,000 to $400,000" homes to Oakville and hopes to do the same in Lemay. Two companies have interest in redeveloping around 20 residential blocks in Lemay, similar to ongoing single-family housing developments in the city, Campisi said.
"They (the homes) are not going to be attached," he said. "They would be detached."
The new development would spruce up Lemay, he added. Based on county ordinances, homes would sit further off the road with larger yards between them. Two lots would be used for one home, he said.
"Once I've got this nailed down I'm going to start looking at commercial property along Broadway in Lemay," Campisi said.
With his focus on business development, Campisi hasn't forgotten the businesses already thriving in south county. He wants them to stay and said another goal for 2005 is to get the county to purchase land along Gravois Road in Affton for business parking and landscaping, possibly including walking trails to attract shoppers.
"We don't want them (businesses) to leave and you certainly have to help them out," he said. "They're already there."
Campisi also hasn't given up the fight for a MetroLink expansion in south county.
The East-West Gateway Council of Governments studied several options for a south county expansion the past two years, but appeared to back off any of those plans, electing to rehash the research process for a potential expansion in north or west counties.
Campisi supports an 11-mile MetroLink expansion from Shrewsbury along the River Des Peres and Interstate 55 to Butler Hill Road, saying the most people would be served. The route could cost nearly $650 million and a funding mechanism isn't in place. But north or west county expansions don't have funding mechanisms either, and Campisi said he is tired of south county residents footing the bill for north and west counties.
"I may be fighting a losing battle but I can't believe MetroLink paid for all those studies and would just close the book on that," he said. "We could really use Metro-Link down in that area."
Campisi just won a tough battle to keep the Jefferson Barracks Museum off the county's fiscal 2005 chopping block, but he said it wasn't enough.
County Executive Charlie Dooley wanted to close the facility for much-needed cash, but nearly 100 veterans and other museum supporters protested at a public hearing and the Department of Parks and Recreation shifted employee responsibility and gathered enough volunteers to keep the museum open.
But Campisi wants to expand. He said he knows a World War II memorabilia collector who would like to donate to the Jeff-erson Barracks Museum. The problem, the parks don't have a facility to support it.
Campisi wants the county to siphon the hotel-motel tax into county parks, not just JB, but all county parks. Currently, that funding is reserved for tourism development, but Campisi said JB is a national treasure that should be a tourist attraction, as are other parks. The idea has surfaced before with little success.
The county just received a 35-acre parkland donation near Cliff Cave Park and will lease another 296 acres at a nominal price until 2013, when it takes ownership of the land.
The company making the donation will construct a three-mile looped trail winding along the Mississippi River but the 296 acres is mostly flood plain. Campisi would like to develop that land for recreation.
"I'd like to see a study done to see what we can do with that property. I'm going to meet with Lindsey (Swanick, director of the parks department) about that (this) year," he said.
"There's so much to do, four years really isn't enough time when you look at everything you need to get done," he added.