Bersche challenges Haggerty in Sunset Hills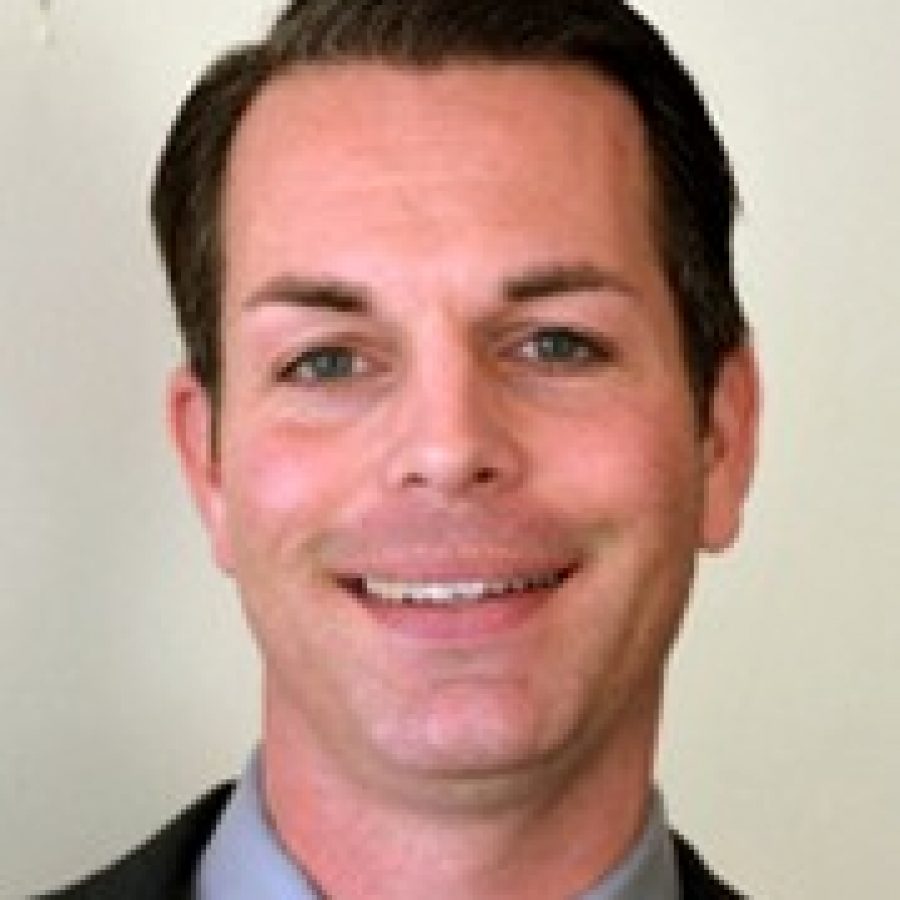 A political newcomer is challenging Sunset Hills Ward 2 Alderman Scott Haggerty in the April 7 election.
Steve Bersche looks to unseat Haggerty, who currently serves as the acting board president.
• "Redirect the energy and the time of the board from fighting — impeachment — to collaboration," Bersche said.
• "Instilling honesty, integrity and class as the values of Sunset Hills without pushing individual agendas that promote a 'style' that is unbecoming and self-serving," Haggerty said.
Bersche, 37, 8700 Walter Midway, 63127, is employed in real-estate sales. He and his wife, Renee, have two young children.
Bersche, who has not held elective office, said he is seeking election because he "did not like what is going on in Sunset Hills and felt it was time to get involved and try to make a difference."
Haggerty, 57, 9222 Saddlebrook Drive, 63126, is a real-estate broker. He and his wife, Karen, have five grown children.
Haggerty first was elected to the board in 2009, defeating longtime Alderman John Littlefield. He was unopposed in 2011 and 2013. Haggerty said he is seeking re-election because "I was encouraged by a number of voters in Ward 2 who originally heard me speak in opposition of eminent domain and then against two proposed developments that did not seem to benefit Sunset Hills as a whole and Ward 2 specifically. I want to continue to oppose encroachment of businesses on Ward 2, and continue the progressive pace we are on since my election …"
Bersche said, "Due to the constant discontent within the Board of Aldermen, it's not very clear what direction the city is moving in. It should not be that hard to work together and move Sunset Hills forward in a positive direction."
Haggerty said, "I do not agree with Mayor Mark Furrer's argumentative style of forcing his agenda forward. It is 'his way' — or — 'get out of his way.' He is insulting and demeaning to those who disagree and challenge him. I feel the city is still moving in a positive direction in spite of the mayor's 'style' of unacceptable and unprofessional behavior. I have great respect for the office of mayor and will continue to help … any mayor regardless of any differences in opinion. I have witnessed other mayors seek what is best for Sunset Hills and have also witnessed Mayor Furrer seek what is best for Mark Furrer."
Bersche said, "I don't know former Mayor Bill Nolan."
Haggerty said, "I believe former Mayor Nolan had a genuine love and positive passion for the city. I was Bill Nolan's harshest critic upon his election as mayor and still challenge him. However, he was fair in his dealings with me and those I observed. Bill Nolan and I disagreed on many, many issues, but you could disagree, come to a resolution, shake hands and set those differences aside. I respect former Mayor Nolan."
Bersche said, "No. We are already running a deficit. It is ludicrous to spend taxpayer dollars to attempt to impeach someone before they have had their day in court. If the mayor is found guilty, by law he must resign. That seems pretty simple to understand — innocent until proven guilty."
Haggerty said, "I believe everyone and Mayor Furrer are innocent until proved guilty. If the majority of our residents again voice their opinion that the board should proceed with an impeachment hearing, then I will support that directive."
Bersche said, "Mayor Furrer has repeatedly refused to step down from office. The impeachment proceedings brought by the board with the intent to use taxpayer money is furthering the black eye on Sunset Hills and is setting the stage for a scenario similar to Ellisville, in which the people that lose the most are the taxpayers.
"Let the man have his day in court and let's try to get along and move the city forward in a positive direction in the meantime."
Haggerty said, "Yes, I believe Mayor Furrer should have taken a leave of absence immediately upon the issuing of felony charges. If the mayor wanted to try his case to prove his innocence, he could have directed his attorneys to expedite the process with a quick trial. Teachers, police officers, firemen, sport professionals and CEOs are directed to immediately take a leave of absence to concentrate on their legal issues and remove the spotlight from their respective organizations upon actions with lesser accusations. Why won't the mayor offer the same respect for the residents and the city of Sunset Hills?"
Bersche said, "We should provide more facts about public safety, but I do not think it should be outsourced."
Haggerty said, "The Police Department should be retained and not have the services outsourced. Unfortunately, Mayor Furrer tried to make the police chief resign and had research done on outsourcing our department, which eroded morale in the police ranks and caused citizens to contact us asking why 'we' wanted to remove the chief and rid the city of the department.
"Cooler heads of the Board of Aldermen and the Police Advisory Board prevailed by setting a higher benchmark of support and security for the Police Department and for the citizens ensuring an open process."
Bersche said, "I do not have enough information to form an opinion. I do feel it is important to comply with the sunshine law to promote transparency."
Haggerty said, "I don't believe so in the area of emails. It is easy for a string of emails between a number of elected officials to get passed around before the strings of emails are delivered to the city clerk. The biggest struggle seems to be with the newly elected as they still don't have a good grasp of the importance of being completely transparent at all times. We all have fallen short of being fully compliant.
"Even though I have been scolded by officials and residents for sharing emails that should be subject to the Sunshine Law, I will continue my open and transparent practices."
Bersche said, "The media should be charged the same fees as anyone else that is making a Sunshine request."
Haggerty said, "No — I prefer to have no charges for anyone with a Sunshine request."
Bersche said, "There is always the right tool for the right job. You don't use a saw and a hammer for the same thing. Tax-increment financing should be focused on bringing a new HQ or industry to the city only if it can pay the bond back in a timely manner. If the goal is to move retail around, that should be able to happen without using tax-increment financing."
Haggerty said, "Tax-increment financing is a great tool when federal funds are not available in truly blighted areas where a municipality needs to promote development. The city of Sunset Hills has used TIF for previous projects and they have worked well and have been paid off early. However, I do not currently see any blighted areas that need TIF help because a developer is unable to make a project work without the TIF. I believe if a developer invests their own money into a project, they will be certain that it is a viable, healthy and successful venture for their own investment and for our city.
"Tax-exempt bonds are another form of financing a project that offers a decent rate to the purchaser and offers tax savings to the individual while making it attractive to invest in a community, which will not affect the tax receipts to schools and services, as would a TIF."
Bersche said, "I am against eminent domain when it has to do with taking private property. I do support it in the case of a vacant or dilapidated building that does not comply with current rules and regulations."
Haggerty said, "Wow, now here is a sore subject for many of us in Sunset Hills. My short answer is, I am against eminent domain. I feel it is a travesty and an embarrassment as a citizen of Sunset Hills to fall into the trap of eminent domain for a developer, with the help of elected officials, to secure property for their development.
"Eminent domain originally served a great purpose, but has evolved into an ugly tool and has been abused by entities for the wrong purpose. Eminent domain could work well in a blighted and abandoned area to revitalize and encourage growth, but I currently cannot identify any area within our city that falls under those parameters."
Bersche said, "In my opinion, we have the best location in the county. We have the best school district, lots of parks and green space, a great mix of different types and price ranges of homes. I would love to see more residential and commercial development, but it has to make sense.
"We have a limited amount of space, and we need to be extremely careful in choosing what is going to go in that space. Instead of rolling out the red carpet to the first person that wants to develop available land, we need to get residents' input on what we truly want."
Haggerty said, "My vision for the city would be to strengthen our commercial corridors so our businesses remain profitable and viable to the needs of our residents — identify and protect our beautiful residential areas to prohibit commercial developments from encroaching on them.
"I would like to see an exciting commercial strengthening of the three key corridors and an establishment of an Architectural Review Board that will help maintain continuity of the newer developments (and) will add class and stature to our city."
Bersche said, "As an avid cyclist who rides at least two and sometimes three times a week when the weather is above 40 degrees, I would love to make it more bicycle friendly. If money were no object, I would love to follow the plan Boulder, Colo., has implemented, with dedicated bike trails that will get you to all the same places that a car would.
"Since I live in reality and money is an object, I propose following the rules of the road and being careful and aware, both when riding a bike and driving a car."
Haggerty said, "Yes, we should adopt a higher level of bicycle awareness and acceptance of sharing our roads. Implement the Missouri Bicycle Act that has been proposed to our Parks Department and our Public Works Department and ask MODOT (Missouri Department of Transportation) to allow that same access on Lindbergh, Watson and Gravois roads."
Bersche said, "Yes."
Haggerty said, "Yes — I feel it is extremely unethical to tape record someone without their knowledge. I believe it shows little respect and displays a lack of moral conduct to (not) be open with another individual. I would not trust someone who knowingly recorded another without their knowledge."
Bersche said, "I do not have anyone else to compare him to that I have seen serve as Sunset Hills city attorney. Based on that, I don't feel I have enough information to form an opinion on his performance."
Haggerty said, "I am very satisfied with our city attorney's performance. Attorney Jones performs his duties with class, honesty, integrity, thoroughness and humility on short notice and oftentimes in front of the firing squad."