Barket withdraws proposal for mall; challenges city's mayor to a debate
Schlink, Barket agree not to discuss mall with press for 30 days, mayor tells Call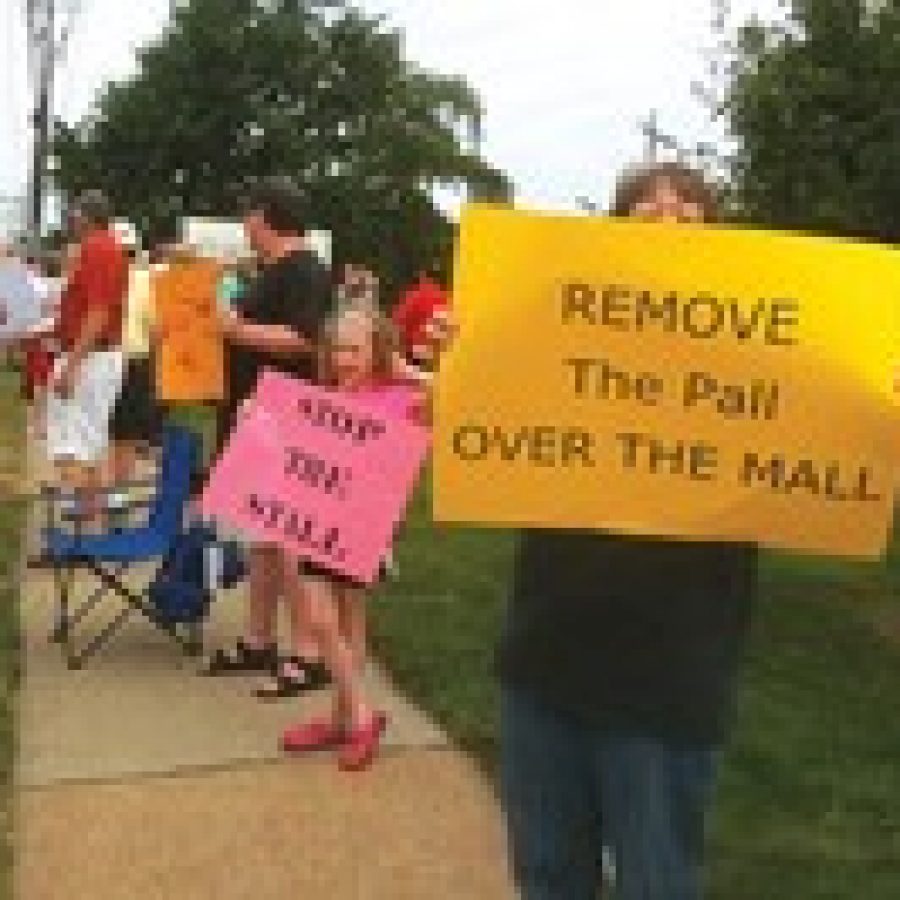 In the wake of his appearance at a work session of the Crestwood Board of Aldermen in early July, Centrum Properties partner Sol Barket has kept busy emailing city officials, telling them last week that he is withdrawing his redevelopment proposal and challenging Mayor Jeff Schlink to a debate.
In an email last week to the Call, Barket confirmed that he is withdrawing his plans to redevelop Crestwood Court. Centrum owns the former Crestwood Plaza mall site along with Angelo, Gordon & Co.
"Yes, we are proceeding to break up the property into pieces (and) sell off outlots," Barket wrote. "We really have no choice in the matter, this is what we have been forced to do …"
When the Call went to press, however, Centrum had not yet formally withdrawn its proposal with the city.
Centrum had proposed an open-air entertainment and retail venue with restaurants, a movie theater, an upscale bowling venue and retail shops.
As part of the $121 million redevelopment project, Centrum requested public subsidies, including $26.6 million in tax-increment financing, or TIF.
Schlink's announcement at the July 23 Crestwood Board of Aldermen meeting that Barket withdrew his proposal by email caused confusion among board members over whether they could still vote on a planning study for a redevelopment proposal that may be off the table.
The meeting followed a rally and prayer vigil attended by roughly 100 people who called for the city to "Remove the Pall Over the Mall" and "Stop the Stall" by moving forward with Centrum's redevelopment proposal. The rally was organized by Metropolitan Congregations United and city residents.
So far, Centrum's proposal has evenly divided Crestwood's eight-member Board of Aldermen 4-4, even after four new members were elected to the board in April.
In a July 19 email sent to Schlink and other city officials, but not the Board of Aldermen, Barket said if the redevelopment planning study by Peckham Guyton Albers & Viets, or PGAV, was not officially listed on the July 23 board agenda, his proposal would be withdrawn.
"If we are not on the agenda for Tuesday, consider our proposal withdrawn," Barket wrote. "I will notify the press and my tenants on Monday afternoon … If we cannot sell piecemeal as I have described, we will wait until after the April election when we can deal with a new mayor … If you believe I am bluffing as you so often do, be my guest and test it …"
At the board's July 9 redevelopment work session, Barket said Centrum is pursuing the possibility of parceling off the lot and donating it for a tax write-off to nonprofits, including schools and churches. For years, CVS has been interested in leasing the corner of Watson and Sappington roads for a drug store, he noted.
In a July 22 email to Schlink, Barket said he is confident that by parceling off lots, Centrum could get a return close to the $17 million it paid to Westfield Group for the mall in 2008.
Centrum representative Rebecca Hawkinson declined to comment on the withdrawal of Centrum's proposal from the city.
In an email sent the night of the board meeting, Barket disputed a TIF figure a television reporter had attributed to Schlink and challenged the mayor to a debate.
"I am challenging the mayor to a debate at the date of your choosing, so long as it is soon," Barket wrote. "We will debate these and other outrageous claims the mayor continues to make unfounded … He is not qualified to make statements and comment on anything that he says to the press and constantly ignores the facts, not because he is a bad guy but because he doesn't understand the issues and is simply not qualified to make the assumptions that he does …
"If the mayor is amenable, myself or a representative from ownership will do a live debate with the mayor to discuss any issue he feels he has with our project and what he feels is a better option."
Schlink told the Call this week that he and Barket agreed not to discuss the redevelopment proposal with the press for the next month.
"In my opinion, this matter has collected and attracted too much negative attention," he said. "Centrum and I would like to improve the community and we need a breather."
Although Barket agreed during the work session to look into an environmental study paid for by the state of Missouri, he later told Schlink in an email that he would only agree to the environmental study if the board agreed to hire the planner.
"With respect to the Missouri review … I told you I would cooperate with you," Barket wrote to Schlink, City Administrator Mark Sime and then-City Attorney Rob Golterman July 21. "I am not cooperating, however, until the city moves forward on our request to engage PGAV… Bottom line, if you can get us on the agenda Tuesday night and have a vote of PGAV, we will consent to your initiative to bring in the state of Missouri, whatever form that might be …"
At the board meeting, Bob Sweeney, who lives next to the mall site, said, "If the planner is hired, you have the opportunity to then review what is going on and to review the plans and make sure that … money is not wasted, that the environment is protected and that you get what you pay for."
Mary Chubb, a Sunset Hills resident who is a member of Metropolitan Congregations United, said residents rallied to urge the board to move forward with hiring a planner.
"It was the residents trying to express their frustration and anger with the lack of action and wanting a planner to be selected," she said.
Some of the residents who spoke in favor of Centrum's redevelopment proposal said they oppose corporate welfare but support government subsidies in the form of TIF in this case, since the mall has sat mostly vacant for so long with no private development initiatives other than that of Centrum.
Jennifer Bird, however, said she is opposed to corporate welfare in all cases, including this one. Bird, a Crestwood resident, is the Gravois Township Republican committeewoman and a state Republican committeewoman.
"If you have skin in the game, put your skin in the game and take the risk like the rest of us who have small businesses do," she said. "… We could move forward, and we could move forward over a cliff … I'm glad you're not caving to the whining, crying, bullying and demanding that I'm hearing."