Attorney General Nixon won't issue opinion on tax-decrease proposals
Bivins considering introducing tax-rate decrease legislation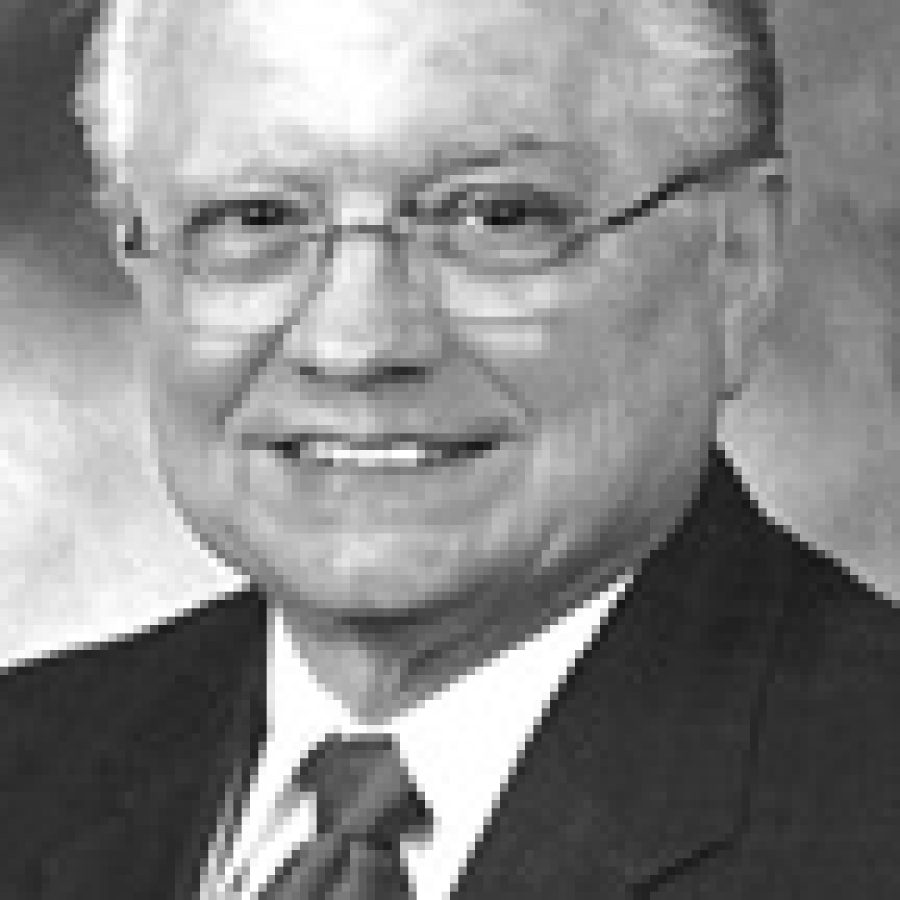 A state representative from Oakville says he's disappointed Attorney General Jay Nixon will not issue a legal opinion about whether "a fire protection district within the state of Missouri may vote to reduce its current tax-rate ceiling."
Rep. Walt Bivins, R-Oakville, requested the opinion in June from Nixon. At the time, Bivins told the Call his request was sparked by a judge's ruling earlier this year removing a tax-rate-decrease proposal that had been placed on the ballot by the Mehlville Fire Protection District Board of Directors.
In a Sept. 4 letter, Deputy Attorney Gen-eral Karen King Mitchell cited the court ruling and told Bivins that the Attorney General's Office "must decline to provide the opinion you request."
Her letter stated, "In an order dated Feb. 9, 2007, the St. Louis County Circuit Court prohibited the St. Louis County Election Board from placing such a proposition on the April 3, 2007, ballot in the Mehlville Fire Protection District … Because the issue has been decided by a circuit court, we must decline to respond to your request."
Bivins said Saturday, "Well, you know, I was disappointed that they decided that they wouldn't take a position one way or the other. I'm sure that as the state's attorney that they would have an opinion on that type of thing, but they declined to express that opinion, which I find disappointing."
In January, Mehlville Fire Protection District board Chairman Aaron Hilmer and Treasurer Bonnie Stegman voted to place Proposition TD, or Tax Decrease, on the April 3 ballot. Then-Secretary Dan Ottoline participated in the meeting by telephone and was unable to vote under the provisions of the Missouri Open Meetings and Records Law.
The ballot language for Proposition TD stated, "Shall the voters of the Mehlville Fire Protection District decrease the general tax levy available to the district by 45 cents per $100 of assessed valuation? This proposition is based upon the 2006 assessed valuation for the district and equates to a total tax reduction of approximately $9.75 million per year. The foregoing shall not be subject to any tax rate reduction rollback."
Concord resident Dennis Skelton filed a lawsuit Feb. 7 seeking the removal of the tax-rate-decrease measure from the ballot.
Skelton's suit named the county Board of Election Commissioners and the Mehlville Fire Protection District as defendants.
Skelton, who ran as a write-in candidate for the fire district Board of Directors in April, was defeated by Ed Ryan, who now serves as board secretary.
In a ruling issued Feb. 9, Judge James R. Hartenbach ordered the Board of Election Commissioners to remove Proposition TD from the April 3 ballot.
"The court orders that the St. Louis County Election Board is prohibited from placing Proposition TD on the April 3, 2007, ballot in the Mehlville Fire Protection District," Hartenbach stated in his order.
But Bivins told the Call he sought a legal opinion from Nixon because Hartenbach did not provide any legal reason for removing Proposition TD from the ballot.
"… I guess that really goes to the point of why I was disappointed that the Attorney General's Office chose not to express an opinion. Had they expressed an opinion, surely they would have cited some point of law … What's the point of law that the judge made the decision on, and what would be the point of law that the attorney general would decline to go any further with this? Neither one of them cited any point of law," he said.
While he believes Mehlville taxpayers deserve an explanation why Proposition TD was removed from the ballot, so does the Legislature, Bivins said.
"Really the Legislature does, too, because if we're not cited a point of law, it's hard for us to go in and make any correction. Although we can do that, it's better if we know some specifics so that we can then change the law where the taxpayers do have a chance to vote on lowering their taxes," he said.
"… Again, I'm disappointed that he decided to do that and I guess when it comes time to file legislation we'll take another stab at it and see if folks understand what we're trying to do," Bivins added. "I would be amenable to introducing legislation to allow people to vote to lower their taxes …
"I think in light of all that's happened with the reassessment and the concern folks have with property-tax increases that it would be very popular amongst the legislators, but we'll see."
Shortly after Hartenbach removed Proposition TD from the ballot, Rep. Jim Lembke, R-Lemay, told the Call he would introduce legislation that would allow an elected board to place a tax-rate decrease before voters. But three months later, Lembke changed his mind and said he would not introduce any such measure.
"If I would have had a groundswell of people saying we want the ability to be able in this case to lower our taxes, I probably would have pursued it," Lembke told the Call in May. "But it was just the opposite. I didn't have feedback from my constituents that they thought we needed a change in the way it currently works."
A recent statewide poll found widespread support for voters' ability to consider a tax-rate-decrease measure. The poll, conducted by Public Pulse Research of Chesterfield, asked: "Thinking about your local property taxes, should citizens have the right to vote on tax-decrease proposals just as they currently are able to vote on tax in-creases such as bond and tax levies?"
Of 600 respondents, 83 percent said they supported the right to vote on tax-rate-decrease proposals. The poll carries a margin of error of plus or minus 3.5 percent.
Hilmer told the Call he was disappointed by Nixon's decision not to issue a legal opinion in response to Bivins' request.
Asked if he knew the legal reason why Proposition TD was removed from the ballot, he said, "That's a question we had back on Feb. 9th and it's a question that we still have today. This letter, this piece of correspondence from Jay Nixon's office, doesn't help to clear that up at all.
"This gives voters a real-time look to see what Walt Bivins, Bonnie Stegman and Ed Ryan are trying to do, and that's to help them lower their property taxes. And all they're running into is closed doors and brick walls. But at the same time, voters can see how other local political subdivisions can spend money on public-relations firms to try to tell the public why they need to increase their taxes and that goes on all the time. So I think that's an interesting contrast in how government is so against the little guy," Hilmer added.