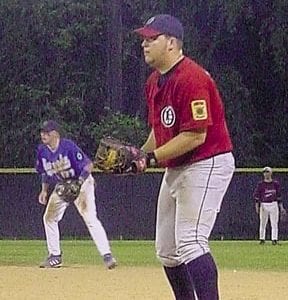 By STEPHEN GLOVER
For the Call
Sunday evening was more than just hot and muggy — it was explosive.
The word explosive might be an actual understatement as the South All-Stars defeated the North 21-5 in the American Legion District 10 All-Star game in Ballwin.
"The guys hit the ball really well tonight," said Oakville Head Coach Ryan Hetzer, who coached the winning team. "From the start of the game and on through, we kept hitting them inning after inning. That was definitely the story of the game."
The South All-Stars cranked out a whopping 19 hits and committed three errors in the lopsided win.
"You can't really pick one offensive star when there are so many different guys that are contributing," Hetzer said. "It was one heck of an offensive effort by the south team."
Despite every player on the south all-star squad contributing in one fashion or the other, Crestwood's Chris Zellers was named the team's Most Valuable Player.
"Chris is a really good player," Hetzer said. "He's a good hitter and outfielder and just a solid all-around player. He got us started as the second batter in the game by hitting a ball over the center fielder's head. It really set the tone for the night."
Also representing Crestwood in the all-star game was starting pitcher Tom Kammerer.
This season Kammerer was one of Crestwood's more successful pitchers with a record of 3-2 overall and a 4.59 earned run average in 50.3 innings pitched.
He led Post 777 in strikeouts (28) and kept his opponents to a .278 batting average.
Oakville had six representatives on this year's All-Star squad. Tylar Faulstich and Rob Bueltmann represented the Oakville pitching staff, while Tim Seago played at the catcher's position.
First baseman Jason Perniciaro and second baseman Jimmy Hurst saw time in the infield while Andy Hecht served as a designated hitter.
"If you were to ask me to single out a few guys it would be really difficult," Hetzer said. "Perniciaro and Zellers had a couple of doubles and beyond that everyone really pitched in. It was a good effort all the way through."