Affton School District lowers its tax rate even more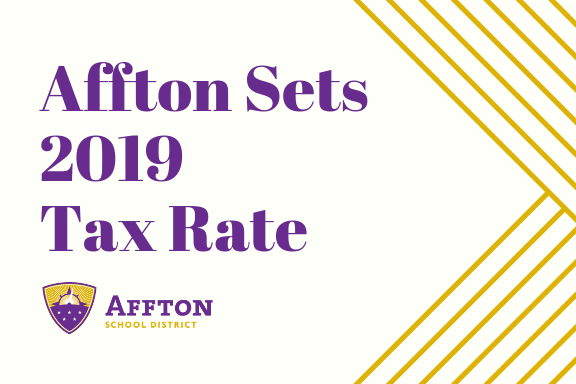 The Affton Board of Education rolled back the property tax rate for taxpayers in the Affton School District even more this year.
The school board unanimously approved the 2019 blended tax rate of $4.9191 Sept. 24. This includes a voluntary tax rollback of 35 cents the board chose to take in 2017, as well as a 55-cent reduction required by the Hancock Amendment of the Missouri Constitution due to higher property values in the district. 
"Due to an increase in assessed valuation of properties in our community, Affton School District is further reducing our tax rate by 55 cents," said Patricia Zahn, president of the Affton Board of Education, in a news release. "In addition, we will continue to forego funds that would be made possible by Proposition I, an operating tax levy increase approved by voters in November 2016. The Affton Board of Education takes our commitment to fiscal responsibility very seriously, and it's important that we help ease the tax burden on the Affton community whenever possible."
In instances of increased assessed valuation, the Hancock Amendment requires taxing entities, including school districts, to lower their tax rates. Its goal is to cap increases seen by taxpayers at the rate of inflation.
Affton says the district "has continued to honor its commitment to the community by investing" over $3.2 million in capital improvements throughout the district in the 2018-2019 school year.
During that time, funds generated from Prop N, the 49-cent bond issue approved by the community in November 2016, have been used toward completing capital improvement plan renovations at Gotsch Intermediate School.
"It is important that we ensure the Affton community continues to see a positive return on their investment in our students, teachers and schools," Superintendent Travis Bracht said in the release. "Not only do we want to help keep our community strong, but we want to see continual improvement in our schools and the opportunities available to our students." 
Capital improvement plans for the 2019-2020 school year include applying a larger portion of the overall blended tax rate, roughly $4.2 million, toward:
Improving safety and security throughout the district, including the installation of intruder safety film on windows, additional security cameras, and replacement of exterior doors;

Updated marquee signage at each building in  the district;

Refreshing classrooms, hallways and learning spaces at Affton High School and Rogers Middle School; and 

Making progress on routine maintenance and repairs throughout the district.
Visit afftonschools.net for updates on Affton School District and Props I and N.