Adworth Senior Living plan is OK'd by Planning Commission
South County could get more senior housing in plans under consideration by St. Louis County.
The county Planning Commission voted 7-0 last week to recommend approval of a senior living complex at Adworth Drive in South County. Commissioners Molly McHugh and Keith Brooks were absent.
The commission first heard the proposal for a conditional-use permit, or CUP, from petitioner Adworth Senior Living LLC to build a three-story facility on a 2.83-acre lot at a public hearing in July.
"Adworth Senior Living" would be located at 1025 and 1031 Adworth Drive, near the Taravue Park Apartments and behind Home Depot in Lemay. The property is zoned for R-7 residential and is in the 6th District of the County Council.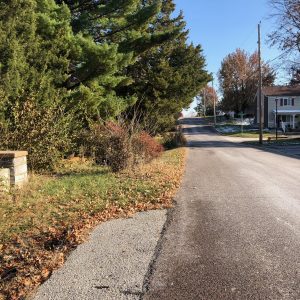 Under the original plans, the company submitted a proposal for a 71-unit senior living facility with 50 assisted living units, 48 one-bedroom and two two-bedroom, a theater and 21 memory care units for individuals with dementia or illnesses. The minimum age would be 62. Units range from 450 to 500 square feet.
It would be set back 39 feet with a 10-foot drive aisle set back from the northern property line, near single-family residences.
Following the public hearing July 15, the petitioner returned to the commission with a revised plan to address some of the concerns that were raised at the public hearing, such as setback from the single-family residences and stormwater retention.
The revisions included increasing the setback to 81 feet with a 49-foot drive aisle setback, as well as making the building more compact by varying it between two and three stories in height instead of the partial one-story original design. This allows a smaller footprint and pulls the building away from the nearby homes.
The initial design also had stormwater detention facilities primarily under the facility's parking lot, but revised plans now have them above ground with an increased northern landscape buffer.
The project was delayed for a few months as both the county Department of Planning and council Presiding Officer Ernie Trakas, who represents the 6th District, shared concerns about water runoff from the facility onto adjoining property.
Trakas is also hesitant to add another senior living facility in South County, but he said he doesn't have as much leverage over the project as he does others since the land is already zoned for a senior-living facility and the zoning is just for a CUP.
"I think District 6 has more than enough apartments already, but that's fine," Trakas told The Call. "I do have the right to ask for a review, and I'm fully prepared to do so if I'm not satisfied… All of this goes back to my position that if we're going to have apartments in District 6, they have to be the right type and the right place and for the right reasons."