About 115 Daisy, Brownie Girl Scouts participate in ''Little Acorns'' camp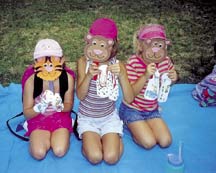 About 115 Daisy and first-year Brownie Girl Scouts from District 1 recently attended a day camp at Bohrer Park called "Little Acorns."
The theme of the event was "Going Nutty for Dr. Seuss." Each activity pertained to a famous Dr. Seuss book.
The campers decorated socks — "The Foot Book," made masks — "I Want to Be Somebody New," played a balancing game and made hats — "Cat in the Hat," took an ABC hike — "Oh, the Place You'll Go," and saw a play based on the popular book, "Horton Hears a Who," performed by Cadette Troop 1264.
Units of girls called the "Yertles," the "Sneetches," the "Thidwicks" and the "Snorts," to name a few, attended the "Little Acorns" day camp.
As a service project, the campers brought 272 new or slightly used children's books that were donated to Our Little Haven for expanding its library.
More than 60 full- and part-time adult, Cadette and junior aide volunteers staffed the camp. The "Little Acorns" day camp is conducted every two years. The event gives the youngest Girl Scouts a taste of what a day camp is all about by offering a three-day instead of a five-day event, and by conducting the camp only three hours each day instead of six hours.