Wright City superintendent named new Mehlville leader
Board offers Gaines a three-year contract; Gaines 'excited' about opportunities here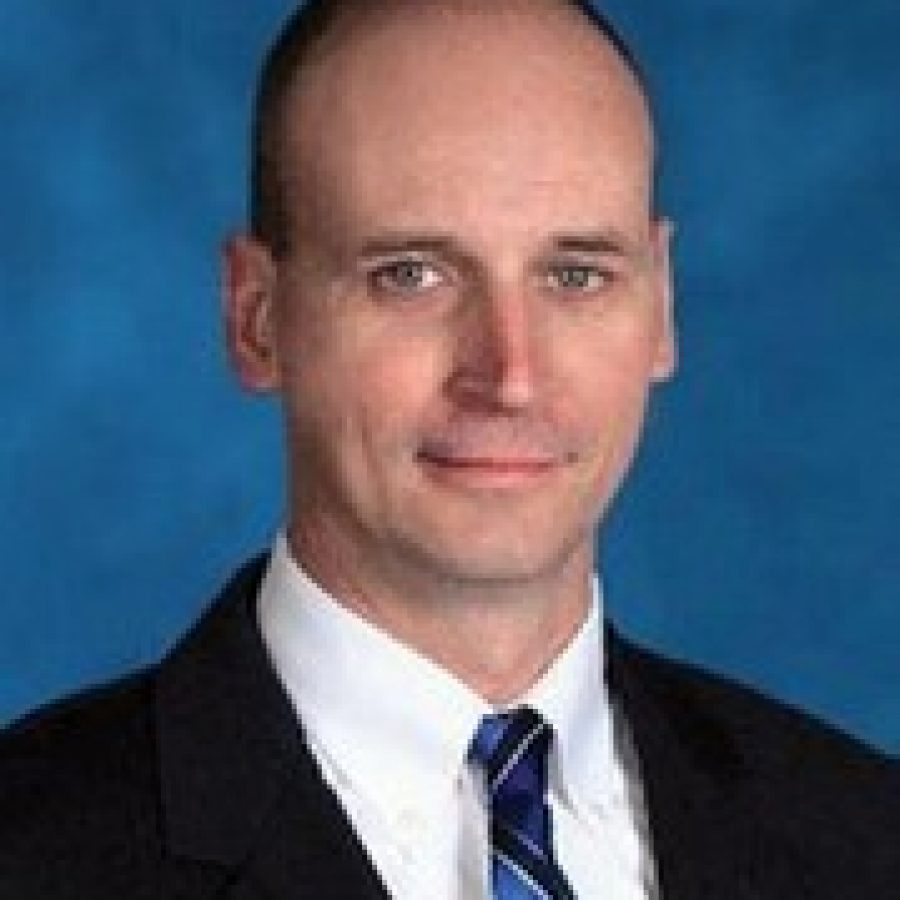 White smoke may not have literally risen from Central Office, but Mehlville School District officials are excited and hopeful that their new superintendent has just what the district needs at a critical juncture.
The Board of Education voted 4-3 during a Feb. 5 closed session to hire Wright City Superintendent Chris Gaines. Gaines, 44, has a combined 14 years of experience as a superintendent, leading two small districts.
Board members Larry Felton, Samantha Stormer, Katy Eardley and Jean Pretto voted in favor of hiring Gaines. Opposed were board President Ron Fedorchak, Vice President Venki Palamand and Secretary Lori Trakas.
Gaines will start in Mehlville July 1, pending his release from his contract with the Wright City Board of Education Monday night — after the Call went to press. The Mehlville board has offered Gaines a three-year contract for $185,000, and while negotiations are not yet complete, the board will vote to offer Gaines a contract Feb. 19, Fedorchak said.
For the past seven years, Gaines has helmed Wright City, a 1,500-student district in Warren County next to the Wentzville School District. Before that, he led the 1,400-student Crawford County School District in Cuba for seven years.
Gaines has a doctorate from St. Louis University and began his career in education in his native southeast Missouri as a science and math teacher, girls' basketball and golf coach, bus driver and high school principal. He and his wife, Debbie, have a son Zack, 10, who will attend school in Mehlville. The family plans to move to the district, where Gaines' mother-in-law already lives.
"We're excited about the opportunities in Mehlville and getting to know folks and becoming part of the community," he told the Call.
Gaines known as 'The Paddling Superintendent'
Gaines is reminiscent of former Superintendent Eric Knost in that he has an active online presence on Twitter and a blog where he posts as "The Paddling Superintendent," referencing his hobby of canoeing and kayaking.
"He's a tremendous advocate for public education, so we're fortunate again to have a very talented superintendent," Fedorchak said. "And hopefully we'll have him here for the next decade."
"We had three highly qualified candidates and although my vote was not for Dr. Gaines, he has my full support," Palamand said. "I will do everything in my power to help him and the Mehlville School District be successful in the years to come."
Board member Larry Felton declined to comment specifically on Gaines before the Call went to press, since the district had not yet officially announced his selection. None of the other board members who voted for Gaines responded to requests for comment before press time.
Gaines matches much of the wish list that board members ticked off during the superintendent search: a sitting superintendent who is well-versed in strategic planning and continuous improvement with family ties to the district, a track record improving academics and proven experience in budget cuts and bond issues.
The academic improvement Gaines brought to Wright City im-mediately jumped out at board members, Fedorchak noted.
"Everybody recognized that the first thing he had in his favor was his ability to transform Wright City from one of the worst schools in the state to moving them into the top third in a short period of time," Fedorchak said.
When Gaines started at Wright City, the district was ranked 499 out of 522 Missouri school districts, but it now ranks near its neighboring districts Wentzville and Francis Howell, Gaines said.
He credits that improvement largely to an academic focus, spurred by strategic planning and comparative data. Interim Superintendent Norm Ridder knew Gaines through their shared interest in strategic planning, which Ridder has brought to Mehl-ville this year.
Ridder said he believed all the finalists were so strong that any would fit into Mehlville.
But he referred to a countywide gathering of superintendents at Education Plus last week where he looked around the room at superintendents from every district in St. Louis County and said it was not hard to imagine Gaines in particular fitting in as the representative of Mehlville.
"I do feel that as you think about it, his background and his personality and everything, he's Mehlville," Ridder said. "So when Mehlville's at the table (at Education Plus), they're just going to look at him and say, 'Yeah, that's Mehlville.'"
Strong field of finalists causes split vote
Gaines beat out two other finalists for the top position, Mehlville Assistant Superintendent Brian Lane and Clayton School District Assistant Superintendent Greg Batenhorst.
The split vote on Gaines was a reflection of how strong the other candidates were and how close the final decision was, since board members cast a vote only for their first choice, board members and Ridder told the Call.
"It was kind of a horse race all the way through," Felton said. "We came down to three people that all had very sound qualities and would all be successful as superintendents."
Because the finalists were so close in the eyes of board members, they held a focus group of 24 residents, parents, staff members and former board members that interviewed the finalists Jan. 31 and ranked them based on criteria recommended by the board's search consultant, the Missouri School Boards' Association, or MSBA.
"The three candidates were all just really right on, and it was hard," Ridder said. "And you can tell by the data from (residents') responses that it was a tough decision."
The focus group came back with similar observations on strengths and weaknesses as board members, which made the selection process that much more difficult, Fedorchak said.
"I was torn between the three," he said. "I saw the strengths of all three and the weaknesses. To me, it was a dangerous thing to proceed too quickly (without a focus group)."
Lane has been an administrator in Mehlville for 13 years, including four years as the assistant principal at Oakville High School and nine years as an assistant superintendent. Before coming to Mehlville, he was the assistant principal at University City High School for two years and an English teacher. He lives in Webster Groves and has a doctorate in education from St. Louis University.
The third finalist, Batenhorst, has been an assistant superintendent in Clayton for four years and before that, spent 17 years as an administrator at middle schools, including five years as the principal of Wildwood Middle School in the Rockwood School District. Like Ridder, he is a Nebraska native and received his doctorate from St. Louis University.