Woman thanks MFPD for saving her life
MFPD chief commends five who responded to 911 call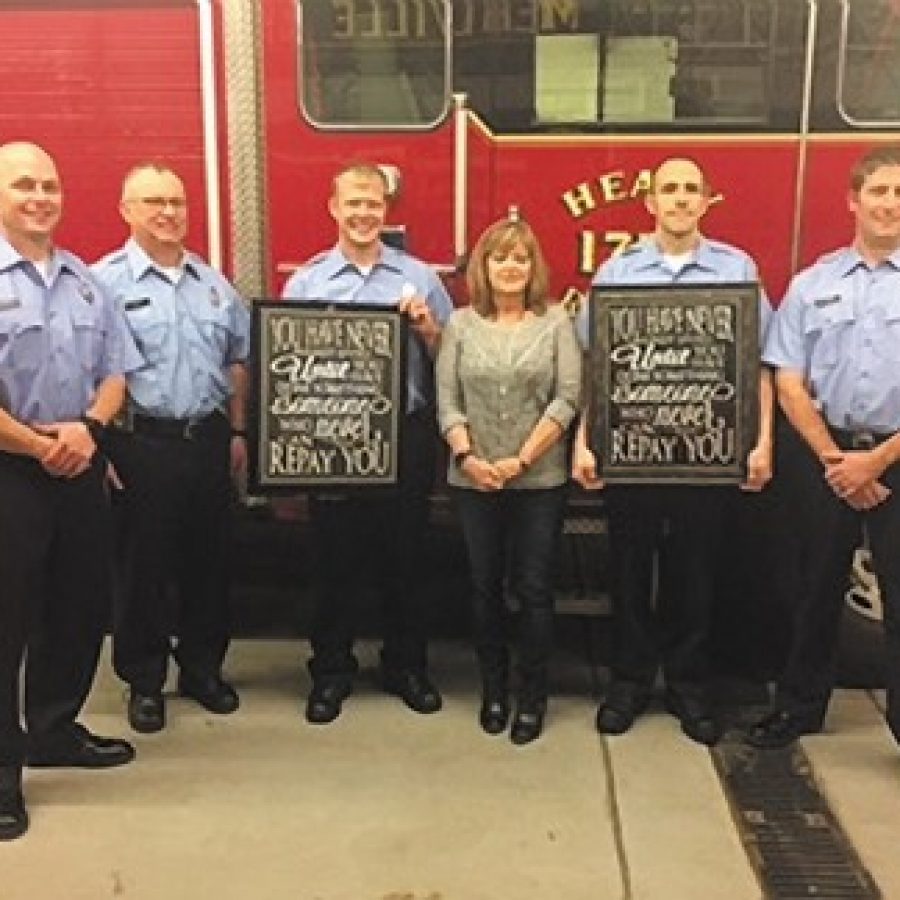 An Oakville woman last week thanked the five Mehlville Fire Protection District firefighter/medics who saved her life after she called 911 in October.
Toni Hodge called 911 on Oct. 29 because she was having difficulty breathing. Shortly after three firefighter/medics on an Advanced Life Support pumper arrived at her residence, she went into cardiac arrest.
Pvts. Darren Plogger, Don Wood and Nick Klemme began performing CPR and used a defibrillator to revive Hodge until Pvts. Patrick O'Brien and Jason Schenimann arrived on an ambulance.
Hodge arrested a few times again on the way to the hospital, but was revived by the MFPD firefighter/medics.
"I kind of wanted to meet the men that were there to help me. I made the call. I don't remember a lot …," she said at the Dec. 28 board meeting.
Without the actions of the MFPD firefighter/medics, Hodge said her cardiologist told her that she would not have survived.
"… My cardiologist said it was a 2 or 3 percent survival rate, and he said, 'I don't know who the man was, but you need to find him and let him know I'm one of the top cardiologists here and I don't think I could have saved you. What he did was almost impossible,'" she said. "So I wanted to meet you and say thank you. And I know your job has to be down most of the time, and I just wanted to let you guys know it does make a difference."
In early 2014, Chief Brian Hendricks initiated the Make a Difference Today program. As part of the program, a plaque was posted on each door leading to the engine houses, asking MFPD employees to "Make a Difference Today."
"We task the men and women of the Mehlville Fire Protection District every day to make a difference in the lives of the people we serve …," Hendricks said, noting the positive outcome of the district's response to Hodge's 911 call.
"We get into this line of work a lot of times, and we don't really know all the outcomes. We see people at their worst, but a lot of times we don't have the opportunity to see them after," the chief said.
Noting he reviewed the report of the call, Hendricks commended the five who responded.
"I have nothing but the utmost respect for everything our crews did on this call. It truly, truly went absolutely by the numbers, and each and every one of you can go home tonight knowing that you, indeed, did make a difference," he said.
Plogger credited the training that firefighter/medics receive under Assistant Chief EMS Craig Walk, Deputy Chief EMS Todd Besancenez and Dr. Christopher Bosche, the district's medical director, as being instrumental in the positive outcome of Hodge's 911 call.
"We have constant training for situations like this, and … the previous week we just had training, specifically for cardiac arrest, and Dr. Bosche's our medical director. So we work under his license — and we had just had training on it, on pushing better, doing better CPR. More people are living," he said. "And really, you've got to give a lot of credit to our administration — Chief Walk, Chief Besancenez and Dr. Bosche for giving us that training, and a lot more people are living because of the training and because of the equipment they provide us with. So they need a round of applause, too, for doing their part in it."
Hodge said, "Well, every doctor I've talked to said, 'I don't know how they did it. You should have never been able to be brought back …'"