With new Sunset Hills board, Furrer now a tie-breaker
Mayor breaks deadlock to name Musich as acting president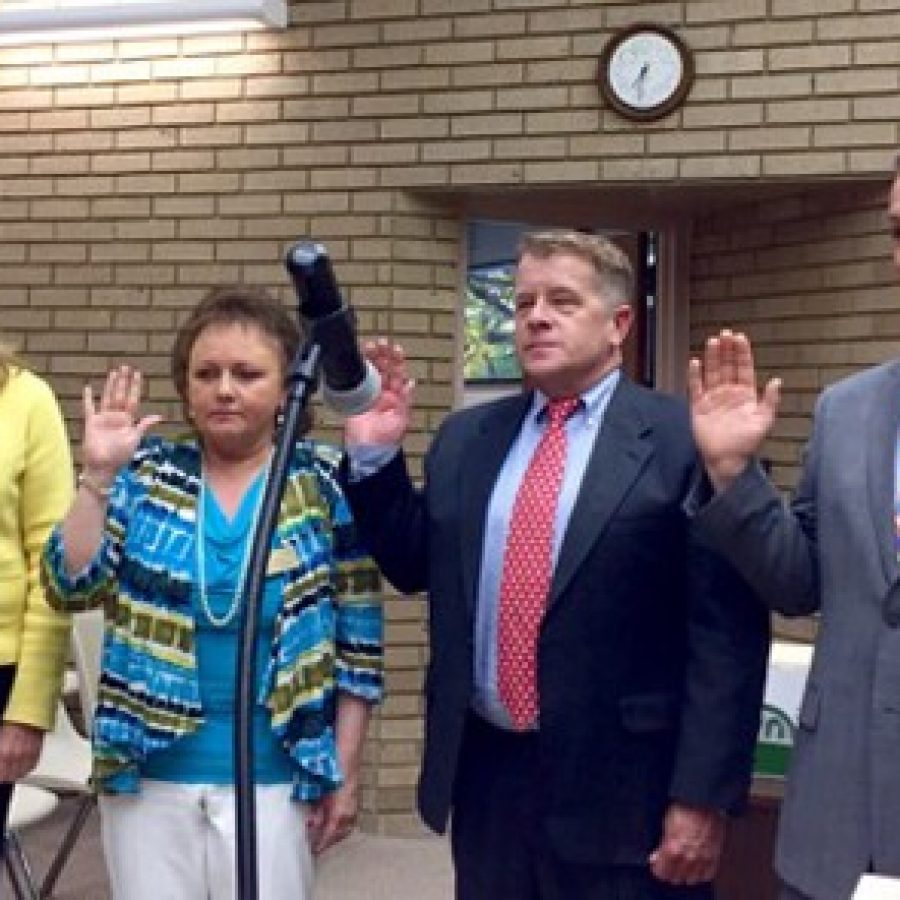 If last week's Sunset Hills Board of Aldermen meeting was any indication, Mayor Mark Furrer could be breaking a lot of ties this year.
An election turnover saw new Aldermen Steve Bersche of Ward 2 and Keith Kostial of Ward 3 replace, respectively, outgoing acting board President Scott Haggerty and the longest-serving member of the board, Jan Hoffmann.
As a result, the six-member majority of aldermen that approved a vote of no confidence in Furrer last year and then later took steps toward impeaching him fell to an alliance of four.
On a series of nine committee appointments proposed by Furrer at the April 28 meeting, newly re-elected Aldermen Dee Baebler of Ward 1 and Pat Fribis of Ward 4, along with Ward 1 Alderman Richard Gau and Ward 3 Alderman Kurt Krueger, joined to vote for Gau as acting board president and vote against most of Furrer's appointments.
Most of those votes ended in ties broken by the mayor when Bersche and Kostial sided with Furrer's allies against impeachment, Ward 2 Alderman Tom Musich and Ward 4 Alderman Donna Ernst, who voted for all of Furrer's appointments. Together the four rejected Gau as acting board president, elected Musich to the position instead and confirmed most appointments. The notable exception was Furrer's bid to replace Hoffmann on the Parks and Recreation Board, which only Musich and Ernst supported.
The makeup of the board could still change due to a Ward 3 recount sought by Lori Scarlett, who was endorsed by Hoffmann and lost to Kostial by three votes, 249-246. Represented by Baebler's husband, attorney Drew Baebler, Scarlett went to court April 24 to seek a recount, which had not yet been granted at the time the Call went to press.
Despite the appearance that may have been created by the tie votes, Bersche told the Call he is going into his term with an open mind and will listen to all sides of an issue before making decisions.
"I can't speak for Keith, but the only way to dispel that myth is to be independent and logical and reasonable and listen to your constituents and do what they want rather than what's expected of you," Bersche said. "I'm not in office to make the mayor happy, I'm in office to serve the constituents."
After the April 28 meeting, Furrer told the Call that Bersche and Kostial's stance on the Hoffmann vote is evidence they are not aligned with him.
Hoffmann has served on the parks board since 1989, appointed nine times before and during her time as an alderman. For now, she will keep her seat after Furrer's nominee to replace her, Esther Gier, failed 6-2.
Aldermen the Call spoke to said they did not vote against longtime Sunset Hills Garden Club member Gier, but instead voted for their former colleague Hoffmann.
"On the one hand, I do understand the mayor's take of we need to bring in new people and new ideas … But without her and (former Mayor) Nancy Benson and a couple of other people, there wouldn't be a Sunset Hills pool," Bersche said. "So the fact that she's still willing to serve after she gave up her (aldermanic) seat, and if she's still just as passionate about the parks board as she has been for a long time, I don't see why we should try to take that away from her."
Furrer broke 4-4 ties to replace Planning and Zoning Chairman Nick Dragan and Jeff Sanders on the planning panel with, respectively, Daniel Werner and Architecture Review Task Force member Thomas Ortmann. Werner has run unsuccessfully for alderman four times, most recently last month against Baebler.
Soon after Furrer took office last year, he announced that he would replace all appointees of former Mayor Bill Nolan.
Five days after Furrer defeated Nolan, he emailed Dragan and asked him for a list of citywide committees because "I will be on vacation after I am sworn in and would like to study this issue while lying on the beach … I want to carefully review who stays and who goes. As you realize, the voters have voted for change, and I am their change agent. Also please forward a brief resume of yourself."
When Baebler nominated Dragan for reappointment to his post, Furrer told Baebler that he assumed Dragan was not interested since he had not sent a resume.
But Dragan said his resume is on file with the city and that staff members asked the mayor to keep Dragan on the panel, but were told that Dragan would not be reappointed. Dragan is now off all city committees, including Planning and Zoning, where he served three years as chairman, the Economic Development Committee and the Comprehensive Plan Committee, where he also served as chairman.
In the exchange with Baebler, the mayor said he wants fresh ideas at City Hall, "young new faces … families with kids, the next generation. They deserve a voice and these multi-term members should step aside …"
Seven-term member Al Koller and 12-term member Joseph Niemeyer were reappointed to the Planning and Zoning Commission and current 10-term planning panel member Pat Otto was appointed to the Comprehensive Plan Committee 6-2, all opposed by Gau and Krueger.
Sanders and Dragan were on their first terms. Sanders is a real-estate broker, and Dragan is an investment specialist with MetLife.
"I've been in real estate development for my life," Furrer told Baebler. "You may think (Dragan) is good, but your experience does not qualify you as a good judge. Got what we need. He is an insurance salesman."
Dragan told the Call he initially began volunteering for the city because he has five young children and was interested in keeping Lindbergh Schools the top school district in the state.
"The mayor has never sat down with me, discussed anything about vision, about creating a collective vision for the city," he said. "And that's OK, elections do have consequences and that's fine. My whole philosophy is things happen for a reason. We've got a ton of great people that are there now and will be there in the future."
Baebler and Finance Committee Chairman Fribis dissented on a 6-2 vote for Joe Stewart to replace Ken Conley on the finance panel. Baebler said Stewart is a good choice, but she believes Conley has served well.
In the only unanimous votes, former Ward 4 Alderman Claudia Svoboda will replace Haggerty on the Urban Forestry Commission, and Bill Hopfinger and Terry Beiter were reappointed to the Planning and Zoning Commission for their second terms.
Furrer said he dropped one potential appointee to the Finance Committee, Linda Hammelman, because he knew he did not have the votes needed for her confirmation.
Hammelman's husband is Tom Hammelman, who lost to Fribis in last month's election.