UPDATED: Section of Lindbergh to shut down
Construction expected to be completed by June 29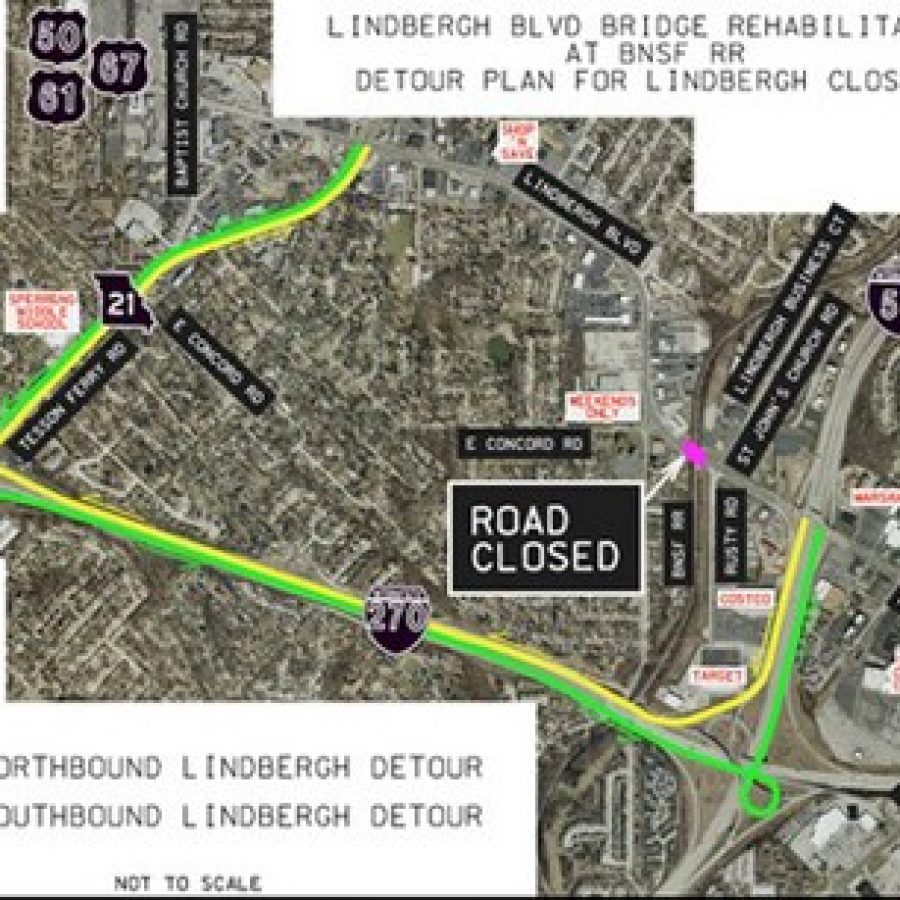 The Missouri Department of Transportation will shut down traffic in both directions of South Lindbergh Boulevard for two weeks starting this week to renovate a railroad bridge near Interstate 55.
Starting the morning of Monday, June 15, crews from contractor Concrete Strategies Inc. will close the Lindbergh railroad bridge that extends between Rusty Road and Lindbergh Business Court near Costco and Target to East Concord Road near the Green Park QuikTrip.
The road and new bridge will reopen Monday, June 29. The Missouri Department of Transportation, or MoDOT, will replace the driving deck of the 40-year-old Burlington Northern Santa Fe bridge, which is owned by the state, to extend the life of the bridge for decades. If MoDOT waits much longer on the repairs, the cost would greatly increase, state officials noted.
MoDOT officials held an open house at the Tesson Ferry Library in January to announce the upcoming closure, but the transportation agency announced last week that bridge construction will take place day and night so that it is completed faster.
Although MoDOT's website shows the road closing will begin Monday, electronic message boards throughout the area state the shutdown will begin Tuesday.
Nearby residents and business owners should "expect noise at all hours," MoDOT spokesman Andrew Gates stated in a news release.
The official detour will route drivers around construction onto Interstate 55, Interstate 270 and Tesson Ferry Road. But Green Park officials plan to ramp up the city's police presence to monitor the extra traffic and ensure that large trucks that exceed the 18,000-pound weight limit don't try to cut through the city's residential streets.
Green Park Mayor Bob Reinagel is in close contact with MoDOT officials and other agencies about the bridge closing.
He said that although the construction and closure will be a hassle for everyone involved, good communication among state, local and regional officials will minimize the impact as much as possible.
For example, Metro officials contacted the mayor to tell him that they were rerouting their buses with 24-hour Lindbergh routes onto Green Park's residential roads.
However, Reinagel said he objected to that plan and told Metro officials that any buses driving through Green Park would violate city ordinances on vehicle weight limits, which the city will be enforcing.
"They said they would take that into consideration and probably reroute them on 270," he said, and he hopes that is what happens. "If those buses stop on those hills by the stop signs at night and start up again, that would just raise every resident up out of their bed."
Businesses and houses in the stretch of Lindbergh affected by the detour will still be accessible from either end of Lindbergh, but no one will be able to cross the bridge during construction.
Although some residents have heard rumors that large nearby businesses like Target and Costco will shut down during the construction, Reinagel said the businesses will stay open through construction.
"From what I know, everyone's going to stay open, all the restaurants and everyone, Target, Costco, Pasta House — all the places on Lindbergh are going to have to grin and bear it," the mayor said.
MoDOT officials said they examined all their options before deciding to close Lindbergh both directions to finish the project faster, for less money and with the least amount of hassle for the 33,000 motorists who cross the bridge every day.
If some lanes on Lindbergh were left open, traffic would back up onto Interstate 55, posing a safety hazard, and Lindbergh would be gridlocked all the way to Lemay Ferry Road, said MoDOT traffic engineer Michelle Voegele.