UPDATED: Mehlville school board OKs $4.3 million in cuts, fees
Board votes 6-0 on cuts; Trakas absent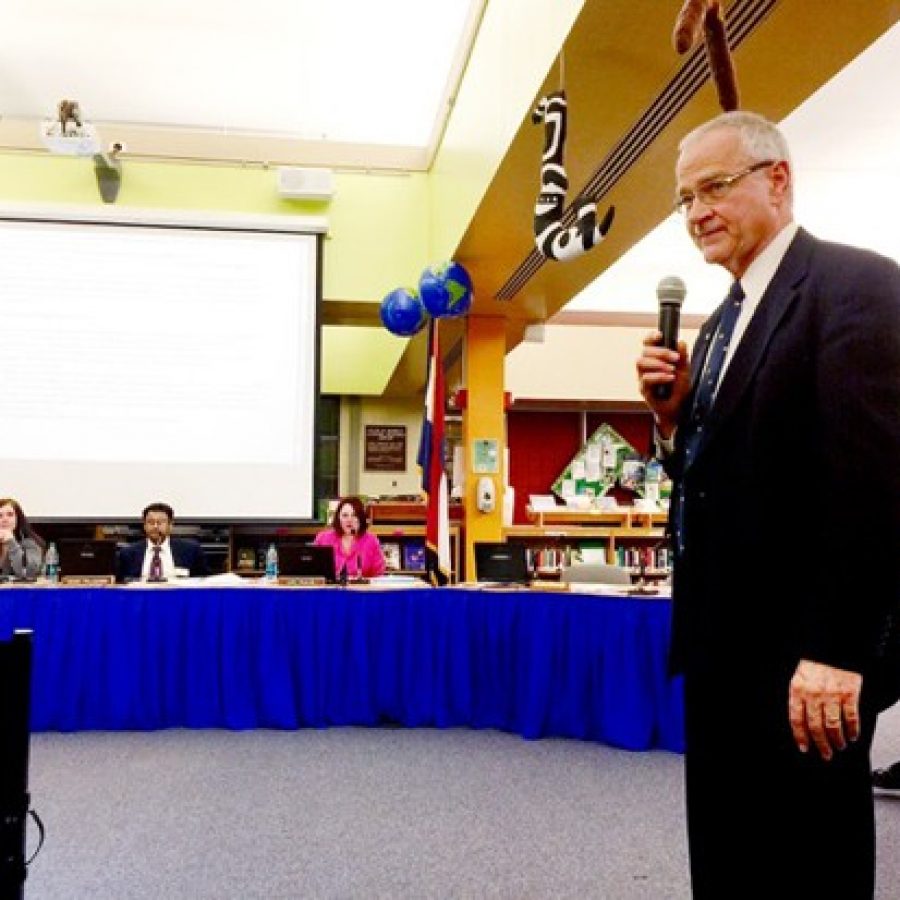 The Mehlville Board of Education voted to approve $4.3 million in budget cuts and extra fees Thursday night in an effort to halve next year's originally projected $8 million deficit.
Board members emphasized that they did not want to cut anything from the district's 18 schools but said they had no choice given the district's financial situation.
The voice vote to approve the budget cuts received the most unenthusiastic response from the board of any vote in recent memory. Some did not say "aye," but none voted "no." With board member Lori Trakas absent, the vote was 6-0.
Some board members emphasized that they are volunteers who are trying to make the best decisions they can. The cuts also will impact some of them, they noted, including the new $218 busing fee for children who live within a mile of school. With the new fee, the district can keep bus transportation for students who live less than three miles from their school.
"Just keep in mind that we are part of the community: Both of my children go to elementary school in the district," said new board member Lisa Dorsey, who was attending her first full meeting. "I just received an email message from the principal saying that my children's class sizes are going to be 30 … My boys are also being affected by this in a number of ways, and I probably fit into this transportation (fee) piece too."
Board Secretary Samantha Stormer noted she will pay the new $218 busing fee for three of her children next year to go to Rogers Elementary.
The budget cuts mostly follow those originally recommended by officials before a month of feedback from parents and the public. But officials moved some cuts to the $4 million list from a longer alternate list of $8 million in cuts after the Voluntary Interdistrict Choice Corp., or VICC, board unanimously rejected Mehlville's bid to add 200 more voluntary transfer students next year. The board, comprised of county superintendents, nixed Mehlville's request April 17.
Even before the VICC vote, Superintendent Norm Ridder modified the original plans to include more fees, which was suggested by parents and students who did not want to lose programs altogether.
Instead of cutting all busing within three miles as in the original plan, the district will charge a $218 busing fee for each student who lives within a mile of school, which is projected to raise $156,000 for the district. Parents also pushed for increasing activity and athletic fees so that clubs and activities would not be lost altogether. That will raise $63,000 as fees for each activity increase to $100 from $30, although $75,000 in stipends for teachers who chaperone clubs are still included in the cuts.
Mehlville School District officials scrambled to find last-minute alternate budget cuts this week after county superintendents rejected the district's request for 200 more voluntary transfer students.
The superintendents who comprise the board of directors of the Voluntary Interdistrict Choice Corp., or VICC, program — which voluntarily transfers St. Louis Public Schools students to county districts — met Friday and unanimously approved a preliminary 2015-2016 VICC budget that does not include more transfer students for Mehlville. Mehlville Superintendent Norm Ridder abstained.
The Mehlville Board of Education is set to vote on roughly $4 million in budget cuts when it meets at 7 p.m. Thursday in the Mehlville High School Library, 3200 Lemay Ferry Road. At the Call's press time, Ridder and his cabinet were finalizing a new list of cuts after the VICC board's vote took them by surprise, they said. Initially, the cuts were offset by $1.3 million in new VICC revenue.
After Rockwood and Parkway, Mehlville is the third-largest recipient of VICC students. Votes on the VICC board are weighted by participation, so Rockwood Superintendent Eric Knost, former superintendent of Mehlville, holds 33 percent of the board's votes.
After what VICC Chief Executive Officer David Glaser said was a lengthy discussion, Knost made a motion to approve a budget and tuition rate that keeps the program at its current tuition levels and does not allow for large expansion of VICC students.
The way the finite funding of the VICC budget played out, superintendents could decide to either take a lower tuition amount for their own VICC students, $7,000 instead of the current rate of $7,250 — which would allow Mehlville to increase its VICC students by 200 — or keep tuition at $7,250, which would not allow Mehlville to move forward with VICC expansion. Superintendents chose the latter, Ridder said. Going by its current number of VICC students, the tuition change would have cost Rockwood $389,000.
"The VICC board taking action on Friday kind of surprised everybody," Ridder said. "I'm on that board, and I was in a cabinet meeting here and I got there late — they explained it to me afterward and I said, 'Whoa.' I was totally surprised by it. Everybody (in Mehlville) was surprised by it."
Ridder holds 9 percent of the VICC board's vote on behalf of Mehlville, but he arrived at the tail end of the vote being taken and did not realize at first that it affected Mehlville, he said. The other major weighted vote is Parkway, with 22.5 percent of the vote. Other superintendents at the meeting were from Affton, Clayton, Hancock Place, Special School District, St. Louis, Valley Park and Webster Groves. Lindbergh Schools holds 1.6 percent of the votes since it still has a few VICC students, but Lindbergh Superintendent Jim Simpson was one of four who did not attend.
The second part of Knost's motion, which was seconded by Valley Park Superintendent David Knes, would not allow districts to increase new students beyond their initial requests this year or a three-year VICC average, whichever is greater.
Like Mehlville, the overall VICC trend has been for districts to gradually decrease their participation. The state formula that funds it is pegged to the greatest of either the current budget, last year's budget or the budget from two years ago. In practice, that means VICC always functions on the budget from two years ago, which means there is not really a mechanism in the funding for a district to suddenly increase its numbers despite a long waiting list of willing transfer students — although with more warning and more time to study the impact on other districts, it could still be a possibility for Mehlville next year, Glaser noted.
Districts initially turned in their requests for new VICC students in February, when Mehlville asked for 52 new students. The district submitted an amended request for 252 new students April 14, after printed agendas for the VICC meeting already went out to superintendents, Glaser said. Mehlville officials had discussed the possibility of more students with VICC officials, but nothing was ever finalized since the Mehlville board had not yet approved the higher participation.
"One misconception that I've already heard is that this was a vote against Mehlville, and it was not a vote against Mehlville," Glaser said. "Mehlville is not even mentioned in the motion."
The agenda VICC sent in advance to the board covered VICC's 2015-2016 budget and also made no specific mention of Mehlville, he added. During the discussion, however, there was a recognition among superintendents that the outcome of the vote would affect Mehlville more than any other district, Glaser noted.
"We all kind of knew that this would have a bigger impact on Mehlville than probably any other district — when the discussion was going on, I said, 'I really wish Mehlville could be here,'" Glaser said. "I talked to other superintendents after the meeting, and Norm would obviously feel a little differently, but everyone felt like it was a good discussion that everyone had and everyone tried to work together with everyone else and yet still do what everyone felt like was in the best interest of all districts and the entire program."
Following a month of meetings with focus groups, comments from the public and input from board members, before the VICC vote Mehlville officials also adjusted their initial recommended cuts to include a busing fee so the district can keep bus transportation for students who live less than three miles from their school. Instead of cutting all busing close to schools, students who live within a mile of schools will be charged $218 each to ride the buses, raising $232,000 for the district.
Cutting bus transportation within three miles was initially projected to save the district $500,000. But as officials researched that possibility they found that the loss of state funding and a potential decline in students as people moved from the district to a district that did provide bus transportation would be an overall loss to district finances rather than a net gain, Ridder said.
Although officials will propose alternate cuts in light of the VICC vote, the cuts will not include any more teachers than the 23.5 originally proposed, Ridder said. So far, the district has not factored in money from transfer students from Riverview Gardens because it is an unpredictable source of revenue, but the district may factor that money into its alternate proposal, he added.
"We're not going to be reducing any more teachers because the community spoke very loudly that they didn't want to cut any more teachers," Ridder said.
Besides the $232,000 in new busing fees and $63,000 from raising the student activity fee to $100 from $70, the district proposes to save $1.3 million by not replacing 23.5 teachers who retire or resign.
Other proposed cuts include: $500,000 by halting the 1:1 laptop program, $253,000 by cutting nine nurses' assistants and five technology assistants, $229,000 by cutting at least two administrative positions in Central Office, $128,000 by cutting stipends for teacher mentors, student council leaders, intramural leaders and professional development, $120,000 by not buying library books for a year, $100,000 by ending all tutoring paid for by the district, $75,000 by ending stipends for 50 elementary, 36 middle school and 34 high-school clubs, $50,000 by buying fewer school supplies and $50,000 by not upgrading technology.