UPDATED: Donations pour in for Officer Snyder's family
How you can help: List of all the latest fundraisers for BackStoppers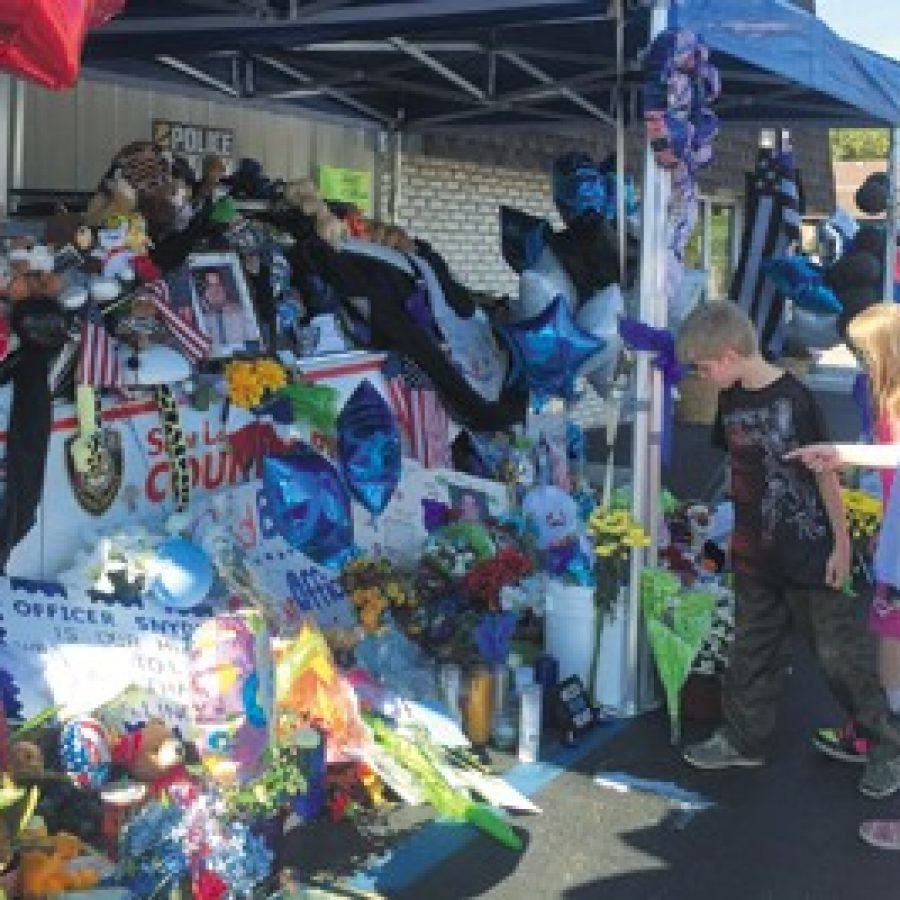 Abigail Kritzer of Affton, right, and her neighbors Connor and Vivian Lang visit the Affton Southwest Precinct Saturday to donate money from a lemonade stand they held to benefit the family of Officer Blake Snyder, who was shot and killed while responding to a call in Green Park Oct. 6. It was Abigail's third time visiting the growing memorial on Snyder's police car at the precinct and the Langs' first visit. To read our article about Officer Snyder's funeral service, click
.
Are you looking for ways to help the family of Officer Blake Snyder or donate to BackStoppers? Check out the Call's continually updated master list of events below or in our print edition this week, along with an interactive map showing where upcoming events are.
New events are continually being added, so check back often! To add your fundraiser or event to the list, email Staff Reporter Gloria Lloyd at news3@callnewspapers.com.
Donations can be sent to The BackStoppers, Inc., P.O. Box 795168, St. Louis, Mo. 63179, or donated online at backstoppers.org, with a memo that it is for Officer Snyder's family.
Signs to support police officers are available for a $10 donation to BackStoppers at the
Supplies are running low at the Affton Precinct, but the signs are also available at the
T-shirts in honor of Snyder, with his name and "End of Watch 10.6.16" are available for purchase from the
at
. The proceeds will go to benefit the family.
Blue bows are available for donations to BackStoppers at
. The original sale immediately after Snyder's death raised nearly $5,000 for BackStoppers, until the warehouse ran out of stock. But they were so popular that Irene's re-ordered and will start selling them again Monday.
Blue bows to support law enforcement and a boot for donations are available at the
Travel agent
, will be donating $100 to BackStoppers for each reservation booked now through Friday, Oct. 28. The company can be reached at (314) 842-6000.
Local
has an online party for the Snyder family and through Oct. 28, will be donating all of her commission from the party to the family. To browse the party, click
.
is running a special on portrait sessions and selling gift certificates from now until the end of the month for future sessions. Bierman is donating 20 percent of certificate sales to BackStoppers at the end of the month. Portrait sessions are $250, but certificates may be purchased in any amount. To take advantage of the offer, call (314)704-1653, email bradbiermanphoto@gmail.com, visit
or
.
will donate a large portion of her proceeds from every Mary Kay Satin Hands set sold in October to Snyder's family. The $35 sets come in peach or white tea citrus scents, or fragrance free, and make great holiday gifts. To reach Campise, call or text (314) 973-0578.
All Buffalo Wild Wings locations in the St. Louis area will donate 10 percent of sales to the Snyder family.
.
: The spa is holding a fundraiser for Officer Snyder's family/BackStoppers. Clients can choose whichever complimentary service they would like, and the spa will take donations for the services, which will include complimentary blowouts, makeup applications, neck and shoulder massages and file and polishes, all in 30-minute appointments. All services range between $30 to $50. The spa will also have food and drinks and welcomes people to come in just to drop in, enjoy themselves and donate. Clients can call the salon and book an appointment at (314) 845-0118.
Car cruise 10 a.m., live band from 11:30 a.m. to 3 p.m., St. Louis Cardinals meet and greet 3 p.m., silent auction ends 3 p.m. and awards at 4 p.m. A parade of cars, trucks and motorcycles will weave through the streets of south county in support of the family of fallen St. Louis County police Officer Blake
. Anyone can participate in the cruise and enter their vehicle for a fee of $25, or smaller fees are set just for participating in the cruise. Prizes will be awarded, and a drawing to win a motorcycle will be held. All of the money raised will go directly to Snyder's wife and son, through a partnership with the St. Louis County Police Welfare Association.
In addition to a car cruise, great food and live music, attendees can enjoy a bounce house and meet and greets with Cardinals players. Raffle tickets can be purchased in advance at Jim Butler Chevrolet, Fenton, Gold's Gym in Fenton, Joey B's in Concord Plaza, Advance Auto Parts Telegraph Road, the Blarney Stone in Oakville, or Big St. Charles Motor Sports. For more details or to volunteer or sponsor, visit the Officer Blake Snyder Memorial Fund Facebook page.
Donations can be mailed to:
Blake Snyder Car Show Fundraiser
Fenton Post Office, Fenton, Mo.
Attn: General Del.
Blake Snyder Fundraiser
At least 17 restaurants in the region will donate at least 10 percent of their profits to Snyder's family in a special
The organizers also worked on the wildly successful Dine Out for Officer Mike Flamion Day this summer to benefit the Ballwin officer shot and paralyzed in a traffic stop in July.
Among the participating restaurants is the
The pub will be donating 25 percent of its regular sales and 50 percent of sales from first responders to BackStoppers for Officer Snyder. The sports bar will also have a 50/50 raffle and silent auctions throughout the day and night to help raise more money.
Restaurants from throughout the St. Louis region and eastern Missouri are participating, and the restaurants participating in south county include:
, Concord Plaza
, 8556 Watson Road
, 8025 Mackenzie Road
, 8713 Gravois Road
, 7932 Mackenzie Road
, 11816 Gravois Road, lunch and dinner, 20 percent of all proceeds donated
Kirkwood restaurants:
, 110 S. Kirkwood Road, 100 percent of profits donated
, 140 S. Kirkwood Road
Arnold restaurants:
, 806 Arnold Commons Drive, Arnold – 4 p.m. – 10 p.m., 10 percent of sales will be donated
10 percent of sales will go to BackStoppers. RSVP at
. $160 per table, seats up to eight.
$35 per person, 25 percent of all ticket sales go to the BackStoppers.
Here is a link to the event (which also has the MO Thin Blue Line Painting that will be created):
The first annual celebration and concert event held by the city of Green Park will be the first event ever held in the newly-renamed Officer Snyder Park. The free concert kicks off at 4 p.m. with a fun-filled fall evening of musical entertainment with the South Side Johnny Band. Bring your lawn chairs and kick back. At dusk, a special candlelight tribute will be held to honor Snyder, the park's new namesake.
15 percent of food and drink purchases directly to Officer Snyder's family. Dine in or carryout available. Silent auction and raffle with 100 percent of proceeds going to Officer Snyder's family.
In a home game against Evansville, the Junior Blues will hold an auction of special edition jerseys that feature the Blues and BackStoppers logos, with proceeds going to BackStoppers. Additional fundraising will take place at the game, with proceeds going to Snyder's family. For a $5 donation, attendees will have the opportunity to participate in autograph sessions with retired professional hockey player Cam Janssen and Blues alum Mike Zuke. The team will charge half-price admission for first responders with department ID.
Studio J is holding a fundraiser in honor of fallen Officer Snyder with $10 haircuts only. 100 percent of sales will be donated to BackStoppers in his name for his family. If you have any questions or would like to donate, please contact Joya at (314) 353-5533
A Trunk or Treat will be held to benefit Officer Snyder's family. The event is sponsored by Premier Pitching and Performance, Budrovich Companies and The Bud Dome to honor the life of Officer Snyder. The event will feature a silent auction with memorabilia from NHL and MLB players, autograph session with NHL, MLB athletes, radar gun booths, prizes, raffles, music, food and a trunk or treat for kids. First responder costumes are encouraged. Budrovich will donate $50 for every child dressed as a police officer, firefighter or paramedic, up to $10,000.
20 percent of proceeds will go to the Snyder family.
Sappington Elementary School fifth-graders will host a Lemon-AID stand to raise money for BackStoppers.The KFNS 590 AM morning show will broadcast live from the event, featuring Tim McKernan, Doug Vaughn, Jimmy "The Cat" Hayes and Frank Cusumano. Donations of any amount will be accepted.
The restaurant will donate 15 percent of sales to Snyder's family, beginning at 5 p.m.