UPDATE: Mehlville school board approves redistricting proposal
School board slates meeting at 6:30 p.m. Thursday at Oakville High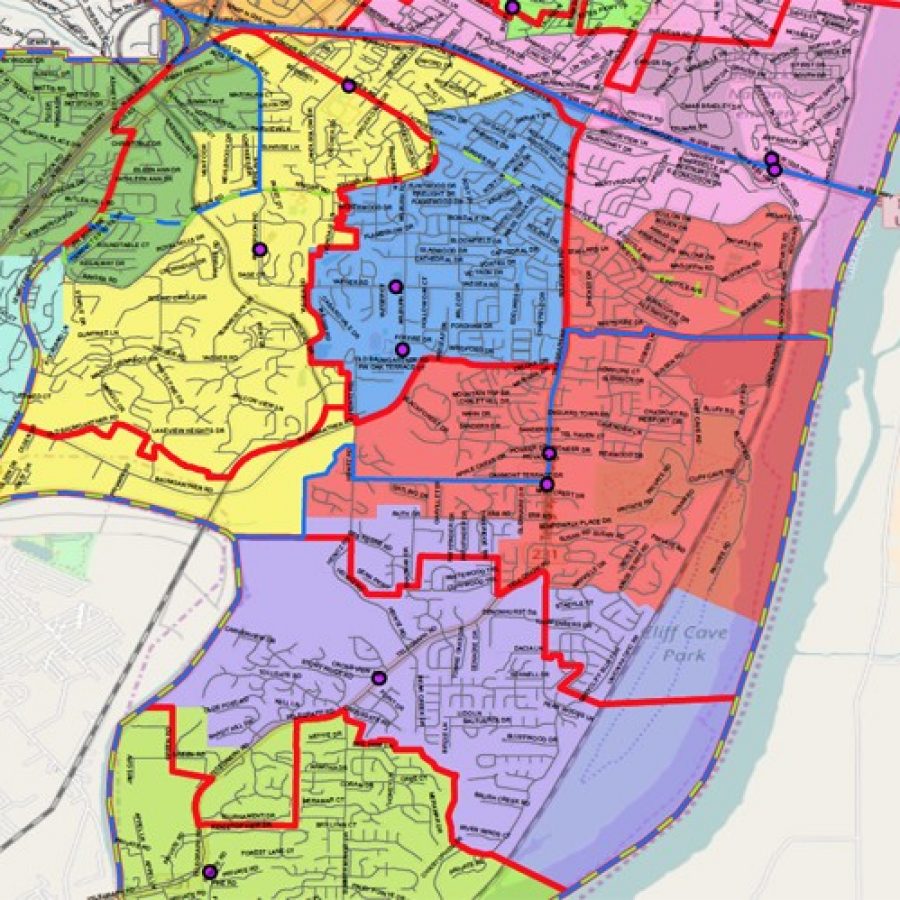 Parents in the Mehlville School District packed public-feedback sessions last week on redistricting, and will get one last chance to speak to the Board of Education before a final decision Thursday.
The board will meet at 6:30 p.m. Thursday, March 9 in the Oakville High School Library, 5557 Milburn Road.
The Redistricting Committee was set to release a final recommendation to the Board of Education before the board's redistricting-focused listening session Tuesday night at Washington Middle School — after the Call went to press.
At the first feedback session on redistricting Feb. 27 at WMS, hundreds of parents left mostly negative comments about both proposed scenarios.
Most of the comments focused on subdivisions that are switching from either the Oakville side of the district to Mehlville or vice versa, with parents asking for their subdivisions to be left alone.
A child walked around with a sign asking for Royal Hills Estates and King Arthur Estates subdivisions to stay where they are.
A petition of residents in Royal Hills and King Arthur had, respectively, 85-percent and 63-percent signing rates, Royal Hills parent James Moynihan noted at a board meeting last month.
"People just don't want to change schools," Superintendent Chris Gaines said. "Some people don't want to go from Oakville to Mehlville, and I saw something today that people are being moved from Mehlville to Oakville, and they don't want to go to Oakville."
To make more room at the district's most crowded school, Bierbaum Elementary, children had to be shifted into the other side of the district at Hagemann Elementary from Trautwein Elementary and then away from Oakville schools to Trautwein.
Since Trautwein children will go to Washington Middle and MHS, not Oakville High, that upset some redistricted parents who said they had bought their houses to attend OHS.
Although the primary reasoning for redistricting is balancing elementary-school classrooms, a secondary goal was to fix middle-school feeder patterns.
Under the current system, the district's largest middle school, Bernard, splits between Oakville and Mehlville high schools with Forder Road as a dividing line, so that the 80 percent of students on one side go to OHS and the other students go to MHS.
And every year, roughly 10 students from Blades are split from the rest of the school to go to WMS.
Besides sympathizing with those children, the committee also had to look at more practical aspects of school boundaries like transportation, panel member and Oakville Elementary parent Jenna Sita told a parent at the WMS session.
"We're trying to accommodate anybody that makes sense that is trying to provide a solution," Sita said. "People will say 'Oh, just move us, we're only 20 kids,' and we're like do you understand how big of a difference that makes? OES only has a handful of spots before we're at our capacity."
But shifting feeder patterns so that as few students as possible split from each other also switched some subdivisions and also switched some current high-school students to the other school.
On Feb. 21 committee members agreed to recommend that the district grandfather current high school students and incoming eighth-graders, since the middle and high schools are not struggling with enrollment like some of the elementary schools.
But grandfathering the elementary schools could overload Bierbaum and Oakville elementaries, two of the most overcrowded schools, Gaines said.
At the same meeting, the committee also tentatively decided to switch two of the disputed subdivisions, Providence Place and Mehlbrook Manor, which were slated to switch from Oakville to Mehlville and Mehlville to Oakville, respectively.
But the redistricting chairs, Bierbaum Assistant Principal Kelly Roberts and Trautwein and Point Assistant Principal Whitney Maus, did not announce that change to the crowds at last week's open houses.
The panel will base its final decision on feedback not just from the open houses but from the results of a redistricting survey that closed March 1.
Director of Communications and Public Relations John Wolff initially said last week that he would provide the Call the survey results after the March 1 deadline.
But after speaking with Roberts and Maus, he declined to provide the surveys and said they were in "raw data and not in a format that can be forwarded via email or anything else" and could not be put into such a format until Tuesday — after the Call went to press. At the same time, the committee was "sifting through the responses" in advance of its committee meeting Monday evening, Wolff noted.
When the Call asked how the committee could read the surveys if they are not in a format that can be shared, Wolff replied, "I'm not involved in the redistricting survey … I get their point … This isn't public information yet. They want to digest it before giving it out to the media and the community. I don't think that seems unreasonable."
The 32-member committee is led by Roberts and Maus and comprised of representatives of every school and all grade levels.
Members include administrators, including Transportation Director Dan Gilman, Wohlwend Principal Dave Meschke and Oakville Middle Assistant Principal Patrick Bellinger; teachers, including Mehlville National Education Association President Laurie Brickey; and parents, including former board member Elaine Powers.
"Your feedback is very important to us," Roberts said at the WMS session. "We have sat and we have gone through the survey with a fine-tooth comb."
Some of the panel members were redistricted out of their schools, including Mike Shaw, who has gained attention as an involved Oakville Elementary parent. Under both plans, his children move to Blades.
Scenario A has been getting better feedback than Scenario B since it moves fewer children and neighborhoods around, Gaines said at the WMS session.
The only two elementaries split under the plan are Wohlwend, which is split under both plans, and Beasley, which is split under A but not B. In B, the extra Beasley students going to Bernard result in lopsided enrollment at OHS, which would have 1,824 students compared to 1,377 at MHS.
Under A, OHS would have 1,675 students and MHS would have 1,526.
Under Scenario A, only 55 middle-school students move as Beasley splits. Beasley students would be divided at the Interstate 270/255 line with some going to Buerkle and some to Bernard. Under Scenario B, only Bierbaum and Forder would go to Buerkle, and all of Beasley would go to Bernard. That change would move 120 middle-school students, instead of the 55 under Scenario A.
At high school, Scenario A would move 250 students. Scenario B would also send the Mehlville middle schools to MHS, while Oakville middle schools go to OHS, but it would move 368 students instead of 250.