Total Eclipse 2017: No shortage of events for total eclipse
'Excitement is building' for first total eclipse in St. Louis since 1442, Stenger says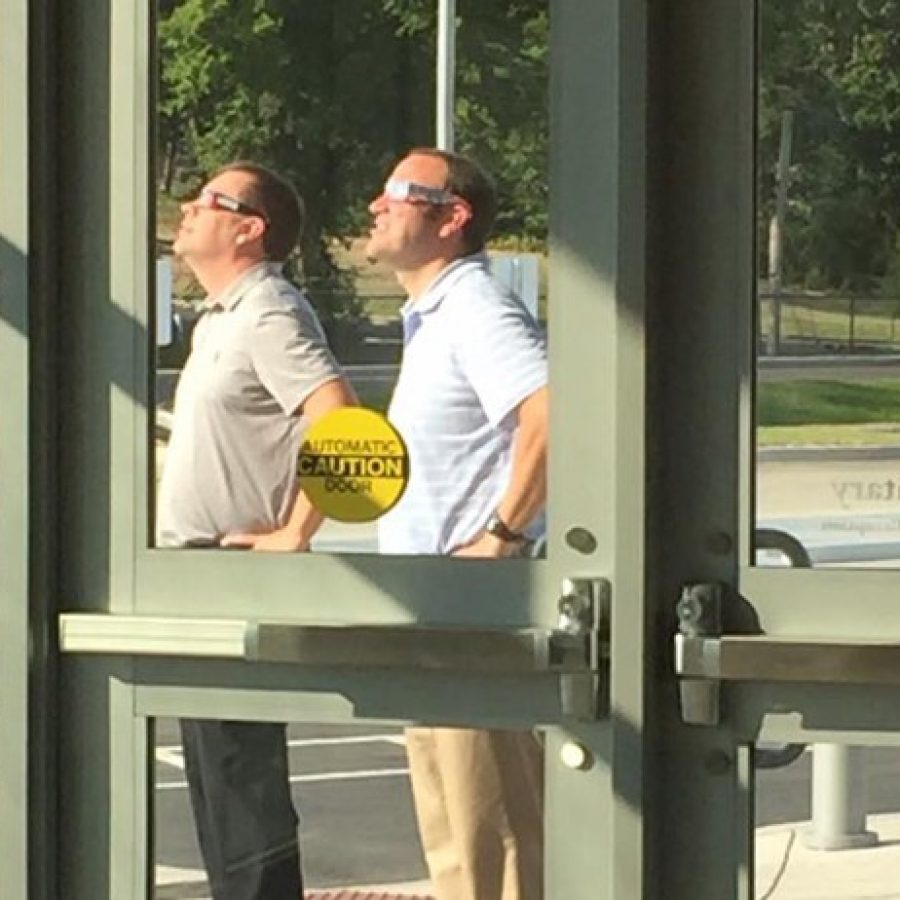 As the path of totality of the Great American Solar Eclipse crosses directly through south county next week, schools, residents and government agencies are gearing up for what could be a once-in-a-lifetime experience.
The moon will block the sun Monday, Aug. 21, blazing a path of totality from Oregon to South Carolina that hits St. Louis around 1:18 p.m.
The amount of totality that areas in the St. Louis region will experience varies wildly, from none in downtown St. Louis to nearly 1.5 minutes in south county to nearly 2.5 minutes in Jefferson County and areas farther south like Carbondale, Ill., which is near the center of the eclipse's path in Makanda, Ill.
St. Louis has not seen a total solar eclipse in 575 years, and the next one will not pass directly by until 488 years from now in 2505. The northern half of St. Louis County is not in the eclipse's path, and the county's main viewing party is set for Jefferson Barracks Park. Other events are planned in Crestwood, Sunset Hills and elsewhere in south county.
"The last time a total solar eclipse occurred in the greater St. Louis area was 1442, so this is a once-in-a-lifetime experience for all of us," County Executive Steve Stenger said. "We expect up to 10,000 people for our viewing event at Jefferson Barracks Park, and the excitement is building."
Unlike school districts in Jefferson County and Illinois that have canceled school in light of traffic and safety concerns, all south county school districts will be in session and plan to take children outside to experience the eclipse.
Mehlville, Lindbergh, Affton, Bayless and Hancock Place districts have all purchased eclipse glasses so that students can safely gaze at the sun before totality.
The Mehlville School District has been planning activities around the eclipse for a year, with a central committee of teachers creating a warehouse of activities that schools can use.
Most schools are inviting parents to see the eclipse with their children. In Mehlville, Oakville Elementary is going all out with a LEGO model of the eclipse and a drone to capture images.
Although many schools outside of St. Louis County canceled classes, Mehlville Superintendent Chris Gaines said he never considered it.
"You think a kid's going to learn more about the science behind the eclipse at home or at school?" he said.
Coming right after the start of the school year, he expects that children, especially kindergarteners, might be frightened by the effects of the eclipse, which will black out the sky and could cause temperatures to fall 10 to 15 degrees.
"On the fourth day of school, the freaking sun is going to go away, and they're just going to freak out," Gaines said. "And they're going to want their mamas. The world's coming to an end."
Mehlville's new school of innovation Mosaic Elementary is planning several days of lessons around the eclipse, but the lessons learned will pale in comparison to the experience itself, Principal Scott Clark said.
"The greatest thing during that day is what we can't teach," he said. "All these people are doing all these huge activities and all that stuff, and the funny thing is most people aren't going to remember the activities. What they're going to remember is at 1:18, the moon blocked the sun, and just being a part of that and seeing that."
Like any natural event, viewing of the total eclipse is dependent on weather. Sharon and Billy Hahs of Kirkwood have chased eclipses all over the world for the last 26 years and know that all too well: Of the 14 they've traveled near and far to see, they've seen 11.
They were rained out in Costa Rica, snowed out in Mongolia and clouded out in Ethiopia. But they've seen magnificent eclipses on six continents, visiting such far-flung places as Australia, Zambia, Libya and the Easter Islands along the way.
This time, the eclipse is coming to them. They'll get to see it alongside their friends and family at the Hahs family homestead in Sedgewickville, near Perryville, that's been passed down for generations.
Since they tried to see their first eclipse in Costa Rica in 1991, the couple has been asked repeatedly why they travel across the globe to see a few minutes of total darkness.
"Monday that question will disappear," Billy Hahs said. "Literally millions will see an eclipse, and the mystery of why anyone would go to one will be solved. It's a spectacular thing."
Every eclipse looks different, in the shape of the corona that surrounds the sun and in other ways. But one thing is always the same with an eclipse: It goes by too fast.
"It's over, and you're just, 'Can't I see that again?'" Sharon Hahs said. "They're all beautiful, but the character is very different."
Their top advice to any aspiring eclipse chaser is to get somewhere, anywhere, in the path of totality.
"A minute-and-a-half is glorious," Sharon Hahs said. "Make sure you can enjoy it."
They will see two minutes of totality at their family homestead, sacrificing the extra 30 seconds possible at another location for the chance to spend the eclipse with their family.
"An eclipse is a singular experience, but it's also kind of a community experience — you're standing beside somebody else," Sharon Hahs said. "You get all done and you're just in awe. Everybody has their own 'wow' of it, but then you share it with each other — how beautiful it was or how suspenseful."
Tips for how to watch
NASA and the county Department of Public Health have sent out tips on how to enjoy the eclipse safely.
As the St. Louis region's foremost eclipse watchers, the Hahses also have their own advice to share.
Eclipse watchers will not need special glasses during the 1.5 minutes of totality.
"For those precious two minutes you can just look," Sharon Hahs said.
"And of course that's the most spectacular part of it," Billy Hahs added.
The glasses are needed for the roughly 1.5 hours of partial eclipse leading up to totality and the 1.5 hours afterward.
Gazing at the sun at those times could lead to blindness, NASA warns.
Sunglasses, even dark ones, will not provide the protection needed against looking into the sun. People who wear eyeglasses should put the eclipse glasses on over their regular glasses.
Shops selling NASA-approved eclipse glasses, such as the gift shop at St. Anthony's Medical Center, were running low at press time. Amazon issued a recall of many of the glasses it had sold as legitimate, causing businesses and agencies like Ideal Pediatrics and Laumeier Sculpture Park to ask customers not to use the glasses they had previously been assured were safe.
For more information on what to look for in glasses and where to find them, visit
.
During totality, sungazers can take pictures with their cameras, but taking pictures during the partial phases without a special solar lens or filter could severely damage the equipment. Telescopes also will not provide the eye protection needed.
Over their years viewing eclipses, the Hahses have picked up some tricks. During the partial eclipse before and after totality, you can stand under a leafy tree that has sunshine going through it and, by looking down at the ground, see a view similar to what you would see through a pinhole camera as the crescent grows and fades.