Three vie for District 100 seat being vacated by Schoemehl
Haefner, Lewis, Spavale looking to fill District 100 seat in November election.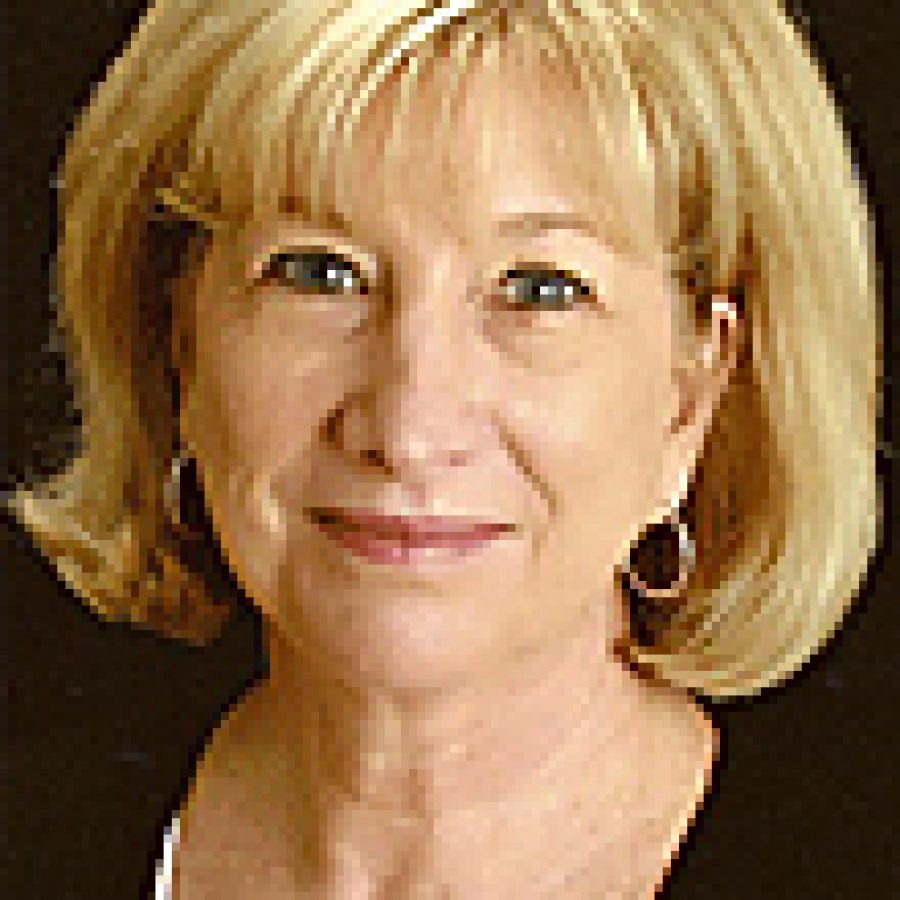 Three candidates are vying Nov. 2 for the open District 100 Missouri House seat.
Republican Marsha Haefner, Constitution Party candidate Randall "Randy" Lewis and Democrat Andrew Spavale seek the state House seat being vacated by Rep. Sue Schoemehl, D-Oakville.
Schoemehl, who was elected to the Missouri House in 2002, cannot run again due to term limits. She is eyeing a run for the District 1 state Senate seat, now held by Republican Jim Lembke, in 2012.
Asked to identify the single most important issue in the race, the District 100 candidates responded:
• "The single most important issue facing not only Missouri but the entire country is the economy. We need to get people back to work by allowing businesses to do what only they do, create jobs. Additional taxes imposed by government at any level to individuals and small businesses would be disastrous job killers and must be avoided. When businesses have tax and regulatory certainty and policies that encourage growth, the economy will improve at a noticeable pace," Haefner said.
• "Energy — We have no policy in the state and one needs to be developed. Energy will drive job creation, sustainable growth and lower our dependency on foreign oil," Lewis said.
• "The single most important issue is creating jobs in the state of Missouri. In the past 10 years, Missouri has lost 69,000 manufacturing jobs. In that same period, the median income has dropped 14.6 percent, twice the national average. It's obvious that the same 'solutions' that have been tried by the General Assembly have not worked. It will be the responsibility of the General Assembly to provide real solutions and resources to create and environment that businesses will find attractive to locate to Missouri and create new jobs. We must strengthen our education and training programs to compete in the global markets," Spavale said.
Haefner, 59, 3015 Carverview Court, 63129, is self-employed as the co-owner of For the Garden by Haefner's Greenhouse. She and her husband, Gregory, have three adult children. Haefner, who has not held elective office, said she is seeking office "(t)o represent the values and concerns of the residents of Oakville in Jefferson City utilizing my experience as a parent, business owner and longtime Oakville resident."
Lewis, 46, 233 Bluff View Circle, 63129, is the director of operations at Walsh & Associates Inc. He and his wife, Tracie, have no children. Lewis, who has not held elective office, said he is seeking office because "(a) new and fresh look is needed in our system. The two-party system has failed us and new ideas are needed."
Spavale, 63, 2272 Aileswick Drive, 63129, owns Spavale Realty LLC. He and his wife, Sue Ann, have grown children. Spavale, who has not held elective office, said he is seeking office because "(o)bserving what is going on in Jefferson City — the state's budget and the high unemployment rate in Missouri — new ideas and positive changes need to be made.
"After discussing running for state representative with my family and having their support, it is time to do my part to help bring about a positive change to the state of Missouri."
The candidates gave the following responses to a Call questionnaire:
What is your position on abortion?
All three candidates said they are anti-abortion. Spavale said he is endorsed by Missouri Right to Life.
What is your position on the death penalty?
Haefner said, "I am not in favor of the death penalty. I realize this is a difficult position to defend. I believe just one verdict and execution of an innocent person would more than undo any potential good proponents of the death penalty may claim. Anyone convicted of a heinous crime should never be given parole."
Lewis said, "I am a death penalty advocate."
Spavale said, "I am generally opposed to the death penalty; however, I feel certain crimes should receive further consideration for the death penalty."
Are changes needed to the state's foundation formula for funding education?
Haefner said, "Yes. The Mehlville School District is at a disadvantage under the current formula. There needs to be a more balanced distribution of funds."
Lewis said, "Yes. First, competition for the education system is needed. This can and has been proven in other states through vouchers and tax credits for private schools. Second, the formula is based on property, income and sales taxes in the districts and shared among all schools in the state. In this economy, the poorer schools will receive less money first while the affluent schools are impacted less and later. This is not an equitable solution."
Spavale said, "Yes, changes are needed. The Mehlville School District has been shortchanged by a funding system that requires Mehlville taxpayers to not only fund our schools, but we are forced to fund rural schools in the counties that do not have the same assessment requirements as St. Louis County."
Are changes needed to the Public School and Education Employee Retirement Systems of Missouri?
Haefner said, "Yes, changes are necessary. I know of no other industry where 14 percent of an employee's salary is put into a retirement account by their employer. It would be great if Missouri could continue to offer this exceptional benefit to our educators, but the money just is not there."
Lewis said, "The retirement benefits of educators should be portable, allowing for transfers to traditional forms of savings plans based up on the individuals' needs."
Spavale said, "The state Legislature should not interfere with the contract of any current or retired teachers. For future hires, we need to consider adjustments in the program to keep the system solvent without adding to the burden of the local school districts. Any changes should be negotiated with education professionals, not imposed by the Legislature."