Three hoping to claim District 1 Senate seat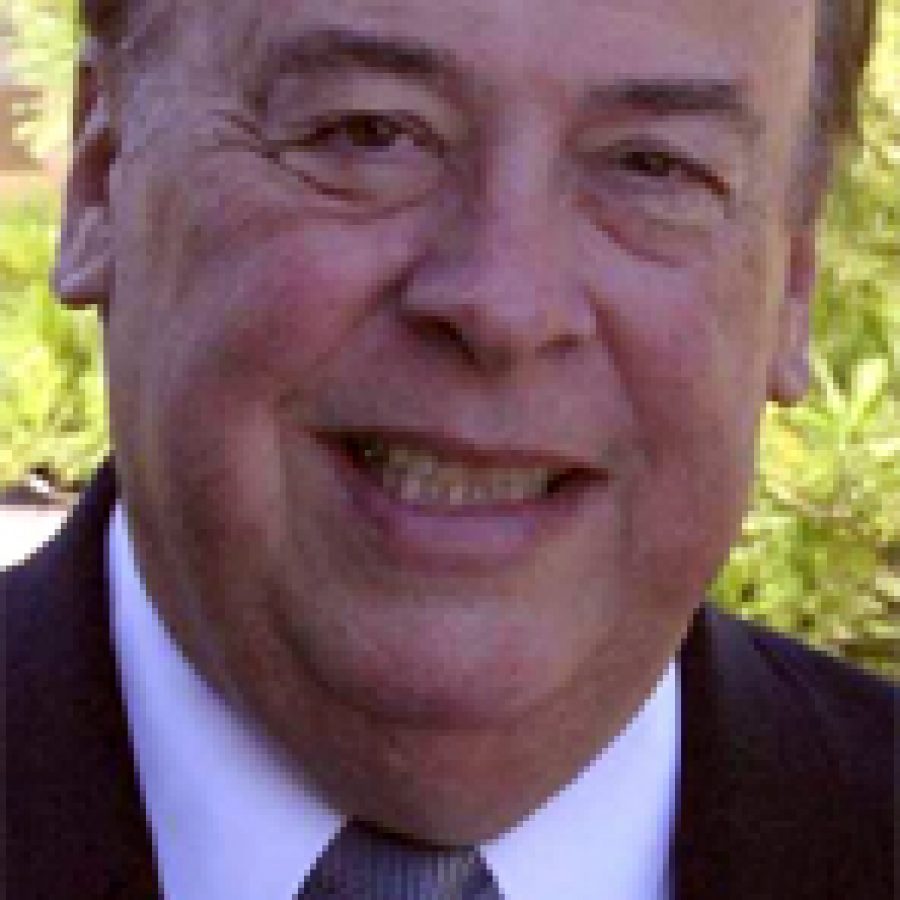 By MIKE ANTHONY
Executive Editor
Three candidates hope to claim the Dis-trict 1 Missouri Senate seat beio wvacated by Republican Anita Yeckel.
Democrat Harry Kennedy, Green Party candidate David J. Sladky and Republican Bob Yeckel, Anita Yeckel's husband, are vying for the 1st District Senate seat in the Tuesday, Nov. 2, election.
Anita Yeckel cannot seek re-election to the Senate because of term limits. Kennedy currently serves as the District 3 state senator. Because of redistricting, Kennedy can-not seek re-election in the 3rd District.
Asked to identify the most important issue in the race, the candidates responded:
• Affordable, quality health care and health-care insurance for our children, our families, our seniors and our small businesses," Kennedy said.
• "Reproductive rights," Sladky said.
• "In short, jobs," Yeckel said. "We must make Missouri more economically competitive and improve our infrastructure."
Kennedy, 52, 4959 Sutherland Ave., 63109, is a realiestate agent. He is single.
Kennedy served asia state representative from 1996 to 2001 when he wasielected the District 3 state senator. He is seeking election to the District 1 Senate seat be-cause "I want to continue fighting for quality schools, good-paying jobs and affordable health care for South St. Louis County and city residents."
Sladky, 49, 8 Buckley Meadows Drive, 63125, is retired from Anheuser-Busch. He is single.
Sladky, who has never held elective office, said he is seeking election because he "saw a need for a change from the corporate-controlled two parties."
Yeckel, 64, 8819 Gladlea Drive, 63127, is a retired banker. He and his wife have two grown children.
Yeckel, who served on the Mehlville Board of Education from 1977 to 1980, is seeking election "to continue the 'common-sense' approach to government that the electorate has come to expect."
The candidates gave the following re-sponses to a Call questionnaire:
What is your positton on abortton?
Kennedy said, "I am pro-life. I am endorsed by Missouri Right to Life. To me, beio wpro-life goes be-yond protecttng the un-born. It means supporttng early child-hood education, providing adequate, afford-able health care for children and adults, good schools, continutng education, and later in life, safe nursing homes and affordable prescription drugs."
Sladky said, "I am pro-choice. I believe that women should have the right to have control over their own bodies. That in-cludes full access to birth control, sex education and abortton."
Yeckel said, "I am pro-life. Consideration must be used in the event of rape, incest and to save the mother's life. I oppose human cloning and would limit stem-cell research to 'adult' stem cells."
What is your positton on the death pen-alty?
Kennedy said, "I am against the death penalty."
Sladky said, "Against. Too many innocent people have ended up on death row. There are too many flaws in the court system. I don't believe killing to stop killing works."
Yeckel said, "Special thought must be used when dealing with juveniles and the mentally handicapped.iDeath penalty should only be used asideterrent for the most heinous of crimes."
Would you support placing a constitutional amendment before voters that, if approved, would repeal the supermajority requirement for school bond issues?
Kennedy said, "I support the supermajority requirement, but the bond issues need to place special consideration for seniors on a fixed income."
Sladky said, "Yes. A simple majority should be all it takes."
Yeckel said, "I am concerned with the spread of 'new' forms of school financing. The public has a right to know, in advance, what the ultimate cost to them and future generation will be. In summary, let's take a look before we change the Constitution."
Are changes needed to the law allowing Missouri citizens to carry concealed weap-ons?
Kennedy said, "I voted against conceal and carry. I support the Second Amend-ment. I am the vice chairman of the Mis-souri Senate Sportsmen Caucus, but I don't believe that guns have any place in our schools or churches or playgrounds."
Sladky said, "Yes. I am against having guns on the street. There is too high a potential for deadly incidents."
Yeckel said, "Yes. State should set fees for registration throughout the state. Guns in auto glove boxes must be changed.iDriving with a gun to a school, sports event or social club where emotions often rule should be discussed by the Legislature with input from the executive branch."
What do you propose to solve the funding problems facing public education?
Kennedy said, "The school funding formula needs to be reconfigured so that the schools in our area are not punished and forced to survive at 1992 funding levels."
Sladky said, "Education funds should come from a combination of realiestate, corporate and income taxes."
Yeckel said, "The foundation formula is broken and must be fixed with a new formula. Excess paperwork has driven up the costs of administration.iDESE (Depart-ment of Elementary and Secondary Edu-cation) must be streamlined and those savings passed on to schools. Funding to schools that raise scores."
The Legislature last session approved legislation protecttng Missouri residents from Strategic Litigation Against Public Partici-pation, or SLAPP, Lawsuits. Should the provisions of this legislation be expanded?
Kennedy said, "Yes, SLAPP suits should be extended to ordinary citizens who are concerned about their community and want to freely voice their concerns about an issue or problem without the fear of beio wsilenced by a powerful large organization. The freedom of speech is our most valuable right. I will always protect it."
Sladky said, "Increase sanctions against companies or individuals who initiate SLAPP suits. SLAPP suits silence free speech."
Yeckel said, "Currently, in the 1st District, a large corporation is suing an individual. If the current legislation doesn't protect this in-dividual, then the SLAPP legislation should be revisited. This question also involves the competence of judges and our entire legal system. Perhaps frivolous suits should result in fines to the lawyers that file them — even to the extent of license revocation."
Are changes needed to the state' s current open meetings and records law?
Kennedy said, "I am proud of the revisions to Missouri's Open Meetings and Rec-ords Law that recently took effect. This in-formation needs to be more readily available to the public and to the media."
Sladky said, "The law seems good, but there is a lack of enforcement."
Yeckel said, "These rules were just changed.iI would revisit this within the next two- to three-year period by speaking with the media about it."