Three candidates seek GOP nomination in county executive race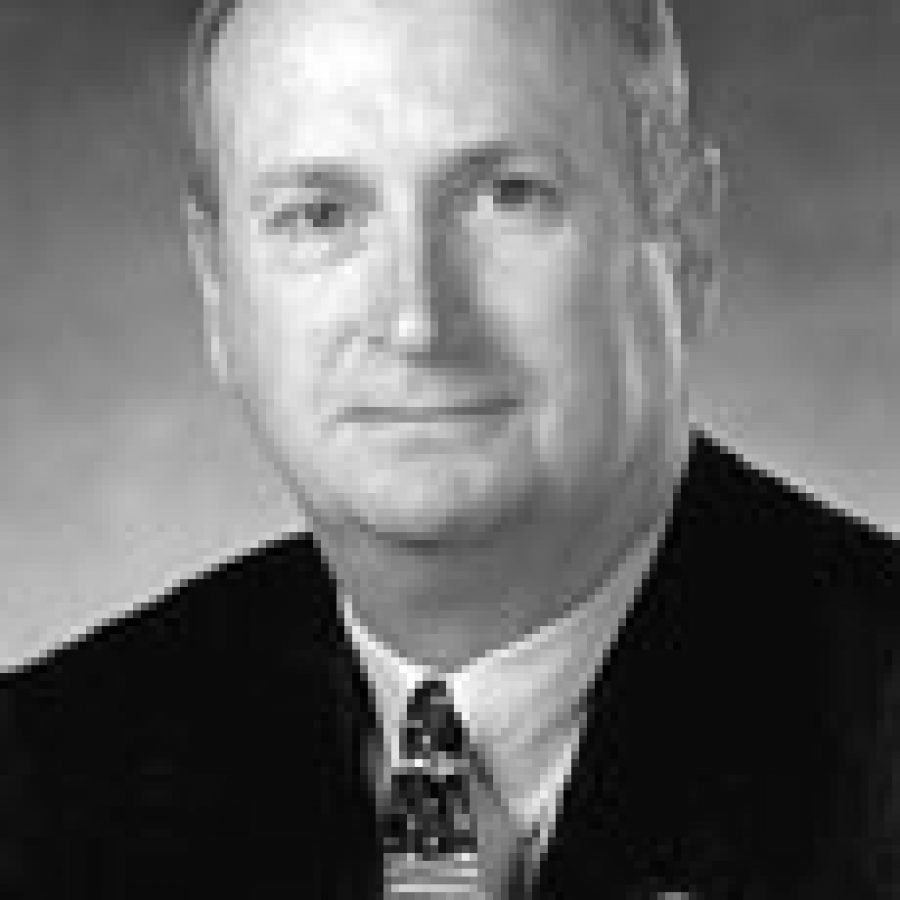 A mayor, a former county executive and a county councilman are seeking the Republican nomination for county executive in the Tuesday, Aug. 3, primary election.
Fenton Mayor Dennis Hancock, who has served in that position since 2001, Gene McNary, who served as county executive from 1974 to 1989, and Councilman Kurt Odenwald, R-Shrewsbury, who has served as the 5th District councilman since 1990, are vying to finish the final two years of the late George R. "Buzz" Westfall's term. Westfall died in October and Charlie Dooley unanimously was selected by the County Council to serve as county executive until the November election. A fourth Republican candidate, Ed Golterman, withdrew from the race, but his name will remain on the ballot. The Republican nominee will face one of six Democratic candidates, including Dooley, who are seeking their party's nomination, and Libertarian "Ted" Brown Sr. in the November election.
Asked to identify the most important issue in the race, the candidates responded:
• The most important issue is the economic well-being of St. Louis County," Hancock said. "Years of questionable fiscal policies, a poor economic development effort and misplaced priorities have the county at a crossroads. Will it continue to decline or will it go forward?
"A report from the University of St. Louis at Missouri gave the ominous news earlier this year: St. Louis County lost $2.6 billion in wages in the last 10 years due to a 'wage drain,'" Hancock continued. "People and jobs have been moving out. The county lost 4,000 jobs to St. Charles County a few years ago when Mastercard moved to O'Fallon from Westport. About 3,500 jobs were lost when CitiGroup moved to O'Fallon. The list goes on and on."
• "Growing our economy to provide jobs, quality neighborhoods, schools and transportation systems," McNary said.
• "The redevelopment of the county's inner suburban areas is critical to our future viability as a county and region," Odenwald said. "It is imperative that we stem the loss of population and business from St. Louis County, if we are to remain a viable community."
McNary, 68, 3 Watch Hill Road, 63124, is an attorney. He and his wife, Susan, have five grown children. Besides serving as county executive, McNary was commissioner of the U.S. Immigration and Naturalization Service from 1989 to 1992.
He said he is seeking the Republican nomination for county executive because of his "experience, leadership and vision to provide strong economic growth and jobs to St. Louis County and restore (the) county's fiscal responsibility."
Odenwald, 49, 7316 Sutherland Ave., 63119, is an attorney. He and his wife, Sandy, have four children ages 15, 13, 12 and 6.
Odenwald said he is seeking the Republican nomination for county executive because "I believe I have made a positive impact in our community as councilman for 14 years and feel I can do the same as county executive. St. Louis County is at a crossroads and needs committed leadership for the future. I bring the commitment, energy and experience required for this office."
Hancock, 51, 29 Sennawood Drive, 63026, is a customer operations manager. He and his wife, Christine, have three grown children.
Hancock said he is seeking the Republican nod for county executive because "I believe there needs to be a change of direction in St. Louis County and that won't happen until there is a change in leadership. County government needs to listen better, be more open and more responsive to county residents. It needs to do a great deal more to promote economic development and attract business and jobs. Otherwise, the quality of life we enjoy in St. Louis County will decline."
The candidates gave the following responses to a Call questionnaire:
Do you believe the county Planning Commission is responsive to county residents? How long should appointees serve on the Planning Commission?
Hancock said, "The county Planning Commission has long done a better job of representing developers than citizens. Hundreds of citizens can vigorously protest a development and the commission will approve it anyway. Former County Executives Gene McNary and Buzz Westfall, who took in huge amounts of campaign contributions from developers, always saw to it the developers got a Planning Commission to their liking. We want development in St. Louis County but we need responsible development. I will appoint people to the Planning Commission who understand this. I would think that two terms would be about right, but don't think it should be an absolute rule. If someone has been doing a particularly good job and wants to stay for a third term, then I would consider it.
McNary said, "We should improve the responsiveness of the Planning Commission and assure fair representation by including people from all parts of the county. Appointments should be consistent with maintaining a solid knowledge base, while also including people with new ideas."
Odenwald said, "I believe some members of the Planning Commission have sometimes been insensitive to constituent concerns. I feel eight years should be the maximum for service on any board or commission. We have many qualified persons who would like to serve on our boards and commissions."
Do you agree with the County Council's 2001 decision to change its meetings to the evening from the afternoon?
Hancock said, "I agree with the decision and would support keeping the meetings in the evening. I recently addressed the County Council on the issue of trash-transfer stations and it was convenient to be able to attend in the evening. The next county executive needs to continue the process by making all meetings more accessible to the public."
McNary said, "Yes, this makes government accessible to more people. Further, I believe the council should also have regular, regional meetings to bring government closer to the people."
Odenwald said, "Absolutely, as I pushed for night meetings during my entire tenure as councilman and sponsored the bill that moved the meetings to the evenings.
Do you support licensing provisions of the county's mechanical code? Why or why not? Are changes needed?
Hancock said, "I do not support the licensing provisions enacted a few years ago to benefit a politically influential trade union. It was never shown the provisions were needed, but it was clear they would present problems for smaller heating and air-conditioning firms. I think it is an issue that needs to be revisited and I would support eliminating requirements that are unnecessary or punitive toward small businesses."
McNary said, "The goal of these ordinances must be to ensure that St. Louis County residents are safe and installers are trained and qualified. The current system has shortcomings that need to be addressed without unnecessary delays and increased costs that are passed on to customers."
Odenwald said, "No, I did not support the mechanical code when passed by the County Council in 2000. I strenuously objected to the code when it initially passed, because it unfairly took work away from well-trained workers. When I became chairman of the council in 2001, I worked to obtain changes to the mechanical code that lessened the harshness of the ordinance on the small independent business owner. I would support continued changes to more fairly treat the small independent businessmen and tradesmen in St. Louis County."
Do you support Pinnacle Entertainment's gaming proposal for the former National Lead site in Lemay?
Hancock said, "I do not support the proposal and am even more opposed to the way the matter has been handled. The casino would take in $225 million each year, with 80 percent of that estimated to be coming from new gamblers. Even worse, casinos target senior citizens and they are a considerable part of the population in south county.
"Even if I supported a Lemay casino, the Pinnacle proposal is a questionable deal for St. Louis County. This is because there are so many unanswered questions. After claiming the casino would provide an abundance of riches, it's then found out the claims are just goals — not promises. No one knows what will happen if cleanup costs at the site exceed what the casino is required to pay. No one knows if the method of providing funds for schools, in lieu of taxes, is legal. This is (a) poor way for a government to do business.
"A community cannot be built on casinos. It needs real economic development that brings good jobs. This in turn leads to more housing, more retail development, etc. However, it has been my belief that the people of south county should be the ones to decide on the matter. I have testified before the Missouri Gaming Commission that when you have an issue as divisive as the Lemay casino project, it should be put to a vote. That would be the fairest and most democratic way to settle it," he added.
McNary said, "The County Council has voted on this proposal, and as county executive, I will not second-guess those who came before me."
Odenwald said, "No."
Is the former National Lead site in Lemay the best location in south county for a riverboat casino? Is there a location you believe would be more suitable?
Hancock said, "I would not support a casino in south county. But if there is to be one, the best location is the one that is most acceptable to residents and that yields the most revenue for the county and for local school districts. At this point, there isn't enough information to make an informed choice. The County Council irresponsibly rushed to approve a casino for the old National Lead site despite there being many unanswered questions about the project."
McNary said, "It appears that this issue will be put to a vote of the people and they will have the ultimate voice."
Odenwald said, "I do not believe any site is appropriate for the expansion of gambling in St. Louis County."
Would you support a south county education foundation funded by gaming revenues?
Hancock said, "I would support it as a last resort. However, I would have wanted it all spelled out before a particular casino project is approved. This didn't happen with the Pinnacle casino proposal for Lemay. Gambling firms are well known for not delivering what they promise. The best way to support school districts in the south county area is with an economic development plan that brings good jobs to the area."
McNary said, "Education is vitally important to the welfare of our citizens and community. I will tap all sources and support all opportunities for providing a quality education to our students."
Odenwald said, "I do not support the concept of local governments relying upon gambling as a source of revenue to provide local services. However, if a casino is approved, I support the concept of establishing an education foundation to retain tax revenues within St. Louis County.
"However, there are substantial legal obstacles to the establishment of a legal funding source for an education fund, and the public must be informed of these challenges so there is no surprise if it is later determined that an education fund cannot be legally funded under the existing laws of the state of Missouri," he added.
Candidates seeking the Democratic nomination for county executive will be featured next week. Any candidate who has not returned his or her questionnaire must do so by today — July 22.