Three candidates challenging Sunset Hills mayor in April 6 election
Mayoral candidates respond to newspaper questionnaire.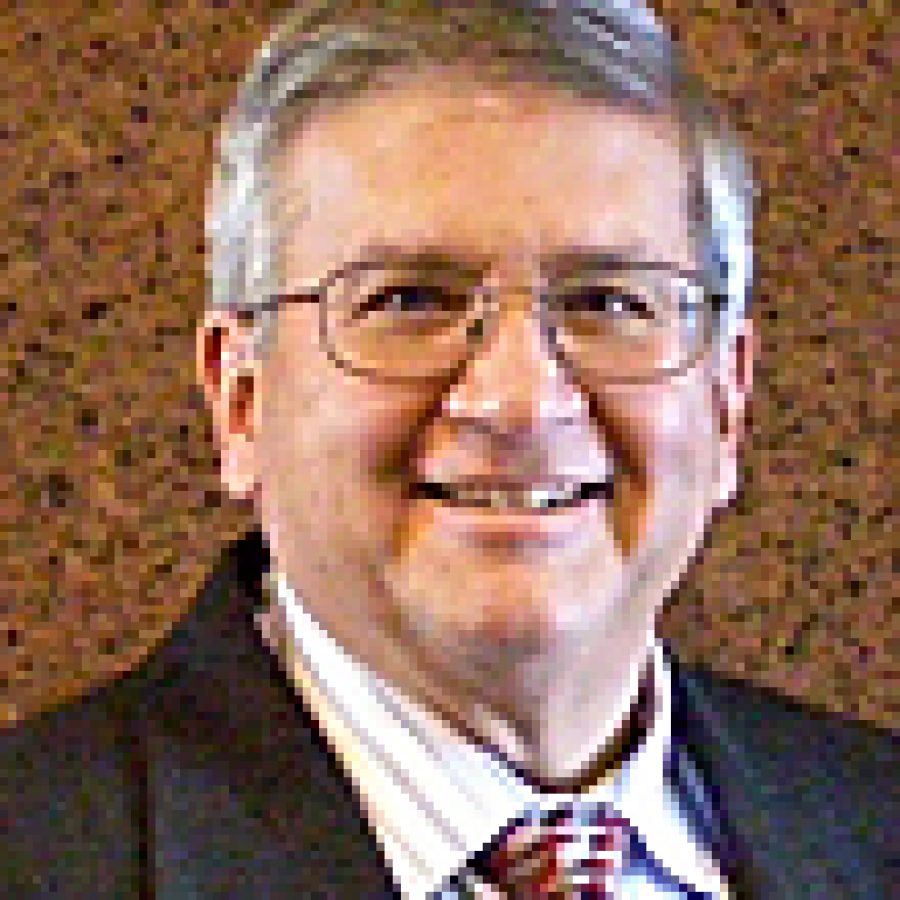 Sunset Hills Mayor Mike Svoboda faces three challengers — including two incumbent aldermen — in the April 6 election.
Svoboda, who was elected mayor in 2008, is being challenged by Ward 4 Alderman Frank Gregory, Ward 1 Alderman William J. "Bill" Nolan Jr. and Mary B. Wymer.
The mayoral post carries a two-year term.
Asked to identify the most important issue in the race, the candidates responded:
• "To ensure the long-term financial viability of the city by committing to a proactive and fiscally responsible approach to strategic planning, policy implementation and expenditures so that we can maximize the quality of services for our community without jeopardizing its future. As to why: We are like any other business in that our revenue is subject to economic fluctuations and our future is dependent upon the ability to attract people — residents and businesses — and to continue providing the standard of services and support traditionally found and expected in our city. In order to ensure a bright future for our city, we must be good stewards of our resources through sound planning and strong, reasonable financial practices," Gregory said.
• "Fiscal responsibility. While experiencing the 'worst economic recession since the Great Depression,' we borrowed $14.1 million and indebted our city to pay back $21 million over the next 19 years. All while our tax-revenue collections were 10 percent under budgeted income. We need a fiscal conservative at the helm," Nolan said.
• "Keeping the budget balanced and protecting the reserve fund. There are people that want to dip into the reserve fund and then manipulate other moneys to make it look like we don't have debt. We just saw how that works on a national level. We don't need to do it in Sunset Hills," Svoboda said.
• "The most important issue in this race for mayor is accountability of the office and the stable stewardship of the city of Sunset Hills and its direction. The city needs a fresh, honest and trusting person with experience in this office. I am the best candidate for mayor," Wymer said.
Gregory, 56, 9811 Eagle Crest Court, 63127, is employed by Kelley Real Estate Inc. He and his wife, Debby, have four children — three college graduates and a high school student.
Gregory served three three-year terms on the Lindbergh Board of Education and first was elected to the Board of Aldermen in April 2006.
He is seeking the mayoral seat because "I believe I can make a positive and measurable difference in improving the direction of our city to better serve our citizens and the community. My professional and educational background in finance and banking and real estate will enable me to realistically address the issues faced by Sunset Hills. Equally important, my nine years of service on the Lindbergh Board of Education and four years as an alderman help me bring a strong, problem-solving approach to the office of mayor in key areas such as strategic planning, multimillion dollar budgetary management and cost control, developing realistic objectives and interacting with groups of diverse backgrounds to establish goals, stay on task and get things done."
Nolan, 67, 1470 Royal Springs Drive, 63122, is president of Nolan Office Interiors. He and his wife, Mary, have three adult children.
Nolan, who was elected to the Board of Aldermen last April, is seeking the mayoral seat because the city needs "fiscal responsibility in light of the present economy."
Svoboda, 63, 10231 Kennerly Road, 63128, is retired from SBC/AT&T. He and his wife, Claudia, have two adult children.
Svoboda served as a Ward 4 alderman for one year be-fore being elected mayor in April 2008. He is seeking re-election "to keep the budget balanced as we have done the past two years. And to continue working with the board and department heads to keep the city running smoothly and as conflict free as possible."
Wymer, no age provided, 13041 Pagada Parkway, 63127, is a registered nurse-neonatal intensive care specialty. She is married to Rich Wymer.
Wymer, who is making her first bid for elective office, said she is seeking the mayoral seat "to bring accountability and common-sense responsibility of government back to City Hall, fostering a better city and stronger neighborhoods."
The four gave these responses to a Call questionnaire:
What is your position on the use of tax-increment financing and other tax tools?
Gregory said, "As mentioned four years ago when I first ran for office and reaffirmed two years ago when I ran for re-election, tax-increment financing was designed to assist in providing infrastructure — i.e. sewers, utility relocation, street improvements/realignment, signalization et cetera — for projects that benefit the community and where those costs make development prohibitive. This is a viable alternative for financing improvements that might not otherwise be feasible; therefore I am in favor of the use of tax-increment financing and other tax tools where appropriate."
Nolan said, "It's a great tool when used properly. Our experience in the Plaza and the Southwest corner at Lindbergh and Watson is an excellent example. Redeveloping blighted and under-utilized commercial property is a viable one — see House Bill 2125 pending in the Missouri House.
"I don't like using TIFs to redevelop residential areas."
Svoboda said, "I am not in favor of TIF or other tax giveaways."
Wymer said, "The use of Tax Incentives, Chapter 100, Tax Increment Financing, Community Improvement Districts, Transportation Development Districts and other tax incentives offered by St. Louis County Economic Development Council and the state of Missouri has its place in helping rebuild our city economy and to retain current business and the work force. However these tax-incentive packages shall be negotiated in the best interests of the public, taxpayers, the city of Sunset Hills, the school districts and the fire protection districts. There must be community and intergovernmental consensus on these issues before the ultimate vote of the Board of Aldermen. We cannot give away the store, but we can strive for a fair economic climate within our business community."
Do you support the use of eminent domain for redevelopment projects?
Gregory said, "This is a difficult issue to fully address in such a limited space but as I have stated in my two previous elections, I believe the use of eminent domain is appropriate where public benefit can be demonstrated. I believe that granting this power should only be considered after a thorough assessment of every facet of a project and that the city should retain administrative control of the power until the applicant documents having explored in good faith every alternative; i.e. no up-front authorization of eminent domain in order to prohibit using it as a threat. Through good communication, a thorough investigation and analysis and approaching a request with an open mind, informed decisions can be made. In my opinion, I do not believe it is in the best interest of a city or its citizens to willingly relinquish or limit their city's authority by not utilizing all powers vested in it for the benefit of the community."
Nolan said, "In the right circumstances, yes. I don't agree with taking residential properties for this purpose. How-ever, in cases of blight — see Missouri HB 2125 — commercial property might be taken by eminent domain."
Svoboda said, "I think the use of eminent domain for private gain is wrong."
Wymer said, "This has been a very hot topic in our community for the past decade and several proposed developments in the I-270/I-44 corridor. I do not believe in the government exercising the use of eminent domain. If a private entity or government wants and needs a specific and necessary parcel of property, then they need to get three independent appraisals and negotiate with that property owner a fair market value price. Property shall never be taken from individual property owners without agreement and proper compensation."
Do you agree with the direction the city is moving?
Gregory said, "I believe the city has always acted in the best interest of our citizens and therefore I say yes. However, I feel that there is significantly more that can and should be done and believe my business background and proven experience in public office affords me the necessary tools to work with staff and the board to establish goals, define plans of action and implement that action."
Nolan said, "We're not moving. We have spent the last year on parks, spending and fighting over colors, while our tax revenue fell 10 percent. Our city doesn't have a direction because it has no current long-range plan. It hasn't been reviewed/visited in five years."
Svoboda said, " Yes. Our new pool and community center will be up and running soon. We are getting streets repaired and bridges rebuilt. We have a good core base of businesses that support the city with sales tax. Sixty percent of our budget comes from sales tax. Another 30 percent comes from utility tax. We need to keep our storefronts full by seeking out new businesses to fill in vacant properties."
Wymer said, "The direction of the city needs to make government and the Police Department friendlier to the residents, their visitors and the region as a whole. We have some great assets that we need to capitalize and build upon to make our city the best that we can be. We need to work together to provide the best of public services in a more economic way …"
City Attorney Robert C. Jones last summer declared an alderman's abstention to be a "no" vote. Do you agree with his ruling?
Gregory said, "I'm not sure what situation you're referring to but given Mr. Jones reputation as a respected member of the legal community and the fact that he is our legal counsel, I totally agree with his ruling."
Nolan said, "Yes, the situation called for an up-or-down vote. The outcome was the same either way."
Svoboda said," Yes. It's our attorney's duty to know the law and keep the board and mayor informed of all legal matters that may be of interest or concern."
Wymer said, "I disagree with Mr. Jones' ruling. The Missouri State Constitution, the Revised State Statues of Missouri and Robert's Rules of Order state that if a member of a governing body has a financial interest in or would gain financially from an official decision of a governmental body or agency that they shall recuse and abstain from any official vote. This is to avoid the hint of impropriety and to be ethical. I again disagree with Mr. Jones that an abstention is considered a 'no' vote. I feel that abstaining is being neutral and therefore does not cast a 'yes' or a 'no' vote."