Superiors hindered Furrer investigation, officer says in court
Supervisors advise corporal to treat incident as accident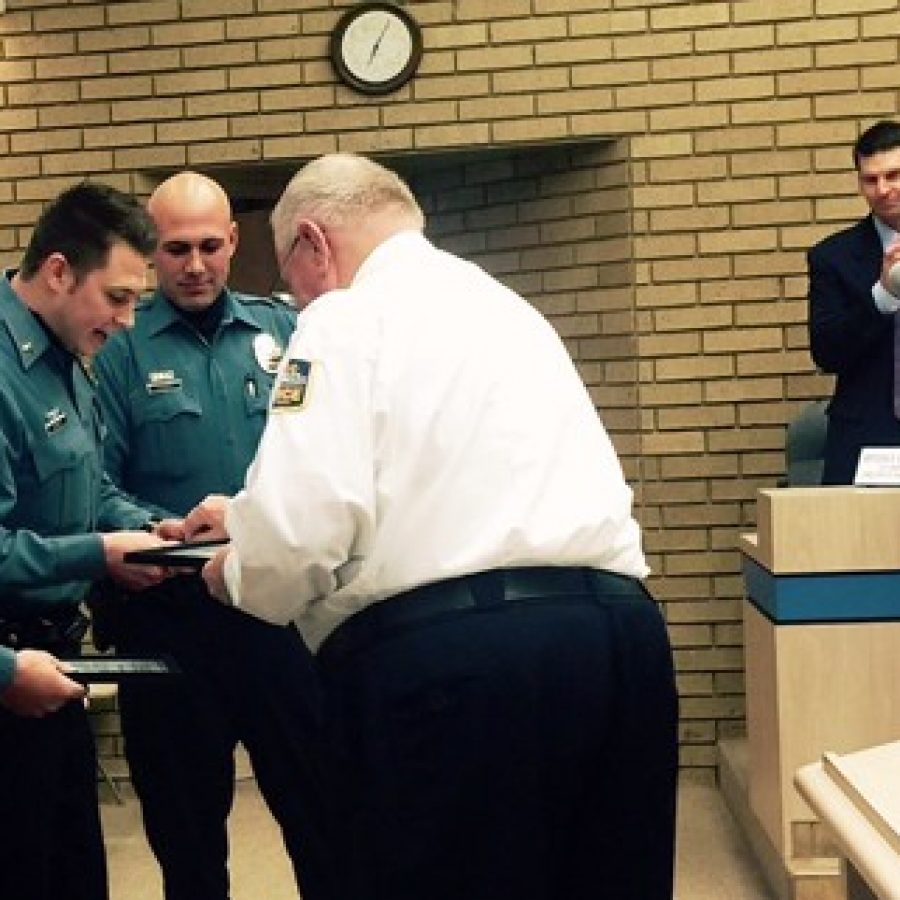 The Sunset Hills Police Department's investigation of Mayor Mark Furrer's incident with a bicyclist was hindered after higher-ups decided at the scene to classify the case as an accident instead of an alleged assault, the primary responding officer testified.
Furrer's four-day jury trial on felony charges of assault and property damage for allegedly intentionally hitting Fenton resident Randy Murdick with his car ended with a mistrial Dec. 17. A new trial is set for Feb. 22.
On the witness stand Dec. 16, Cpl. Jeff Senior testified that he didn't take photographs or fingerprints at the scene July 29, 2014, because of a directive from unnamed supervisors to investigate the incident as a car accident rather than as an assault, which changed what evidence he would collect.
"I was advised by supervising officers they were going to investigate as an auto accident, and we would not typically take photos of an auto accident," Senior said.
Furrer has pleaded not guilty and denies eyewitness accounts that he swerved his 1991 red Mercedes convertible to hit Murdick, who was riding a $12,000 bicycle on Old Gravois Road in front of Delta Dental. Instead, the mayor says Murdick grabbed onto the convertible of his own volition and fell off.
In response to a direct question from Assistant Prosecuting Attorney Alan Key, Senior testified that if he was in charge that day, he would have taken fingerprints and photos and investigated the case as an assault, as county detectives did after Police Chief William LaGrand handed over the case two days later.
Five-year veteran Senior was the first officer at the scene, but also the lowest-ranking: Sgt. Steve Lucas, Lt. Greg Zveitel and Lt. Mike Swofford all arrived soon after.
Over the last year, LaGrand has honored Senior multiple times for outstanding service to the city. The week before Furrer's trial at the Dec. 8 Board of Aldermen meeting, Zveitel took photos as the chief honored Senior, Lucas and Officer Lee Thompson for saving the life of an overdose victim.
"We're lucky to have them," LaGrand said of the trio's heroics.
In testimony just before Judge Thomas Prebil declared a mistrial Dec. 17, Furrer recounted the minutes leading up to the incident: He left City Hall in a good mood and took the convertible the long way home because the weather was perfect.
Furrer did not mention an email he sent just four minutes before the official time of the incident, 3:50 p.m., in which he asked LaGrand to start working night shifts.
Criticizing LaGrand and praising Zveitel — who with 38 years of experience is the most senior member of the Police Department — the mayor directed LaGrand to begin taking his lieutenant with him to citywide meetings of department heads.
"Greg seems more able to achieve results than you, and I like dealing with folks better equipped to achieve," Furrer wrote in an email timestamped 3:46 p.m.
Testifying for Furrer's defense, Zveitel said that he went off duty at 3 p.m. but stayed around and, after he received a call from the mayor about the incident, rode to the scene with Swofford. Zveitel testified that he was not in charge and did not make the call for the incident to be treated as an accident, but he did not say who was in charge or who made that decision.
LaGrand and Furrer did not respond to requests for comment, and Zveitel referred questions to LaGrand.
On the stand, Senior agreed that there was more tension at the scene than usual because the incident involved the mayor.
But Zveitel said he didn't feel tension and "wasn't particularly uneasy" that police had to investigate an incident involving the mayor.
Furrer was released from the scene before the bicyclist and eyewitnesses and, even when the county later filed felony charges, was never arrested or photographed.
"They just let him drive away," Murdick told the Call after the incident. "If I hit him on a bike, I guarantee you they would have arrested me."
Besides the lack of crime scene photos and fingerprints, county detectives faced unique obstacles in investigating an incident where they hadn't been called to the scene, including one that was never made public until Furrer testified: Before the mayor showed his convertible to reporters the next day at City Hall, he washed it.
Furrer began his testimony by recounting the backstory of the 300SL roadster, a family heirloom he treasures and plans to pass on to his daughters. The mayor, a "hardcore car buff since birth," convinced his father, then-Southside National Bank President Dick Furrer, to buy the Mercedes as a retirement present to himself.
"He was nearing retirement age and had never owned a brand-new car in his life, and neither had my mother," Furrer testified, smiling at the memory. "I was the one who would take care of it."
The younger Furrer visited his father daily and took meticulous care of the car, detailing it and washing it at least weekly for decades to keep it in top-notch condition. When Furrer arrived home post-incident, it didn't occur to him to take photos of his car because he saw no damage, scratches or dents and because he didn't believe he had done anything wrong.
But, he testified, he washed the convertible because "it had a smudge."
Murdick says he hooked his elbow into the convertible for balance after Furrer hit him, then slid off the back panel. Furrer says Murdick grabbed onto the top of the door before tumbling off.
With no forensic evidence to prove either claim, Senior and Zveitel have different memories of what they saw on Furrer's car.
Senior testified that he saw two smudge marks: What looked like a palm print on the passenger door to the right or lower than the door handle and a "body contact mark," possibly from sweat, on the back quarter panel, close to the rear of the car. He did not see any fingerprints.
Zveitel said he talked to Furrer at the scene and inspected the car, but never talked to Murdick and never got closer than 10 feet to the bicycle.
He and the mayor describe marks in the same places: Fingerprints in the chrome where the convertible top would come up, and a smudge mark on the rear quarter panel close to the passenger side door, higher and closer to the front than Senior recalls.
By the time county detectives arrived at the mayor's Millstadt, Ill., farm four days later to inspect the car, no forensic evidence remained on the vehicle.
"The vehicle was parked on a gravel driveway and had both apparent dew and dust on various points of the vehicle," Detective Matthew Wilson wrote in the police report.