Superintendents nationwide learn from Mehlville students
Naperville Central High Innovation Director Tony Schlorff talks with a student at Mosaic Elementary on an April 20 tour of the new school.
By Gloria Lloyd
News Editor
glorialloyd@callnewspapers.com
Superintendents from across the country converged on the Mehlville School District last week for a national conference focused on technology in education, with Mehlville showing off its new school of innovation and its new innovative high-school programs.
The superintendents' arrival from 14 states and Australia for the AASA Digital Symposium April 20 was highlighted by a student panel at Mehlville High School on students who are designing their own curriculum and taking college classes and internships.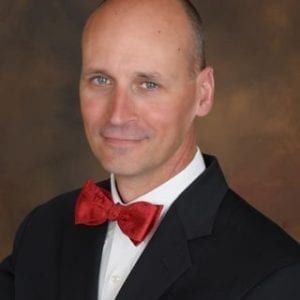 The symposium was held at Mehlville because of the innovation Superintendent Chris Gaines has brought to the district this year, but also because Gaines will serve as president of AASA, The School Superintendents' Association, starting in July.
Mehlville middle-school students are designing apps and solving problems in Project Lead the Way courses, and elementary students at Mosaic Elementary are taking on projects some students wouldn't have otherwise seen until they were in high school.
Mosaic Elementary fourth-grader Gabe Jackson said students at Mosaic move at their own pace through online lessons as opposed to traditional school, where everyone goes through lessons from the same math book at the same time.
Students take control of their own learning by mastering everything they need to for that week, but at their own pace and order.
Mehlville High School senior Ally Butler was enthusiastic about her self-designed curriculum that landed her a scholarship through a new program, My Path, in which students design their own classes and lessons. Ally designed her own theatre-inspired program and went to Washington, D.C., to lobby legislators.
"The opportunities that have opened for me because of My Path are endless," Ally said. "I'm doing college-level work, and so I'm going into college ready and prepared to do whatever they ask me. It's amazing."
MHS student Daylan Creswell has mapped out his entire life plan after participating in the STL CAPS program run by the Affton School District for districts including Mehlville, Bayless and Rockwood. Students in the program try out careers through real-world internships.
Daylan is the only Mehlville student on the business track, which meets at a business incubator, takes classes at the Microsoft store at the St. Louis Galleria and enrolls in pitching competitions at St. Louis University.
"Since we have so many opportunities to experience so many different things, it helps me filter down, 'Hey, I want to look into this,' or 'I don't want to do this,'" Daylan said.
And although he doesn't physically spend as much time at Mehlville High School as he would have otherwise, he said there's not much difference between CAPS students, who are "one big happy family," and Mehlville students.
If anything, he is able to spend more time on activities he's involved in at Mehlville because the program teaches him time management, he noted.
Initially, he was interested in a career in international business administration, but after meeting people working in the field, he decided human resources is a better fit for him.
Without even graduating high school, Daylan knows exactly what he wants to do in life.
He will join the Army, where he will serve as a human-resources specialist.
When he gets out, he will join the National Guard and attend Missouri State University.
When he graduates, he will have already had four years of HR experience from his time in the Army.
He's practiced for it all by working two jobs while attending school and holding down an internship.
"Daylan, you are impressive," one of the superintendents told the MHS student. "When you come back, I'll work for you."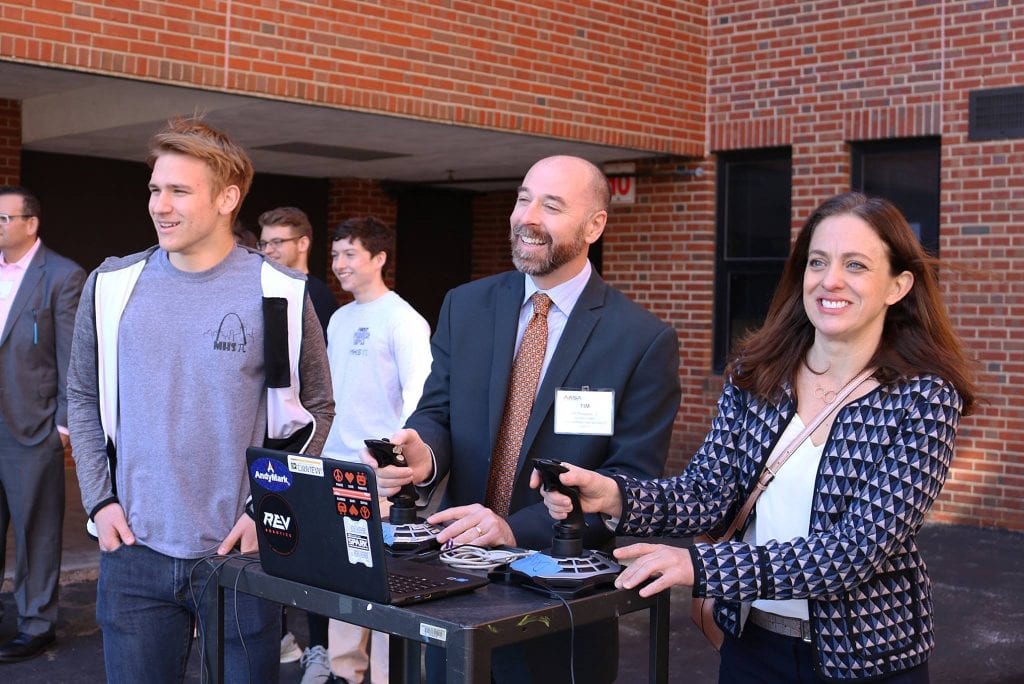 One of the programs is not new at all. Oakville High School junior Jordan Patterson attends South County Technical High School in Sunset Hills, which is part of the Special School District and open to all south county students.
"South Tech is just amazing," Jordan said. "I get to do what I want to do for my future at this early age."
When he toured Tech in eighth grade, he knew he wanted to be there tearing machines apart like he had always loved to do.
By the time he graduates, he can be certified in both brakes and engines and could hold minor certifications in steering and suspension, engine performance and wiring.
With that experience, he could walk into any auto shop and work. But it also brings him closer to his ultimate dream of being his own boss one day.
"I don't want to be under cars all my life," Jordan said. "I actually want to own my own shops."
But Nathan Fetter from Bernard Middle School stole the show with his explanation of what his Project Lead the Way class is working on right now.
The teacher tells students what they're going to accomplish, and they split into teams to find their own way to accomplish it, he said.
In his current project, he and a partner are designing a game involving a customer and cashier. The pair have run into a series of problems, but they've worked through every issue and should finish it by the end of the school year.
That perseverance at such a young age stood out to one superintendent, Marlon Styles Jr. of Middletown Schools in Middletown, Ohio.
"I have three questions," he said. "No. 1, I'm very impressed with your public speaking. No. 2, the tie is sharp, I like that. No. 3, would you give us some advice in this area? Across the country we have students who are not able to experience failure as positively as you are. You mentioned that you're able to find multiple different ways to try to find solutions. What advice would you give us to help students who struggle?"
"It's never a bad thing to fail because you're always learning something from it," Nathan said.
Even the other students on the panel couldn't hold back their enthusiasm over what their younger counterparts are doing. Jordan mentioned that a friend of his is a sophomore and running into roadblocks designing a mobile app.
"Making an app at your level blows my mind," he told Nathan.
As for the younger students, the panel had them weighing what they might do in high school someday. But they still have to get through elementary and middle school.
"I am thinking about high school a little bit," fourth-grader Gabe said. "But I'm still kind of thinking about what I'm going to do for my next grade."