Sunshine Law seminar draws 200; co-sponsored by school district, Call Newspapers
Two experts discuss specifics of Missouri's Sunshine Law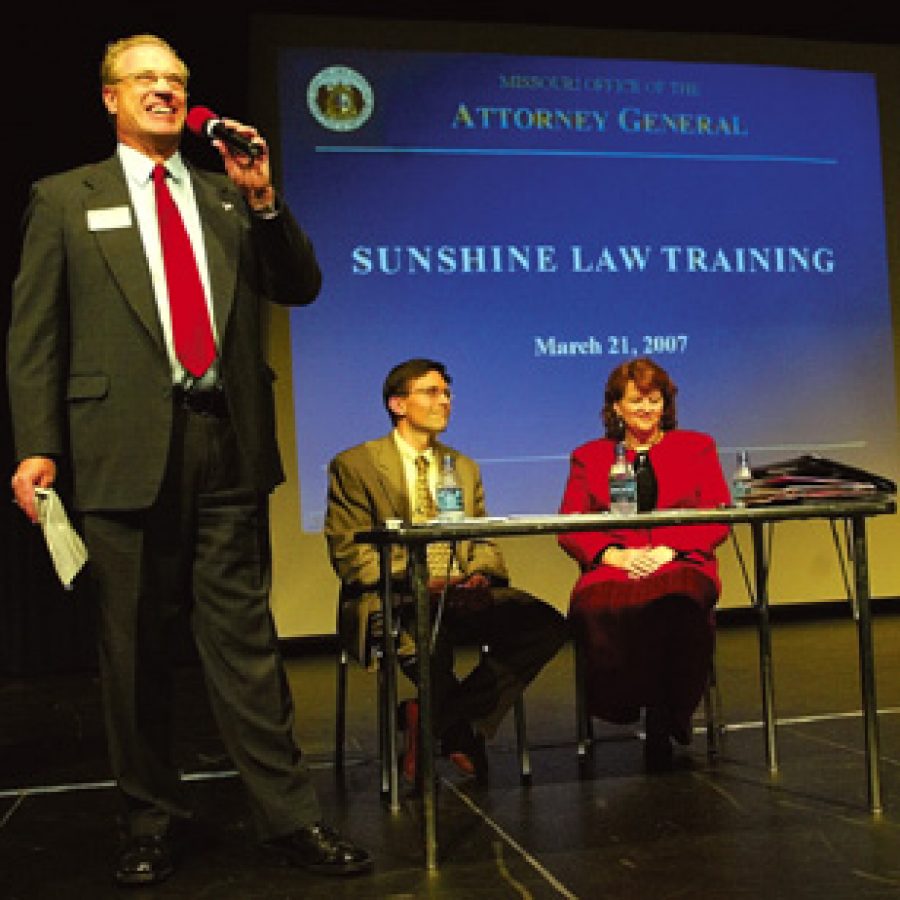 More than 200 residents and public officials last week discussed the provision that legally ensures open government — Missouri's Open Meetings and Records Law, or the Sunshine Law.
That crowd participated March 21 at Lindbergh High School in a Sunshine Law seminar co-sponsored by Call Newspapers and the Mehlville School District.
Attorney Jean Maneke of the Maneke Law Group and James Klahr of the Missouri Attorney General's Office were the evening's featured speakers.
Maneke, who has been practicing media, publishing and entertainment law for more than 25 years, serves as counsel to the Missouri Press Association. She is the author of many of the changes made to Missouri's Sunshine Law since the 1990s.
Since 1998, Klahr has been an Attorney General's Office contact for questions involving the Sunshine Law and has provided numerous presentations to local government officials on the topic.
Co-sponsorship of the Sunshine Law seminar was one of the terms in the settlement of a lawsuit filed by Call Newspapers against the Board of Education and then-Superintendent Timothy Ricker in May 2004. The settlement is a compromise of disputed claims and is not an admission of liability by any of the parties.
Klahr described the Sunshine Law as the state's legal method of ensuring that the public has access to government information while also providing a structure for public bodies to keep records.
"The premise of the Sunshine Law, of course, is I think two things," Klahr said. "One is obviously access law. It's out there to make sure people have access to their local government, state government … And also it's a process law. There's certain procedures that are set up in the Sunshine Law to make sure the public has a way to know the postings of the notices and what issues are going to be coming up."
Each of those public bodies must have a custodian of records that is easily identifiable by the public and media. That custodian of records then has three business days after a request for information has been made to respond to that request. Klahr said that the three-day requirement is more of a limit on response time and not a recommendation for any public body. He also noted that public bodies can take longer than three days to supply requested information if the volume of work requested is so large that it would take more than three days to assemble or if the requested information is so old that it was kept on outdated data.
All records that have been retained in either written or electronic form can be requested by the public.
Klahr and Maneke both said that electronic form includes e-mail messages sent from one public official to at least two more officials from that same public body.
While the Sunshine Law does not state that one-on-one e-mail between two public officials is a public record, Klahr said if that message topic is then subsequently sent to more board members, those e-mails would be subject to public record.
That e-mail provision of the Sunshine Law includes messages sent and received in the office of the public body and the homes of those public officials.
"Obviously, e-mail can get to a point where, if it's going back and forth, e-mail can get to the point where it could actually be a public meeting," Klahr said. "And if it becomes a public meeting and it's not posted, that's a separate violation of the Sunshine Law. So really, there's two issues I think to realize here. One is you've got to get a copy to your custodian if a majority of the folks are copied. In addition to that, if you start going back and forth on public-business issues, you could actually get into a situation where you're actually meeting. You may not really understand that you're meeting. But you're meeting. And that could, obviously, be a violation of the Sunshine Law in terms of not posting that."
Maneke also said that because of quorum requirements of various public bodies, people who serve on small boards and commissions that might have as few as three members have to be especially careful to not discuss public business outside of a public meeting.
"Two of you meeting on a street corner constitutes a public meeting if you're talking about public business," she said. "Those are deadly. And if you're that small of a public body, you need to really watch what you do because you're liable to turn around and break the law every day if you're not careful."
As far as closed meetings, Klahr and Maneke stated that the only acts of public business that can be closed involve litigation, individual personnel and those issues protected from disclosure by federal or state law. The discussion of any employee group cannot be closed.
"Should we promote this group?" Klahr said. "Should we give a raise to this group? Should we give health insurance to this group of folks? All of those discussions have to be in open session. You can't discuss groups of employees in closed session."
Maneke said that outside of performance reviews, generally talking about individual personnel is not a reason to go into closed session.
"Just talking about an employee is not going to get you a closed meeting," Maneke said. "You have to be hiring, firing, disciplining or promoting."
Additionally, Maneke said there is no legal requirement that prohibits any member of a public body from telling others about the topics that were discussed in closed session.
"There is absolutely positively nothing in the law that prohibits a member of your body from walking out of that meeting and talking about what went on in a closed meeting," Maneke said. "And some entities have said: 'We'll fix that. We'll pass a resolution or we'll pass an ordinance that says you can't do that.' And I think that's a violation of the citizens' First Amendment rights.
"I don't think any of those would he held constitutional. The only obligation you have to keep secret what goes on in a meeting is your own personal conscience. And for anyone to say to members of a body 'You are prohibited by law from saying what goes on in a closed session' is wrong. And if anybody tells you that, they're wrong."
As for open meetings, Klahr said tentative agendas for those meetings are required to be available one business day before the meetings and that public bodies cannot add any action item to that agenda within 24 hours of the meeting itself.
"We generally take the position that you cannot add a decision item, an item that would be voted as far as something that was not previously posted for your agenda," Klahr said. "You could add an extra police officer for a commendation or a truly ministerial act. Not something that's going to impact the taxpayers in any way."