Sunset Hills TIF panel gets first look at Novus proposal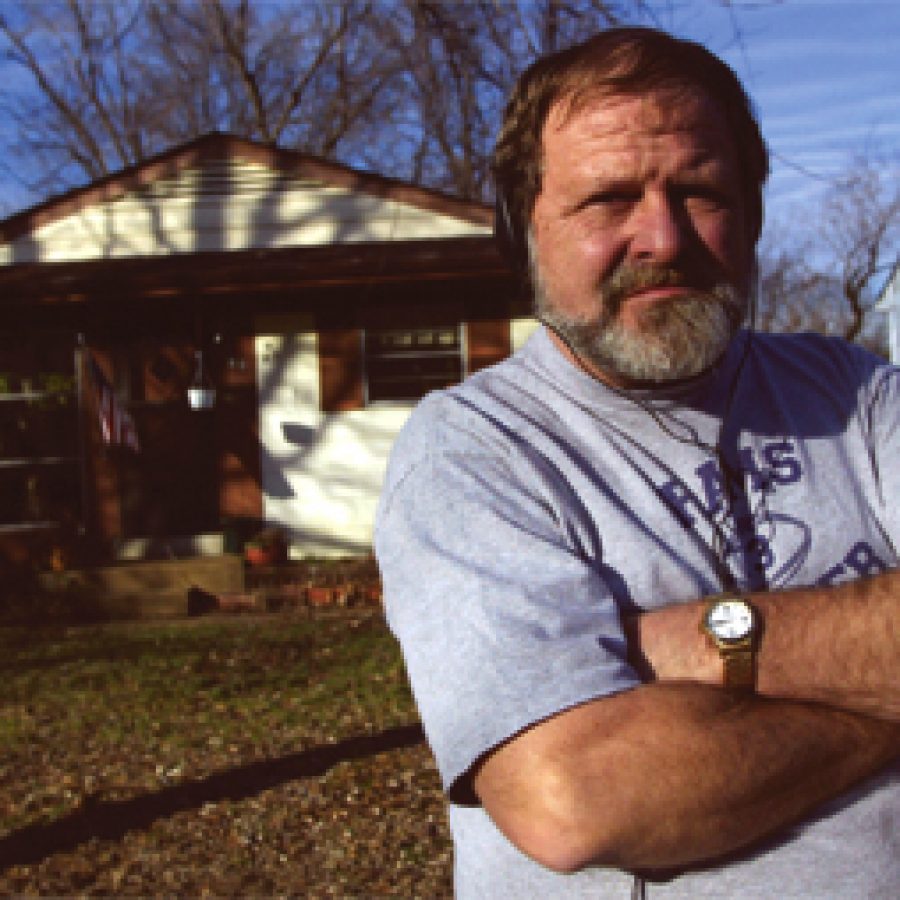 By SCOTT MILLER
Staff Reporter
Novus Development Co. President Jon-athan Browne responded to reports of alleged "intimidation" tactics used to clear housing for a proposed $163.9 million re-tail development project during a packed-house meeting of the Sunset Hills Tax In-crement Finance Commission last week.
TIF Commission member Tom Curran, who represents St. Louis County, said county officials received several letters from residents alleging a Novus-hired attorney, Mike Beck, scared them into selling their homes to the company.
"The fact that the answer was not liked does not make it a statement of intimidation," Browne said, referring to Beck, who apparently told residents that eminent domain was possible if they refused to sell their homes to the company.
And eminent domain is possible, Browne told the Call.
"He was probably not as personable as I would have liked for him to have been," Browne said of Beck. "He spoke factually. But the statements — that I don't take lightly and certainly didn't like — of intimidation were absolutely false … He probably spoke bluntly."
Novus is seeking $42 million in TIF assistance from Sunset Hills for a proposed $163.9 million retail development on Wat-son Road and Interstate 44 by South Lind-bergh Boulevard. The project cost has in-creased from the previous $136 million proposal. If approved, 255 homes would be razed.
Most people of the Sunset Manor subdivision wanted to sell their homes, Browne said. Roughly 75 percent signed a contract to sell their homes, far more than the 66 percent required by the city. Browne is optimistic more people will sell, but hasn't ruled out requesting the city for eminent domain.
"Is there a potential of one person at least of 300 that does not go along (with selling his home)? I would say so," he said. "The reality of it is that one person could deny the benefit — and I will say the benefit — of this project for everyone (if eminent domain didn't exist) … We have done three or four, I would say four TIFs and have never had to use eminent domain. As part of a TIF there is eminent domain. If I am unable to negotiate every single contract (with the residents), I think that would be unfortunate. I do take pride in never needing to use eminent domain."
Regarding the alleged intimidation tactics, Browne said, "I think it's a shame that has gotten any press whatsoever. That has nothing to do with the real issue. The reality of it is that one person of 300 is using the media for their own personal gain."
Residents filled the Assembly Hall at the Jan. 17 meeting, occupying every chair, sitting on the floor in the aisle and spilling over into the City Hall lobby. No time was allotted for public comment, however. A public hearing will occur sometime in late March, but a specific date hasn't been set.
The development, which would be called "Main Street at Sunset," would include "up-scale" outdoor shopping, open courtyards and "image landscaping," Browne said.
"It's all about the ambiance," he said. "This is not discount retailing. It's not Wal-Mart, Target. This is upscale retailing at its best."
Browne told the Call he is "under a confidentiality commitment with these tenants (retailers) and I'm not at liberty to say who they are yet … We have commitments for about 85 percent of the space, which from our experience is highly unusual. The 'if-you-build-it-they-will-come' philosophy just doesn't work anymore."
Main Street at Sunset also could include restaurants, grocers, a hotel or office space. Novus originally intended to call the shopping center "The Summit" but couldn't because of trademark restrictions.
While city officials are eyeing the sales-tax boom that would follow the development, Lindbergh School District officials have expressed concern because TIF districts capture new property taxes generated by the development to help cover costs of the project. As a result, Lindbergh's and the other affected taxing entities' revenues from that particular area remain flat. Only Sunset Hills would absorb an immediate tax benefit.
And while some residents may not want to sell their homes, Novus also needs commitments to sell from the businesses occupying the site, including a Hampton Inn, a Denny's restaurant, an AmerenUE substation and about 10 other businesses.
Browne doesn't have a commitment from any of them.
"At this point we've focused on the residential properties," he told the Call. "A home carries a little more emotion than a business. But I have spoken with those businesses … There is some opportunity for relocation. Some probably will not work with being relocated within the development … We will work to help them find relocation property."
The Hampton Inn and Denny's restaurant have the best opportunities to become fixtures at the site, he said.
"There's opportunity for them to be blended into the development. Hampton wants to expand. Economically, it's probably best for us to work around them," Browne said.
To meet the planned opening date of No-vember 2006, Browne said he needs to close on the residential and business properties by June.