Sunset Hills residents who lost homes to flooding ask city to buy them out
FEMA representatives visit city to inspect flood damage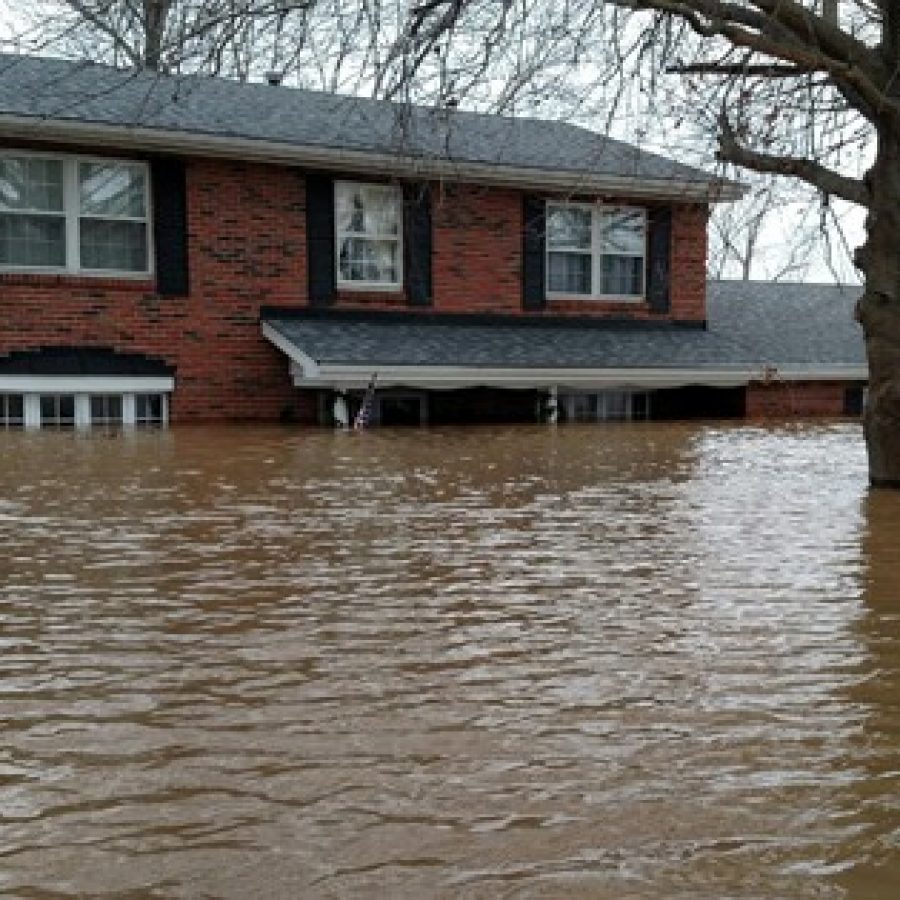 Sunset Hills residents who lost their homes in last month's historic flooding are asking the city to buy them out or support their bid for a federal buyout of their damaged houses.
At least five families in the city are homeless after unusual winter flooding from the Meramec River destroyed their houses on West Watson Road last month. The residents are still cleaning up the mess the flooding left behind, but they don't want to return to live in houses that could flood again.
At the Jan. 12 Board of Aldermen meeting, West Watson residents told city officials that they have been plagued by flooding since they bought their houses but never thought the damage would be irreparable, as with last month's record flooding that reached the second story of their houses.
Steve and Emilie Hayes, who lived at the intersection of West Watson and Weber Hill roads, said the last sounds they heard in the house where they raised their four children were the basement door cracking and the river rushing in just before they escaped with just their dogs and the clothes on their backs in the middle of the night Dec. 30.
"Our home is a shell, a ghost town," Emilie Hayes said. "The halls that once echoed with laughter are now filled with mud and water. This devastating reality is our life now. After we evacuated, we turned around at the top of the hill and watched the water swallow our house. We knew we would never be the same, ever again."
Representatives of the Federal Emergency Management Agency, or FEMA, have toured Sunset Hills, but until President Barack Obama signs a disaster declaration for the area and FEMA begins making decisions on buyouts, the city just has to wait, Public Works Director Bryson Baker said.
If a buyout is offered, FEMA would pay 75 percent and the city would pay 25 percent.
On Jan. 2, Obama signed an emergency order for assistance to the region to help with cleanup and recovery costs, but as of press time he had not yet signed the follow-up disaster declaration that could pave the way for more extensive assistance to residents.
Included in the city's request for aid are not just damage to houses but also the city's costs for damage to its infrastructure, the extent of which is still not yet known.
The city's infrastructure damage includes the typical problems that always happen when the Meramec surges — like Minnie Ha-Ha Park flooding again — along with problems unique to this flood, like the house that washed onto the city's athletic fields, according to Parks and Recreation Director Gerald Brown.
It will still be several months until Minnie Ha-Ha is out from under water.
Sunset Hills was one of the hardest-hit areas in the county along with Eureka, Valley Park and Fenton, but Sunset Hills residents believe they have gotten lost in the shuffle compared to flood victims in other cities, flooding victim Jennifer Daniels told the Call.
She and her husband, Ryan, were able to escape with their children Kate and Bella and are living with a friend.
"We can't imagine going back to this house — we know it will flood again, and we can't put our family at risk again," Daniels said. "It's just too traumatic for everyone. It's not a matter of if it will flood again, it's a matter of when it will flood again.
"And that is not a risk we are willing to take where our family is concerned … We know in our hearts that Sunset Hills will do the right thing."
After thanking the many volunteers who helped sandbag and try to save their houses — especially Ward 1 Alderman Dee Baebler — Daniels and four other flooded families asked aldermen for either a federal or city buyout.
Some damages are covered by flood insurance, but not everyone affected had it.
Speaking for his 81-year-old mother, Shirley, Jon Hume told aldermen that his mother had lived on West Watson since 1959 and had paid for flood insurance for most of those years, but in recent years she was unable to afford the $2,000 annual cost.
Three of the flooded families set up GoFundMe accounts to accept donations so they can help rebuild from what they said was the most devastating time in their lives.
The donation sites are accessible from the city's website under "Flood Info."
In St. Louis County alone, County Executive Steve Stenger said flooding covered 900 homes and businesses and caused at least $235 million in property damage.
While that damage is devastating, the most important statistic is that no county resident died in the floods, unlike dozens who died elsewhere in Missouri and Illinois, Stenger said.
Stenger credited first responders with keeping residents out of harm's way.
As some of the aldermen, including Pat Fribis of Ward 4 and Baebler, listened with tears in their eyes, Charito Pattichot thanked the Sunset Hills police officer who knocked on her family's door the night of Dec. 30 to tell them they needed to get ready to evacuate because the water was rising so rapidly.
She asked aldermen for a buyout "so that we can proceed with our lives — not fearing that we are going to be flooded again and again."