Sunset Hills panel to mull draft comprehensive plan
Panel 'will now take control of this plan,' Otto announces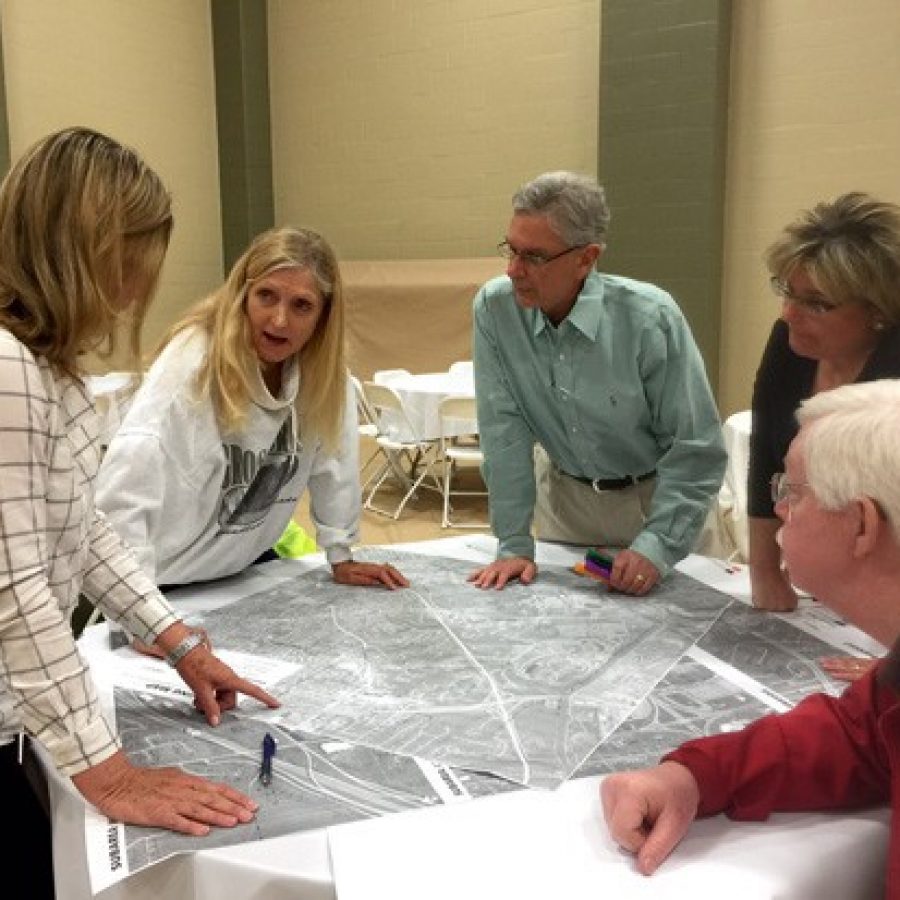 The Sunset Hills Planning and Zoning Commission is scheduled to discuss a draft of the city's new comprehensive plan when it meets next week.
The Planning and Zoning Commission will meet at 7 p.m. Wednesday, Nov. 4, at City Hall, 3939 S. Lindbergh Blvd.
Representatives of Houseal Lavigne Associates of Chicago recently unveiled the draft comprehensive plan during a work session of the commission that was attended by Mayor Mark Furrer and members of the Board of Aldermen.
During the Oct. 14 work session, Planning and Zoning Commission Chairwoman Patricia Otto said that in April 2014 she asked City Attorney Robert C. Jones to provide the commission with information about the state's conflict-of-interest law, the Sunshine Law and the state law regarding comprehensive plans.
While Jones provided that information to the panel, Otto said, "… We have a number of new committee members and they have not gone through this information."
Otto said she hoped to review that information with the commission on Oct. 7, but that meeting was canceled for lack of agenda items. As a result, she said that at the Nov. 4 meeting, "The first item on the agenda will be to cover these three laws of Missouri that we work under. Our second topic will be the comprehensive plan that is being presented tonight.
"The Planning and Zoning Commission will now take control of this plan. It is for us — we are charged by the state of Missouri to pass a comprehensive plan. In the past, we have studied the plan two or three times.
"We have sent back to … the planners the information that we wish to have amended or changed in any way. And finally, we have come to the citizens of Sunset Hills and we have said to you, 'Now you tell us how this plan meets with your desires.'"
Next Wednesday, Otto said, "We will begin that discussion that we have not held to this point, and that is reviewing this whole document, which we have not done. And we will forward to Houseal Lavigne our recommendations. That means that in December, we'll receive back their information and then it may go into January — for all I know — depending on what the commission decides to do.
"After we feel comfortable with both the comprehensive plan and its subarea addendum, then we will come to you as citizens and say, 'OK, now, what do you want? Here's our plan. Here's what 10 of the citizens feel is wise,' and then we'll give back to you for your suggestions and comments. So please rest assured, that will happen."
To Dan Gardner and Drew Awsumb of Houseal Lavigne, Otto said, "As of this evening, we will receive your report, and then you are not to do anything more until you hear from Planning and Zoning."
Gardner outlined the process of assembling the draft comprehensive plan.
"… Part of that process is the things that we've done to date — all the public meetings. There's a community workshop," he said. "There's visioning workshops. There's a business workshop. There's been interviews. There's been an extensive amount of reconnaissance and analysis of driving the community. We've literally looked at every square inch of the city.
"That's what you do with a comprehensive plan … It's not just about a specific site or one specific corridor. It's a comprehensive plan for the entire city. We're looking at infrastructure, parks, recreation, transportation, community facilities — all those things that go into making a city a city. And it's a long-range plan …," Gardner added.
Several "opportunity sites" for commercial development or redevelopment are identified in the draft plan, including the commuter lots at Kennerly and Weber Hill roads, four sites along Gravois Road and the Court Drive area on South Lindbergh Boulevard that was ravaged by a tornado on Dec. 31, 2010.
In his write-in campaign for mayor in 2014, Furrer opposed a QuikTrip proposed for the commuter lots. But he supports commercial redevelopment of the Court Drive area, despite Court Drive residents' desire that the area remain residential.
Of Court Drive, Ward 1 Alderman Dee Baebler said, "That is now a residential subdivision. It's not commercially zoned, and you mentioned that … you think a grocery store should go there. And I was wondering since that didn't come from our residents, where that came from?"
Gardner replied, "Let me clarify. A grocery store was one type of component of development that could occur there. It would lend itself to the types of things that are either absent in the market or that we heard feedback on (that) it's a desired use. There's no articulated development plan that says that should be a grocery store.
"So what you heard here was that this site lends itself to commercial development given traffic counts, proximity of surrounding uses and planning just that has taken place of the development that's occurring all around it and just from planning principles what the site fronting Lindbergh lends itself to …"
Furrer said, "… This outfit from Chicago was hired and voted on by every alderman here to bring the city an objective idea and an objective thought on what they thought the city should be, based upon their expertise throughout the country. They're not influenced by signs. They're not influenced by the mayor. They're not influenced by the aldermen.
"If they were, our money would be wasted because we could make … irrational decisions all the time, every day. The purpose of hiring these gentlemen and their company was to come forth to our city, independently and objectively, and tell us what they thought we needed. Do I agree with everything? Maybe not. Do you agree with everything? Maybe not."
The city is paying Gardner for his expertise, the mayor continued.
"… That's what he's provided us. So to try to insinuate that he was led one way or the other is frankly an insult to his professionalism. So they decide something that you don't like? I'm sorry, but this man and his partners have been throughout the country evaluating cities in multiple states. They have no ax to grind with Court residence people. They have no ax to grind with anything …," Furrer said. "The piece in front of Court Drive is consistent with Watson Road. So when he looks at that with the commercial around it, in his professional expertise, it should be commercial …
"We paid a lot of money for their expertise. So to cast any kind of aspersions on their decisions is unfair to him and the city …"