Sunset Hills officials set work session about whether to regulate video voting
Aldermen call work session despite objections by Furrer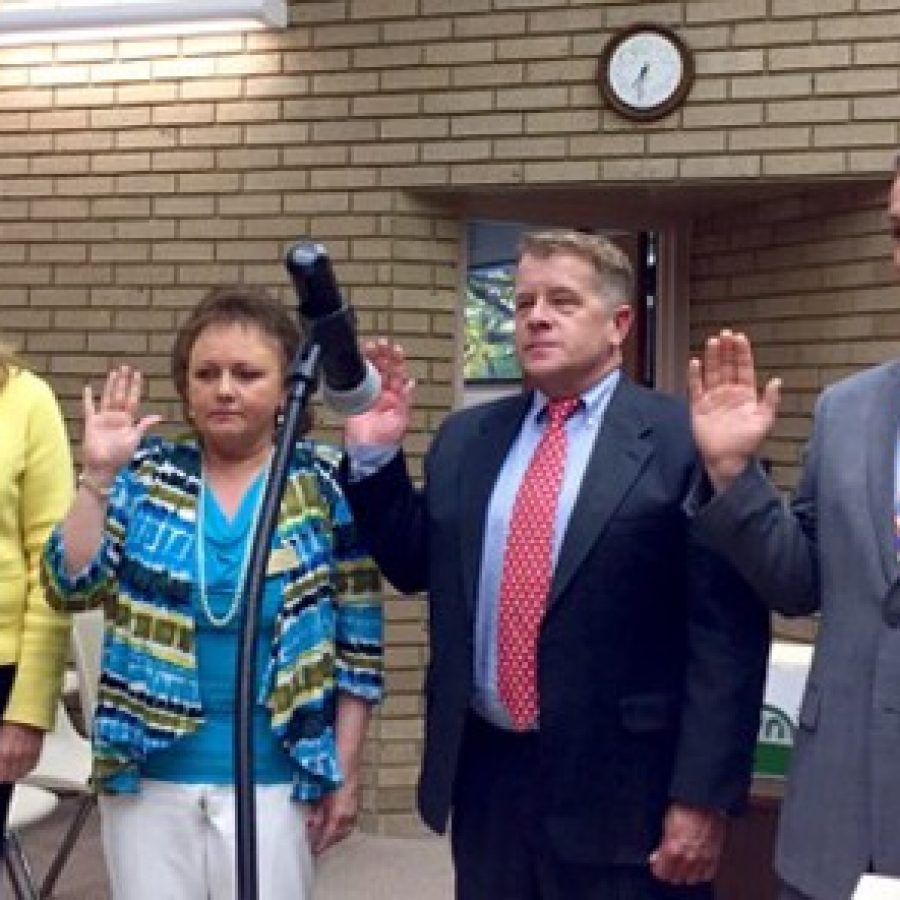 With a Sunset Hills alderman unable to be physically present at all board meetings, other aldermen are questioning him over how the city should enforce a new state law that allows public officials to vote remotely.
Due to a new work assignment that frequently takes him to Wisconsin, Ward 3 Alderman Keith Kostial is attending many meetings only by video.
Over the objections of Mayor Mark Furrer, Ward 1 Alderman Richard Gau, Ward 1 Alderman Dee Baebler and Ward 4 Alderman Pat Fribis called an emergency work session Tuesday night — after the Call went to press.
Aldermen planned to discuss whether they should regulate video voting, as suggested by Ward 2 Alderman Steve Bersche and City Attorney Robert E. Jones when Kostial first appeared via video Dec. 8.
The Missouri Legislature approved an amendment to the Sunshine Law in 2013 that allows elected officials to vote by video, but not by phone, as long as a physical quorum is present.
Legislators overrode Gov. Jay Nixon's veto of the measure, which the governor had rejected because he believes public officials should, if they do nothing else, attend public meetings in person. Under the new law, an official could attend every meeting by video, he added.
Kostial was set to be in Wisconsin during Tuesday's workshop. Since December, he has attended two meetings in person and two meetings through the iPhone video-calling app FaceTime. When Kostial FaceTimes in, the video is visible only on Assistant City Engineer Wes Searcy's cell phone, not to other aldermen or residents.
The alderman, who replaced former Ward 3 Alderman Jan Hoffmann on the board last year, said he can — and does — represent his constituents just as effectively by video.
Other aldermen and Furrer have missed multiple meetings in the past and not tried to call in, Kostial said, but he always looks for innovative solutions to problems.
"If I sit in a chair in Wisconsin or I sit in a chair in the chamber, does my vote mean anything different?" Kostial said. "If I do a videoconference, I have every opportunity to speak, I have every opportunity to vote, I have every opportunity to ask a question if I need to. And the fact is that I'm fulfilling my civic duty, unlike people who've missed meetings previously who've made no attempt. There are some people who would rather seek opportunities for obstruction than try to be resourceful and figure out solutions."
Although some aldermen were under the impression that Kostial will attend every meeting by video, he said he will attend in person more frequently this spring and summer. He is a medical supply chain specialist and has been in Wisconsin this winter as his project ramped up.
When a Ward 3 resident called Kostial to ask about the videoconferencing, he told the Call he responded with four points: "1. I'm supporting my family, 2. I'm fulfilling my civic and elected obligation, 3. I'm helping hospitals become more efficient, nonprofit hospitals that help the poor and needy, and 4. If anything was done to obstruct this by other aldermen, that's disenfranchising the Ward 3 voters."
Kostial has not heard from any upset constituents, but Baebler said she has heard from some residents of his ward who are unhappy with the video votes.
"My concern that was brought to me by a few residents is, 'We don't want you guys on a smartphone calling in. When we elect you, we expect you to be there,'" Baebler said. "I think he has to talk to his boss and say, 'One night a month I have to be in St. Louis.' I know when I was in the hospital and missed a vote that was important to my residents, I got in trouble for that — they called me and they were very upset because they read in the newspaper that I wasn't there."
Although other aldermen question whether FaceTime qualifies as videoconferencing, Kostial believes the iPhone app falls under the law's guidelines.
"Bob Jones, the city attorney, has flat out said this is perfectly legal in the state of Missouri, period — but they still want to go after this," Kostial said. "So I don't know if they're trying to obstruct me, or obstruct the Ward 3 voters who elected me. What I'm doing is perfectly legal, and I've been responsive to any requests that anybody's had in Ward 3. I'm probably one of the more vocal people on the Board of Aldermen, which is maybe why they're trying to pursue this."
The first time Kostial called in through FaceTime, Bersche said the "Robo Alderman" distracted the rest of the board by talking with co-workers as aldermen tried to conduct city business.
Bersche, who is a real-estate agent, said, "I mean, I'd love to show houses during this meeting and just kind of chime in whenever I want to, but I got elected, so it seems like I should be here … It was very distracting. I'd love to go to a party tonight and just kind of vote when I feel like it and then go back to the party, but …"
Any technical difficulties from the test run were ironed out by this month's meeting, when Kostial FaceTimed in from the quiet of his hotel room rather than his office.
"Whatever the noise was, it was kind of annoying," Furrer said in December. "Could you tell, Wes, what was going on?"
"He was just moving around, he was at work and he had other people come into the area as well," Searcy said. "I think if we indicate some parameters, just going into a quiet room, setting your phone down — during the discussion, I didn't find it too annoying (with) the voice in the microphone, but he was dumping his phone, it was falling off, (he was) getting a stand or something like that. I think we can take care of it where these issues can be overcome."
Aldermen could hold the workshop over Furrer's complete opposition due to an emergency clause they approved in December that allows three aldermen to call a special meeting if the mayor refuses or is incapacitated. The same bill also set a default monthly work session to discuss city business in detail.
But Furrer canceled Tuesday's regularly scheduled workshop because, he said, there is nothing to discuss.
"He's been saying the lights will be off, the doors will be locked," Baebler said. "But we have keys."
Furrer wrote on Facebook, "Gang of Four are still trying to force me to have it. Their agenda is their only goal, not what is best for our city."
Sunset Hills has made it through a tornado and a mayoral health crisis without ever calling an emergency meeting, Kostial said, and he does not view videoconferencing as an urgent issue. Voting by video in December, Kostial cast the sole vote against the emergency clause, which he felt would enable "renegade aldermen" to stir up "monkey business" by holding extra meetings.