Sunset Hills meeting highlights divisions between Furrer, majority of city's aldermen
Mayor asks aldermen 'if they have the guts' to take a stance on Baebler's Facebook page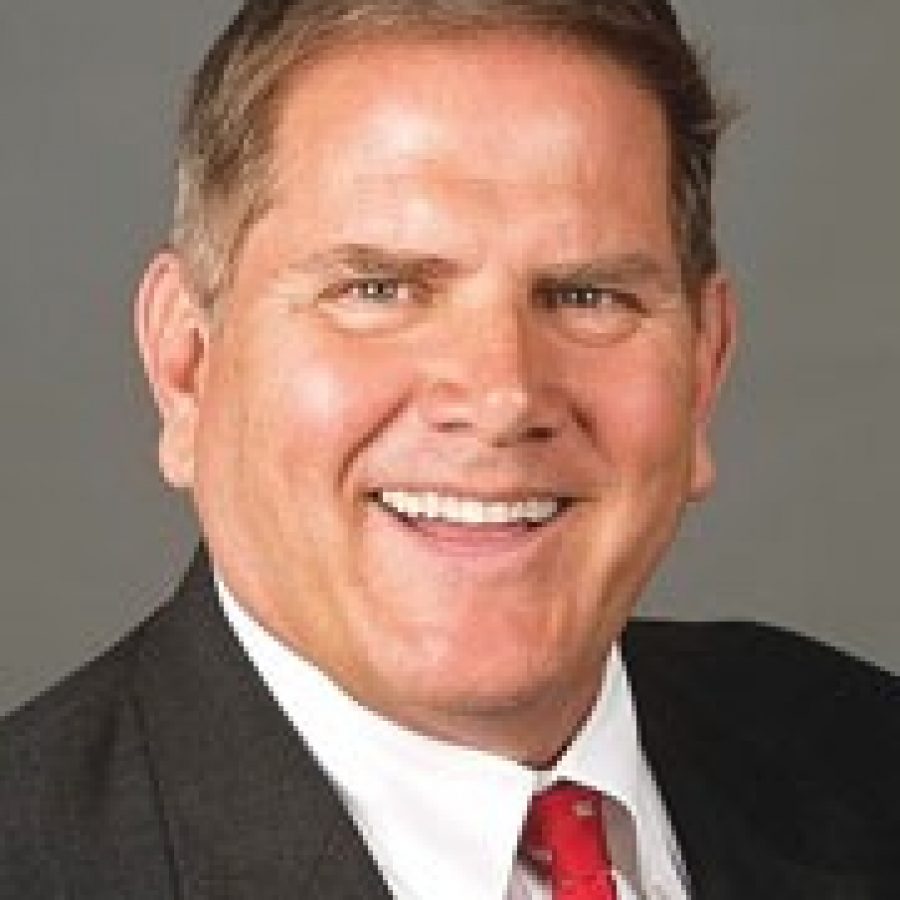 If any Sunset Hills residents thought Mayor Mark Furrer and the Board of Aldermen would peacefully work alongside each other now that the board's impeachment efforts against Furrer have stalled, they might be rethinking.
Last week's board meeting served as a microcosm of the divisions between Furrer and the board since last summer, when Furrer was first accused of felony allegations of running into a bicyclist in the city and then accused of behind-the-scenes maneuvering with an alleged goal of dissolving the Police Department.
Last month, Furrer used his column in the city's monthly newsletter to apologize for his sometimes abrasive personal communication style, which was in full force last week as he argued with most of the aldermen at one point or another.
At the Jan. 13 meeting, the furor kicked off when Furrer — building on accusations made by resident Kathy Tripp in a letter read during public comments by another resident, Tom Lynch — accused Furrer's chief city critic, Ward 1 Alderman Dee Baebler, of violating the First Amendment by blocking Tripp from her aldermanic Facebook page.
"I think it's outrageous and embarrassing to the city," the mayor said of Baebler's Facebook page, which the alderman said she has operated under the same rules for five years but which only recently got more popular.
Furrer demanded that each alderman publicly take a side in an up-or-down roll-call vote whether they would support Baebler or stand on what he said was the side of free speech and condemn her.
"Do you have the guts to stand up?" he asked aldermen.
Acting board President Scott Haggerty replied, "I have the guts, but I don't understand all the ramifications (around Facebook)."
"I'm not saying we're going to arrest her or impeach her," Furrer replied. "If you don't want to answer the question, that's up to you, but the reporters are here and the citizens are here and the election is in April, so I'm going to ask this question again … Do you think that Dee is correct in censoring Sunset Hills citizens? It's a simple question."
The confrontation echoed a similar debate in Crestwood in the fall, when a resident objected that Mayor Gregg Roby's mayoral Facebook page appeared to be an official city page since he was posting weekly mayor's notes only to that site rather than the city's website. After researching the issue, City Attorney Lisa Stump recommended Roby place a disclaimer on his page that it is not an official page of the city — something he has since done.
In Sunset Hills, Ward 3 Alderman Jan Hoffmann said she would like City Attorney Robert E. Jones to look into legal issues around Facebook pages and report back at the next meeting, but Furrer kept insisting on an immediate answer.
"You are the definition of a bully," Baebler said, later adding, "We are having a discussion on Facebook? Really?"
Furrer used Facebook during his successful write-in campaign against former Mayor Bill Nolan last year, but he deleted his page after the alleged run-in with bicyclist Randy Murdick, when cyclists and people nationwide flooded the page with negative comments, and he has never restored his page.
Ward 4 Alderman Donna Ernst said she had not seen Baebler's page, but she believed that if the page looks like a city page, comments should not be deleted, especially if it had a picture of the Sunset Hills city logo, as Baebler's page did at the time.
Furrer said, "So what I'm hearing is we have one alderman who was willing to stand up. The rest didn't want to answer the question. We'll see that in the next Call, thank you, Gloria."
Tripp has long been a critic of both her Ward 1 aldermen, Baebler and Rich Gau, and when the resident spoke to the board Oct. 28, she said Baebler wrote on Facebook that an unnamed resident who is friends with the mayor had filed multiple frivolous lawsuits against the city. Tripp said the post referred to her, but her lawsuits against the city were justified, not frivolous.
Baebler should be impeached for the Facebook post, she added at the time. In Tripp's most recent comments delivered through Lynch, she wrote that Michael Connelly, head of the Constitutional Law Alliance, issued a statement to the city condemning Baebler's alleged violation of free speech by deleting comments.
A Facebook page used to communicate with constituents is an official governmental page, Connelly said, and should not delete or block any of those constituents.
Writing under her pen name "Katharine Russ," Tripp has collaborated with Connelly to write articles for the California website CityWatchLA.com about gun rights and in past years appeared alongside Connelly on the masthead of a quarterly newspaper in Los Angeles County, the North Valley Reporter, where Tripp/Russ was listed as the paper's "investigative reporter."
Earlier in the meeting, Baebler said she wanted to read written statements from some of the 11 residents who had signed up to speak on impeaching the mayor at the December board meeting, where Furrer never opened the meeting up to public comment.
She apologized for not immediately speaking up when Ward 2 Alderman Tom Musich moved to adjourn the meeting after no public comments had been taken and said she had objected to Jones at that time, and Haggerty and Ward 4 Alderman Pat Fribis had objected to Furrer.
Furrer said he simply forgot to open up the meeting to public comments, due to the late hour.
"Did you forget at the beginning of the meeting, when you specifically told me you're not letting anybody speak today?" Haggerty asked the mayor.
"This isn't 1776," Furrer said about residents speaking at city meetings, adding that from now on he will have a new policy that any resident can speak at any time, for as long as they want and on any topic they want, no matter how long the meeting goes.
"I'm sorry your little friends didn't get to speak," the mayor told Baebler. "But this is coming from a woman who censors her Facebook page, and she says I'm a bully and I didn't allow them to speak."
As Baebler prepared to read statements from some of the residents who had signed up to speak at the December meeting — all of whom were critical of the mayor — Furrer said he needed a 10-minute break and walked out of the chambers. When he returned, he got on his phone during some statements and leaned back and looked up at the ceiling during others.