Sunset Hills mayor testifies he won't run for re-election
Mayor disappointed, upset by outcome of trial, his legal team informs reporters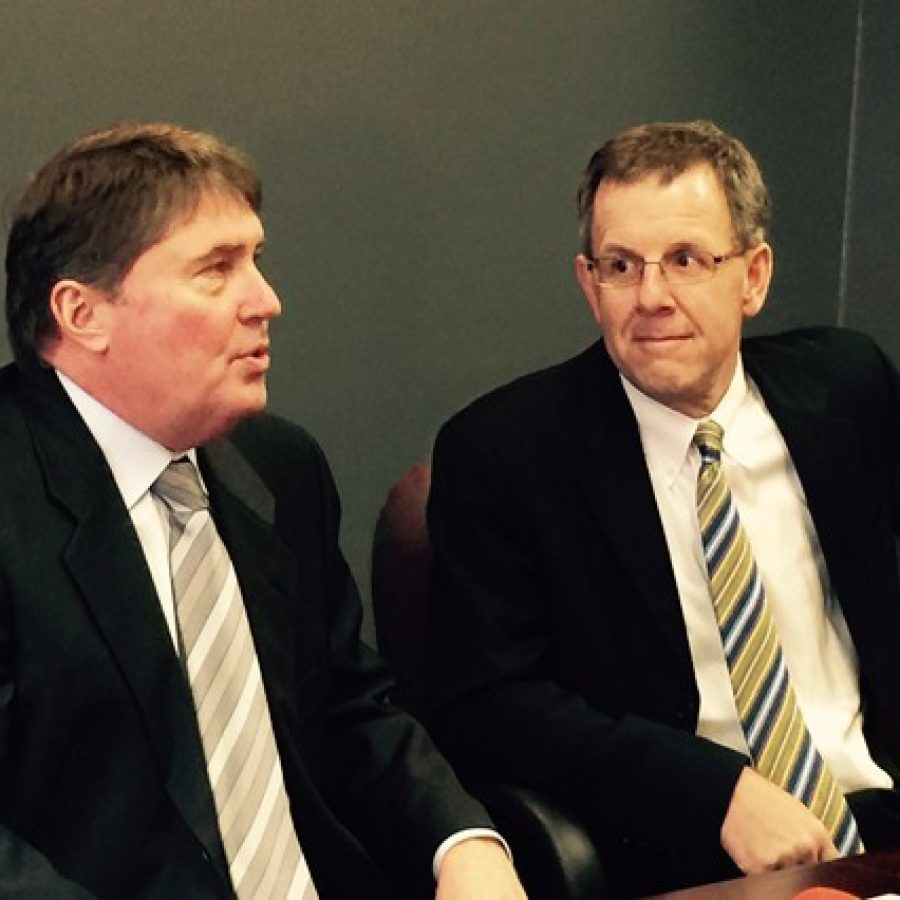 Sunset Hills residents hoping Mayor Mark Furrer's jury trial last week would bring closure to questions over his incident with a bicyclist will have to wait, since a judge declared a mistrial in the case.
But just days after candidate filing opened for Furrer's mayoral position, which is up in April, the mayor took time while on the witness stand to say that he will not run for re-election.
He won in April 2014 as a write-in candidate over former Mayor Bill Nolan, who is running again.
"Is it because of this trial?" Furrer's defense attorney Tom Magee asked.
"No. In a small town like Sunset Hills, of 8,800 people, I've had my term, and I think other people should have a chance," Furrer testified.
In October, Furrer told the Call he was still debating but would probably run again after writing in an email to Ward 1 Alderman Dee Baebler, "By the way, I'm going nowhere. I look forward to my April win."
Hours after Judge Thomas Prebil declared the mistrial, Prosecuting Attorney Robert McCulloch said it was not justified and that he will try Furrer again on felony charges of assault and property damage for allegedly hitting bicyclist Randy Murdick with his car.
A new trial has been set for 9 a.m. Monday, Feb. 22, for the July 29, 2014, incident.
After Furrer testified for nearly an hour, the trial abruptly ended when his attorneys Magee and Daniel Bruntrager asked for the mistrial after Assistant Prosecuting Attorney Alan Key opened his cross-examination by asking Furrer if he offered to settle Murdick's civil lawsuit over the incident.
When Key asked Furrer, "You also made a $10,000 offer—," Magee immediately jumped up and asked to approach the judge's bench. After a long conference, Prebil declared a mistrial and dismissed the jury.
Acknowledging that it was an unusual ending to the case, Prebil also announced that Furrer's trial was his last jury trial since he has a mandatory retirement date on his 70th birthday in February.
Furrer's legal team frequently brought up the civil lawsuit throughout the four-day trial, including an hour earlier during the mayor's testimony, when he said he received a $150,000 settlement demand from Murdick. Key objected to that question, but Prebil overruled. Two days earlier, Bruntrager asked Murdick if he requested $150,000, and Murdick said he did not.
But when the prosecution raised the settlement offer, Bruntrager said they asked for the mistrial because it "was not evidence that would in any way pertain to any of the events of July 29, 2014."
"The court believed that was an error because that would somehow amount to some admission of guilt," Magee said. "The answer is Mark Furrer has never offered one cent to settle this case. Sometimes it doesn't really matter what the answer is, the question is the problem."
Furrer's attorneys never offered to settle, either, Magee added, but if any insurance company might have been involved, he was unaware. They said they would not allow they mayor to comment, but that he was "disappointed and upset" with the mistrial because he looked forward to the jury finding him "not guilty."
Jurors could talk to attorneys and prosecutors afterward, and although the trial was not yet finished and Furrer had not yet been cross-examined, Furrer's lawyers said they liked what they heard from jurors. Fresh off Furrer's testimony, the one juror who would speak to reporters said he believed the incident was an accident. The 12 jurors would have to be unanimous to convict or acquit.
Some legal observers believe that the prosecution could have an advantage in a second trial: In the first trial, the prosecution shares its evidence with the defense, but the defense doesn't have to do the same. The defense had presented its entire case at the time of the mistrial.
McCulloch — who came to the trial the day the witnesses testified — said last week's trial focused too much on Murdick's civil lawsuit, which should have been tried separately from a criminal trial. Key's question was valid since Furrer's attorneys raised the civil lawsuit first, he said.
Defense attorneys can raise any evidence they want to discredit a witness, but stricter rules apply to criminal defendants, who are presumed innocent during trial, Magee said.
Questioned by Bruntrager, Murdick said he only knew about the lawsuit he filed in September that requests more than $25,000 from Furrer for lost wages and medical bills.
Murdick missed three months of work as a union electrician after the incident.
Using online data on Murdick's rides that the cyclist uploaded himself through his GPS, Bruntrager and Magee painted Murdick as a money-hungry opportunist who missed work while he was out riding a bike. Union regulations prevented Murdick from going back to work, he told the Call, but Key never countered the accusation or asked Murdick — a father, grandfather and military veteran — about anything other than his main hobby, cycling.
"When I'm off work, I ride," Murdick said.
In stark contrast, Magee offered the jury a detailed picture of his client as a "concerned citizen who lives nearby with a wife and three kids."
Backed by testimony from his wife, Kim, Furrer testified that he has been a loving father, husband and son, a bicycling enthusiast and a caring neighbor who first came into contact with the city with concerns over keeping a turn lane for the elderly residents of Friendship Village.
Later, Furrer was elected mayor as a write-in because he saved his neighborhood from what he testified was a "secret back-room deal" by city officials to get a QuikTrip on the commuter lots.
Murdick custom-built his red $12,000 Specialized Venge bike that a bike shop owner estimates could now have $7,000 damage. Using Facebook photos as evidence, Furrer's legal team attempted to show that Murdick had competed and even won races over the last year on a bike that appeared identical to the one from the infamous incident that Key rolled into court as evidence.
When Bruntrager demanded to know why Murdick was still riding the bike, Murdick said he borrowed the bike in the pictures from his bike team member, Brady Lawson.