Sunset Hills Board of Aldermen to eye two contested developments Tuesday
Board's vote on credit union could spark court challenge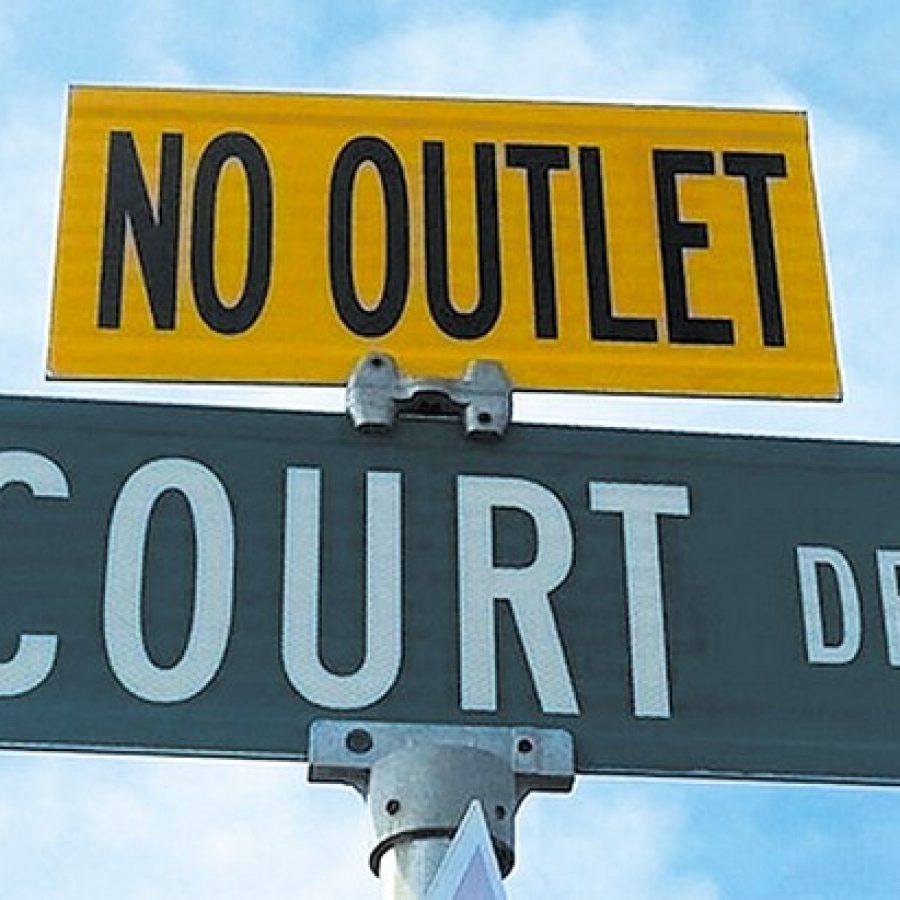 A pair of contested developments in the same Sunset Hills neighborhood could both be up for final votes next week.
Since last year, Court Drive residents have been fighting the possibility that their neighborhood, much of which was leveled by a tornado in 2010, could turn commercial.
Although plans for a grocery store have been dropped, developer Dr. George Despotis has indicated that he's willing to go to court to fight for the area of Court Drive facing South Lindbergh Boulevard to be zoned commercial for a First Community Credit Union on the corner of West Watson Road and Lindbergh Boulevard, across from the Police Department.
Nearby, residents along Maret Drive are opposed to a Jimmy John's with a drive-thru proposed by Steve Saladin.
Saladin owns the existing Sunset Hills Jimmy John's at 3680 S. Lindbergh Blvd., but hopes to move the restaurant to add a drive-thru.
The Board of Aldermen will consider final approval of both projects when it meets at 7 p.m. Tuesday, June 14, at City Hall, 3939 S. Lindbergh Blvd.
At the board's new monthly work sessions, begun this year, aldermen discuss but don't vote on city business. Aldermen unanimously approved Mayor Pat Fribis' suggestion that second readings of legislation will be delayed if any alderman objects to rushing a bill.
At a May 24 work session, aldermen proposed changes to the Jimmy John's plan that could send it back through the entire zoning process again, including spiking the drive-thru idea altogether.
The Jimmy John's is so close to bordering neighbors that they could place an order for a sandwich from their decks, Ward 1 Alderman Dee Baebler said.
But an outdated city parking code requires much more parking than current best practices, which leaves less buffer space. If Saladin sought a parking variance, the buffer could be increased, board President Richard Gau said.
The Planning and Zoning Commission recommended approval of Jimmy John's, but rejected the Court Drive proposal.
Neighbors submitted a formal protest contesting Jimmy John's, and at press time, Court Drive residents also planned to submit a protest, so approval of either would require a supermajority vote.
Court Drive lots with houses fronting South Lindbergh that were leveled by the 2010 tornado are the focus of Despotis' effort to commercialize sites he owns or has under contract. Current Court Drive residents completely oppose any commercialization, and the city's new Comprehensive Plan, adopted last month, deems the area residential.
Despotis' late mother, Olga, filed a lawsuit against the city in 1976 to force a commercial rezoning of a Lindbergh-fronting site that was later developed as the SSM Imaging Center, also destroyed in the tornado. Five years later, the Eastern District of the Court of Appeals upheld a lower court's decision against the city.
If Despotis followed in his mother's footsteps with a lawsuit, he would be up against City Attorney Robert E. Jones, the son of the late city attorney who once opposed his mother in court, Robert C. Jones.
Gau suggested that aldermen could try to implement a planned development district in the area to better control what goes there, which could prevent the possibility of losing in court again and taking whatever Despotis wants there with no city input.
But Baebler said she believes the city has a better case this time around.
"I don't think he would win this one, and neither did Bob," she said.
At the time of the original lawsuit, judges believed that it made sense to extend commercial zoning to Court Drive, which is the current scenario, Jones said.
"The same argument that was presented in 1981 wouldn't fly in 2016, so there is a difference," he said.
Fribis pointed out that while Olga Despotis hired an array of expert witnesses, Sunset Hills relied on city employees to testify.
"The city put on no expert witnesses, no fight at all," she said. "And I think our residents are fighting at this time."
Elaborating to the Call, Fribis said, "I just didn't feel like the city put anything into it. I think we need to listen to our residents, and I think we need to fight for what they believe in. They are the ones that have to live with all the developments that occur, and is it meeting their needs?"