Sunset Hills Board of Aldermen approves vote of no confidence in mayor
'So much for the presumption of innocence,' Furrer says after vote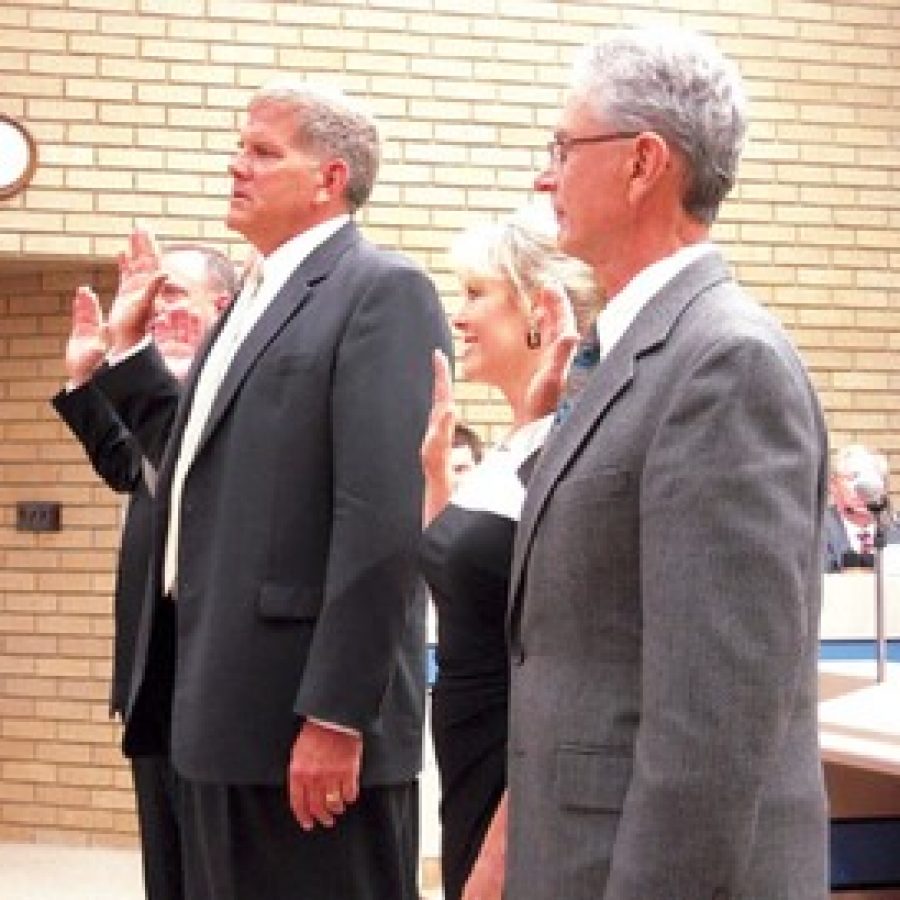 At the first Sunset Hills Board of Aldermen meeting since Mayor Mark Furrer was charged with two felonies two weeks ago, the board voted 6-1 Tuesday night to approve a vote of no confidence in Furrer and, in a separate vote, to get the ball rolling toward impeachment proceedings against the mayor.
"So much for the presumption of innocence," Furrer said in his only comment during the meeting on the subject, directly after the two consecutive votes. Ward 2 Alderman Tom Musich opposed the motions. Ward 3 Alderman Kurt Krueger was absent.
Furrer told reporters that he will not resign, and that although the vote of no confidence was not on the agenda for Tuesday night, he expected it to happen and that it was "easier than I thought, frankly" to sit through the vote of no confidence.
"It's no fun, but part of politics," he said.
The votes came at the first board meeting in the city since Furrer was charged Oct. 1 with felony assault and property damage for allegedly hitting a bicyclist on Old Gravois Road in Sunset Hills July 29, allegations that Furrer has repeatedly denied. A Change.org petition demanding that aldermen ask Furrer to resign is up to more than 150 signatures.
"It's a personal issue, it has nothing to do with city business, and I'll fight it till the end," Furrer said Tuesday night about the bicyclist incident. "It's unrelated to the city. They have no cause to present me with a no-confidence vote."
Acting board President Scott Haggerty, who would become acting mayor if Furrer resigned or was impeached, made the motion for the vote of no confidence.
The motion for a vote to get the impeachment process rolling was made by Ward 1 Alderman Dee Baebler. She asked that the board hire outside counsel — separate from City Attorney Robert E. Jones — to seek legal advice on how to impeach Furrer. The city does not have an impeachment process codified in its ordinances.
After Furrer and Jones reclassified New Balance's business license over the summer, Baebler asked Jones at a public meeting in September whether he reports to the mayor or to aldermen, to which Jones replied that he reports to the Board of Aldermen.
All the aldermen except Musich wrote a letter to Furrer over the weekend asking him to resign, which Furrer declined in a reply delivered to aldermen late Tuesday afternoon.
"I told them I wasn't going to resign. I was elected to run, and the term still has a year and a half to go," the mayor said Tuesday night.
Although more than 70 people attended the meeting, few got up to speak. Two speakers spoke in favor of Furrer and, directly before Baebler made the motion for the impeachment vote, a citizen asked Furrer to resign.
Haggerty and Baebler both said during the meeting that aldermen are not trying to interfere in the legal process. Just as teachers, police officers and athletes are asked to resign or let go even if criminal cases against them are not yet complete, the mayor's case has put the city's aldermen in a position where they need to act, Baebler said.
After the board returned from closed session, Musich read a statement that he believes the city's electoral process should be respected, and that Sunset Hills voters get a chance every two years to vote anyone out of office who they do not agree with.
"My absent signature is not necessarily an endorsement of the mayor, but rather an overwhelming affirmation of our electoral process," Musich said. "… Beginning right now, I suggest that we all try to work together in a positive and productive manner. We need to respect each other and be true to the oath we swore to uphold."
Musich is a cyclist and chair of the Public Works Committee. In a meeting of that committee directly before the Board of Aldermen meeting, he said he would like the city to start restriping city streets as soon as possible to get the ball rolling on making the city more bicycle-friendly.
At that same meeting, City Engineer and Public Works Director Bryson Baker noted that he has met with two different bicycle-friendly organizations, and the city is working on plans to incorporate more bicycle-friendly features into its planning process.
Sunset Hills aldermen hoped to meet last weekend with Mayor Mark Furrer to formally request that he step down, but the mayor declined to meet with aldermen and, as of the Call's press time, had not resigned his office.
"Having considered all recent events in which you were involved, we ask you to step down as mayor immediately," all the city's aldermen wrote in a letter to Furrer earlier this week, which acting board President Scott Haggerty delivered to City Hall after the mayor declined to meet with him in person.
Since Ward 3 Alderman Jan Hoffmann was out of the country at the time the letter was written, she attached a virtual signature to the letter.
The mayor's first day in court on pending felony charges for allegedly hitting a bicyclist with his car was postponed last week to Nov. 13 from Oct. 30. Furrer denies hitting Fenton bicyclist Randy Murdick in the July 29 incident.
Judge Dennis Smith was assigned to Furrer's case since the judge originally assigned to the case, Mary Bruntrager Schroeder, is related to Furrer's attorney Daniel Bruntrager of the law firm Bruntrager & Billings.
After Furrer declined to meet with Haggerty and other aldermen over the weekend, Haggerty told Furrer that he would leave a copy of the letter on the mayor's desk at City Hall and requested that he read it prior to Tuesday night's scheduled Board of Aldermen meeting, which took place after the Call went to press.
The mayor asked that Haggerty email him the letter instead, Haggerty told the Call.
"We're going to ask him to step down," Haggerty said about the letter. "Obviously we're going to tell him, 'Hey, we understand this is a personal issue, you're innocent until proven guilty, let the system work itself out,' but during the interim it just may be better for him personally, for his family and definitely for the city if he were to step down in whatever capacity he deems necessary."
If Furrer resigns or takes a leave of absence, Haggerty would become acting mayor. Over the past month, Haggerty has stepped in three times to sign urgent documents at City Hall in Furrer's absence.
Furrer has grabbed headlines since the bicycle incident for some of his decisions as mayor, as other city officials publicly criticized decisions or comments he has made on a variety of issues, including the Sunset Hills Police Department and Police Chief William LaGrand, the reclassification of New Balance's business license and the snow plowing of private streets.
At a Public Works Committee meeting last week on the snow plowing issue, Furrer used the public-comments section of the meeting to hit back at one of his primary critics — in his first public comments since the felony charges and his first public appearance at a city meeting in nearly two months.
"I'm Mark Furrer, I'm the mayor," Furrer said, then directed a comment to City Attorney Robert E. Jones about Ward 1 Alderman Dee Baebler. "Bob, I'd like to thank you for explaining that it was not me that requested this information on private streets, as one of our alderwomen wanted to slander me with."
Although Jones said his original August legal memo that declared that plowing private streets in the city is unconstitutional was written at the request of City Engineer and Public Works Director Bryson Baker, Baebler told the Call that Furrer threatened to cut off snow plowing for city residents who live on private streets — information that she relayed to her Ward 1 constituents in the same August email update in which she said that Furrer had asked LaGrand to resign when the mayor first took office in April.
"He is pursuing his option to stop all snow plowing of private streets in our city," Baebler wrote to her constituents Aug. 11 about Furrer.
Baebler attended the Public Works Committee meeting as an audience member, as did Haggerty. Committee Chairman Tom Musich of Ward 2 and committee members and Aldermen Richard Gau of Ward 1, Patricia Fribis of Ward 4 and Kurt Krueger of Ward 1 were also in attendance at the meeting, which was held in the aldermanic chambers at City Hall to accommodate the larger-than-usual crowd of 25 citizens in attendance.
In a reversal of his previous legal decision on snow plowing, Jones said that he did not know that Sunset Hills already plowed private streets when he wrote his original legal opinion on plowing in August, which was spurred by residents of the Grandview subdivision wanting the city to plow their streets before the streets are officially turned over from the developer to the city.
Jones said he still stands by his decision in relation to Grandview itself, since the streets are not yet up to current city standards and are still owned and maintained by Grandview's developer. Residents of the subdivision are upset because they paid $15,000 last year for snow plowing, while other residents on private streets had their streets plowed by the city with no charge.
However, Jones overruled his previous decision in regard to plowing all private streets. He believes that there is such an overriding public interest in keeping private streets plowed — for example, so that ambulances and school buses can safely make it through after it snows — that spending public dollars to plow private streets does not actually violate the Missouri Constitution.
When Musich asked what the worst-case scenario is for the city in regard to any potential lawsuits, Jones said that lawsuits would only be able to recover what the city spends to plow private streets, which is at most $5,000 a year, so the city has little financial liability from continuing to plow streets as it has throughout the entire history of the city.
Baebler did not respond to Furrer's comment at the meeting, but she told the Call she knows Furrer is referring to her and that his statement conflicts with what he told her in a previous private meeting on plowing.
"Regarding Mark's comment directed to me last night, I contend that he made a comment, 'Just wait till I stop plowing private streets' to my face — it was part of a meeting that I held to continue plowing private streets," she told the Call the day after the Public Works Committee meeting.
"I met with him at City Hall, and he said, 'Wait till I stop snow plowing the streets,' and I didn't take that seriously at all," Baebler added. "And then I saw an email (from him) talking about how expensive it was last year and there was no law in place saying we had to do it."
Furrer did not respond to a request for comment from the Call about snow plowing.