Sunset Hills board could eye final OK for city administrator position
City officials debate whether ad hoc committee still exists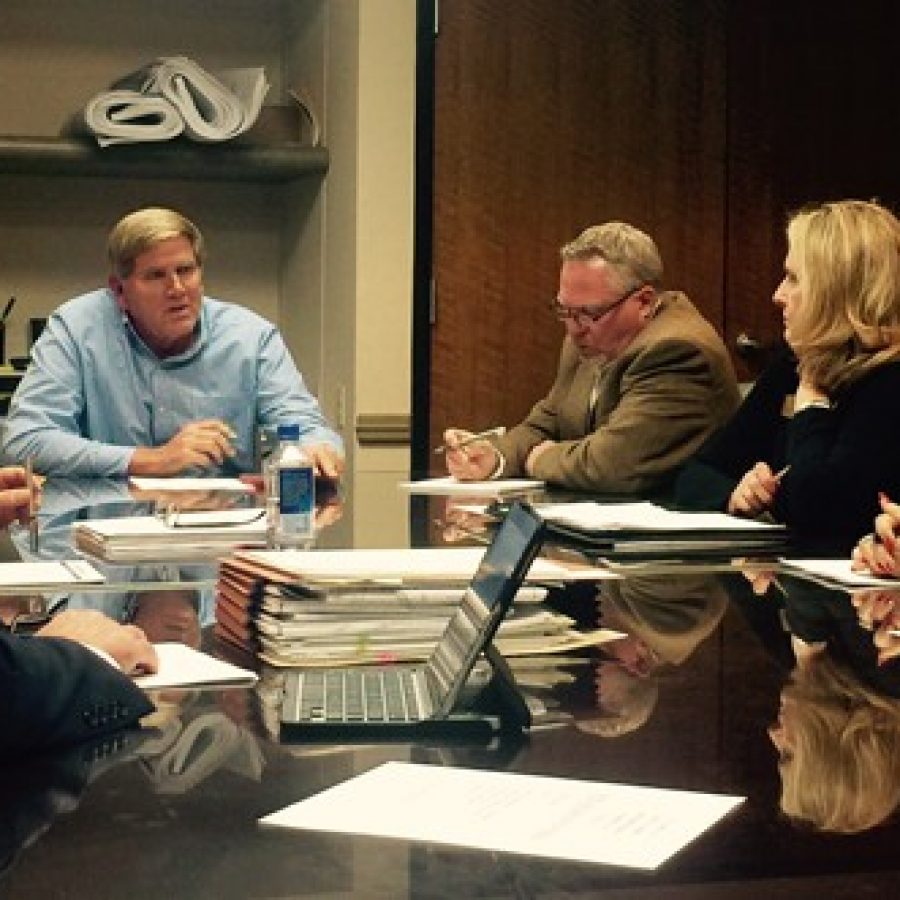 After six months of discussion, Sunset Hills aldermen could make a final decision to switch to a city-administrator form of government when they meet next week.
The board could consider final passage of an ordinance creating the new position of city clerk/city administrator when it meets at 7 p.m. Tuesday, Dec. 8, at City Hall, 3939 S. Lindbergh Blvd.
Last month, Mayor Mark Furrer broke a 4-4 tie against Ward 1 Alderman Richard Gau's suggestion to consider final passage of the bill to switch to a city administrator that night — the same night the bill was introduced.
Besides Gau, Ward 1 Alderman Dee Baebler and Ward 4 Aldermen Pat Fribis and Donna Ernst voted to move forward with moving to a city administrator that night, with acting board President Tom Musich, Ward 2 Alderman Steve Bersche and Ward 3 Aldermen Kurt Krueger and Keith Kostial opposed.
Instead, in a bid for more transparency and discussion on the issue, the mayor called a work session last week at the request of Musich to discuss the city administrator issue in advance of a final vote. All the aldermen except Ernst and 15 residents — including former Mayor Bill Nolan, who is running for mayor in April — packed the Public Works Department conference room to hear a discussion that mostly turned from the city administrator issue to other debates, including whether an ad hoc committee of three aldermen created to hire interim city manager Charles Montoya still exists.
Montoya's three-month term overseeing City Hall as a consultant for Interim Personnel Management, or IPM, ended Monday, and he will soon start as the city manager in Watsonville, Calif. Taking Montoya's place in Sunset Hills until the city decides on a permanent direction is IPM consultant Robert Heacock, who served for a decade as the city manager of Independence, near Kansas City.
Heacock's pay will be "a little cheaper" than the $15,000 a month the city previously paid IPM for Montoya, Fribis noted, including a room at the Holiday Inn and a rental car.
Although Montoya had wrapped up his work in the city by the time of the meeting, he came up frequently because he had recommended that the city hire a city clerk/city administrator and because some aldermen questioned why the Personnel Committee didn't actively pursue him for the permanent position while he was still in the city.
However, the position didn't exist yet for anyone to take, Gau noted, and Fribis said she supported expediting the bill while Montoya was still in the city because it would have allowed officials to talk to him about staying.
Despite strong recommendations from a series of mayors and current city managers from other cities, Furrer said he has not yet seen convincing independent arguments that a "relatively small city that's not complex" should change the way it has run for the 50 years since it was founded.
"I feel like we went into a Cadillac dealership and we asked them what kind of car we needed, and they said a Cadillac," Furrer said. "We never talked to a Chevy dealer."
Montoya predicted the move to a combined city clerk/city administrator position would be cost-neutral with a $92,000 salary, and total administrative staff would still cost $330,000. A separate city clerk would cost $34,000 more.
Finance Committee member Musich's first suggested rewrite of the ordinance that creates a city administrator, Bill 40, was that the Personnel and Finance committees should not recommend a candidate, as they did with Montoya.
"I think we have allowed the Personnel and Finance committees to overstep their boundaries," Musich said.
Instead, Musich suggested the process to hire a city administrator should look more like when Nolan hired City Engineer and Public Works Director Bryson Baker in 2013, which "worked out expeditiously and worked out nice for our city." But Personnel Committee member Gau said the panel was also involved in hiring Baker.
In a discussion that brought out the 4-4 split often seen on the board this year, some aldermen disputed whether the volunteer ad hoc hiring subcommittee of Gau, Personnel Committee Chair Baebler and Finance Chair Fribis was legally disbanded when Montoya was hired and has no authority to hire Heacock or a permanent replacement.
City Attorney Robert E. Jones said he believed the subcommittee is still in play, and Baebler added that any of the aldermen could have volunteered.
"We weren't overstepping with 7:30 meetings before work and another 5:30 meeting afterward," Baebler said. "We weren't overstepping in trying to do more work. I'd be happy to let whoever wants to interview (volunteer)."
Furrer and several of the aldermen first learned that Heacock was hired at the meeting, and they were upset they were not contacted to meet the new interim manager when he took a City Hall tour with Montoya. A poll by Musich showed that only Fribis and Gau knew about the visit.
Unfamiliar with Heacock's name, Furrer started referring to the new city administrator as "Peter Pan."
"I would think as a courtesy, Pat and Dee, you would at least call the mayor and the other aldermen to say, 'Peter Pan's coming in here if you're wanting to meet him,'" Furrer said. "This is the kind of transparency that goes both ways."
"Do we have lines of protocol in the city?" Kostial asked.
"We can focus on that if you want to, or we can focus on Bill 40," Gau replied.
"We should focus on the issue that some people are being circumvented and not involved," Kostial said.
"Let's focus on that — about how Peter Pan came out of nowhere and met everybody except us," Bersche said. "It seems that the line of protocol is that the Personnel and Finance committees just do whatever they want."
"Having private meetings with staff is OK?" Baebler said, gesturing toward Musich, Bersche, Kostial and Furrer. "That happens with you, you, you and you."
"What private meetings have I had, Dee?" Kostial asked. "It annoys you because you don't have an answer."
As the arguing continued, Krueger interjected that he didn't know about the tour but didn't understand the concern.
"What is the issue?" he said. "Is the issue with what they've done or the people that did it? I think the issue is with the people that did it. If you're going to waste everybody's time about this bickering back and forth between the four of them, the four of you, or transparency — well, let's talk about other transparencies that don't occur. This is BS. If these guys were tasked with something by the board, let them do their job. Let them bring their findings forward and do their job just like every other committee."