Sunset Hills aldermen OK new park board members
Furrer reports parks 'clique' is source of many complaints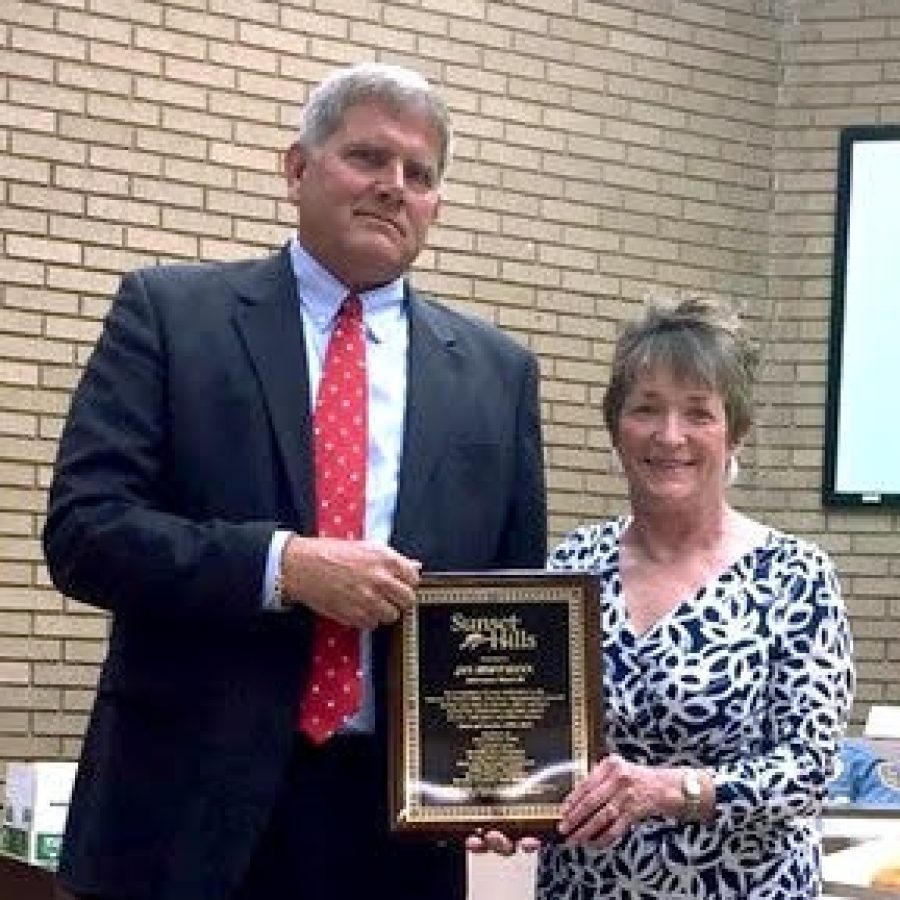 Sunset Hills Mayor Mark Furrer promised to end what he called the city's "parks clique," and he got his wish last week when he appointed three new members to the Parks and Recreation Board in one fell swoop.
Furrer broke a tie from the Board of Aldermen to appoint Ward 3 Alderman Keith Kostial to replace former Ward 3 Alderman Jan Hoffmann, who served on the board for 26 years. Kostial, Ward 2 Aldermen Steve Bersche and Tom Musich and Ward 4 Alderman Donna Ernst voted for Kostial.
Ward 1 Aldermen Dee Baebler and Richard Gau and Ward 3 Alderman Kurt Krueger voted against all three of the mayor's appointments to the seven-member board, and they were joined by Ward 4 Alderman Pat Fribis to vote against Kostial to keep Hoffmann on the board.
The last two meetings, aldermen rejected Furrer's first nominee to replace Hoffmann, Esther Gier, but last week Fribis abstained and aldermen voted 4-3 for Gier to replace longtime Chairman Barb Scott, who served 24 years in the other Ward 3 seat.
In a third vote, Furrer nominated Ernst to replace Fribis, who has served on the board for more than 20 years. Fribis voted for Ernst, who voted for herself to make the vote 5-3.
Hoffmann stepped down as alderman April 28, but had hoped to remain active on the parks board, where she, Scott and Fribis helped develop the Community Center, Aquatic Center and the city's first municipal swimming pool.
"Of course I'm very disappointed, and I personally don't think it's wise or positive to remove an entire third of the parks board at once, but I wish them all well," Hoffmann said about the new members after the June 9 vote. "Parks are still my passion."
Aldermen unanimously approved reappointing former Ward 1 Alderman Doug McGuire to the parks board, where he will replace Scott as chairman.
Each city ward has two three-year seats on the park board, with one Ward 4 seat currently vacant. Despite the vacancy, Furrer followed up on his vow at the May 12 meeting to remove Fribis from the board, appointing Ernst to replace her. In a volunteer interest form, business owner and Finance Committee Chairman Fribis said she hoped to remain on the board.
Kostial said he has long been interested in serving on the parks board, and he and Gier went to work last weekend measuring medians on South Lindbergh Boulevard to ask the Missouri Department of Transportation, or MoDOT, if Sunset Hills can install concrete planters or flower beds to decorate the medians, like those in Creve Coeur.
It's part of a larger effort by Kostial and Ernst, who hope to beautify the look of the city's gateways.
"We have subdivisions that have better entries than Sunset Hills has," Kostial said. "We lack character and vibe. Other cities do it and work it in, so it's not a huge expense, but aesthetically it would be huge."
Bersche, who voted against Gier twice so that Hoffmann could stay on the board, said some aldermen hoped for a solution so that longtime members could stay on the board alongside new members. But when a compromise couldn't be brokered, he believed aldermen should move forward with city business instead of voting on the same thing every month.
"If I were the mayor, those two would be lifetime members," Bersche said of Hoffmann and Scott. "I'm not real happy about it, but I do understand the need for some other people from Ward 3 to serve — but the thing that disappoints me the most is that there was a vacancy on Ward 4, and he decided to still kick Pat Fribis off."
Furrer congratulated the new members but made no mention of the three they replaced, which Hoffmann and Bersche said was especially unfortunate in the case of Scott.
"Even if they are getting replaced, I think that they could get a little more respect and recognition than just quietly going away," Bersche said, noting that Hoffmann received plaques from the city and county when she left the Board of Aldermen. "I think Barb Scott has been just as instrumental with the pool and all this other stuff as Jan, and it seems like she should get recognized as well."
At the same meeting that the park board turned over, Musich proposed an ordinance that aldermen could consider at their next meeting establishing term limits for city committees. Furrer proposed the idea of term limits for committees and aldermen in January.
Based on Kirkwood, as proposed by Musich the ordinance would limit the terms residents could serve on all city committees, with Planning and Zoning Commission members limited to two four-year terms and parks board members limited to three three-year terms. The bill is a "positive attempt to open the doors of opportunity to many Sunset Hills members who wish to serve their community," Musich said.
In April, Furrer nominated and Musich was among the aldermen who voted to reappoint 12-term member Joseph Niemeyer and seven-term member Al Koller to the Planning and Zoning Commission, along with 10-term planning panel member Pat Otto to the Comprehensive Plan Update Committee.
Otto replaced former Chairman Nick Dragan, a one-term member whom Otto also succeeded as Planning and Zoning chair. Dragan was replaced on Planning and Zoning by Daniel Werner, and one-term member Jeff Sanders was replaced by Thomas Ortmann.
"He just reappointed people who've been on P and Z much longer than any of us have been on the parks board, so he can't really say it's because we've been on too long," Hoffmann said.
For Furrer, the explanation of why the park board needed to change is simple, as he explained in a text message to the Call in April.
"Some of these folks have been around so long they are grandmas," Furrer wrote. "I think we should encourage young participation, families with kids, the next generation. They deserve a voice and these multi-term members should step aside … I have had many complaints about the parks 'clique.' It is time for a change. It is not political: New people, new ideas, new vision. That is my plan."
Furrer's comments are the first that Hoffmann said she has ever heard of a complaint about a parks "clique," but she said the parks board is a "wonderful board" that has accomplished a lot for the city.
"Pat, Barb and I have been fortunate to be part of a wonderful board that has, I believe, served the city quite well," she said. "Under the leadership of (Parks and Recreation Director) Gerald Brown, the board has been able to accomplish so much for the parks, so we do have a lot to be proud of as we leave, we really do."