Students, teachers singing praises of Mehlville's laptop pilot program
Decision to be made by May on second phase of program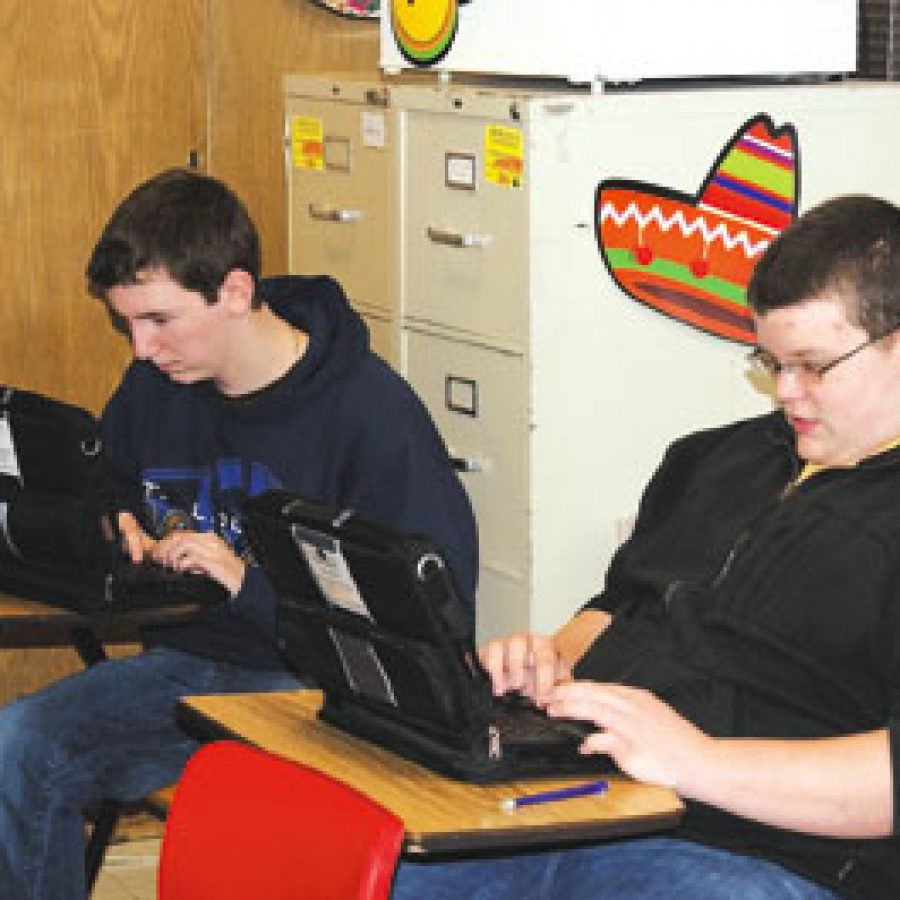 Mehlville Senior High School freshman Steven McClenahan is having fun since receiving a laptop computer three weeks ago as part of the Mehlville School District's One-to-One Open Source Pilot Program.
"(The laptop) helps me in other classes because I get to type bell work and notes and stuff in other classes, so it's been pretty useful for me and a lot (more fun) than doing everything on paper," McClenahan told the Call.
Two freshman-level communication arts classes, one at each of the district's high schools, were chosen for the One-to-one Pilot program, which provides one laptop computer per student instead of traditional textbooks.
Mehlville Senior High School communication arts teacher Allison Braun said all of her students have been receptive to the program.
"At first they were maybe a little nervous about having laptops, but ever since we started, they've only been giving me positive feedback," Braun said.
McClenahan said the class has been going well and he likes that he does not have to complete assignments on paper.
"You get to do stuff electronically with the laptop, and you can type stuff. You don't really have to write as much," McClenahan said. "Plus, it's easy to carry, it's small. It's just really useful."
Oakville Senior High School communication arts teacher Tracy Krysl said her students were excited to be chosen for the pilot program.
"They are over the moon, they love it," Krysl said.
Using computers has streamlined class because students do not have to scramble for a pencil or shuffle papers, according to Krysl.
"(Students can) get so much more done at home. (The computers) let us save class time for reading and practice … explaining texts, analyzing literature," Krysl said.
Braun's class is reading an electronic version of "Romeo and Juliet" using No Fear Shakespeare, a program that shows William Shakespeare's tragedy side-by-side with a modern English version.
McClenahan said No Fear Shakespeare helps him understand the text.
"I think (No Fear Shakespeare) is helpful because some of the stuff they say in that ('Romeo and Juliet') is just weird," McClenahan said. "… With the translation on the other side, it helps a lot rather than just reading it in a book."
Krysl also will use No Fear Shakespeare but said she does not plan to rely completely on the program.
"I want the kids to have to look at the language without having modern text next to it," Krysl said.
Krysl's class is also using Project Gutenberg, an online resource with more than 38,000 books available.
"Right now we're doing a research project researching Elizabethan England, Elizabethan dramas and Shakespeare's life. We're able to do that through discussion boards online," Krysl said.
Braun said she plans to have more web- and research-based projects in the future to "get the full effect out of these computers," but is still in the planning stages.
"Within the next week or so, I'll have them do online discussion boards and also create Wikis, perhaps in conjunction with our research projects," Braun said.
The first day students used the laptops there were some Wi-Fi connectivity issues, but Braun said since then there have not been any problems.
"The computers have been surprisingly very easy to handle," Braun said. "They have up to about an eight-hour charge and most students are coming with these charged and ready to go."
The Internet connection at Oakville High has held up well since the program began, according to Krysl, who has only had one issue so far.
"I had one issue with my students being able to access the United Streaming video I uploaded for them. The tech staff came in today (Jan. 24) for me and fixed that," Krysl said.
Director of Information Technology Services Steven Lee said any Wi-Fi connectivity problems that occurred were not unexpected.
"We knew a couple classrooms didn't have our work done yet, and students reported that right away … From the tech staff viewpoint, we're making the pilot a top priority," Lee said. "We want to be sure we're right on top of any issues that occur and address those right away."
The computers have Office Suite, Windows Movie Maker, Skype, Internet access and a quick link to the district's private cloud, according to Lee.
The private cloud is set up as a local server that allows access at home for items saved on the district's network.
Lee said the computers are set up as educational devices, and at a parent kickoff meeting, the use and care of the computers was outlined.
"We emphasized (the computer) is for educational research … (They) are filtered with the same filtering policies as (the computers) at school. (Students) can't do social media on them, no Facebooking. All those tools are blocked at home as at school," Lee said.
Superintendent Eric Knost said, based on the pilot, a decision will have to be made by May whether or not to continue with phase two of the pilot, where the 2012-2013 freshman class would receive laptop computers.
"Midway through the semester we're going to have a pretty good idea. If nothing smacks us in the face … I think we will be doing the larger rollout to all of ninth-graders," Knost said.
Funding for the computers came from the district's technology budget and about 56 students are involved in the pilot program.