Story of ex-south county resident's fight with leukemia now an international one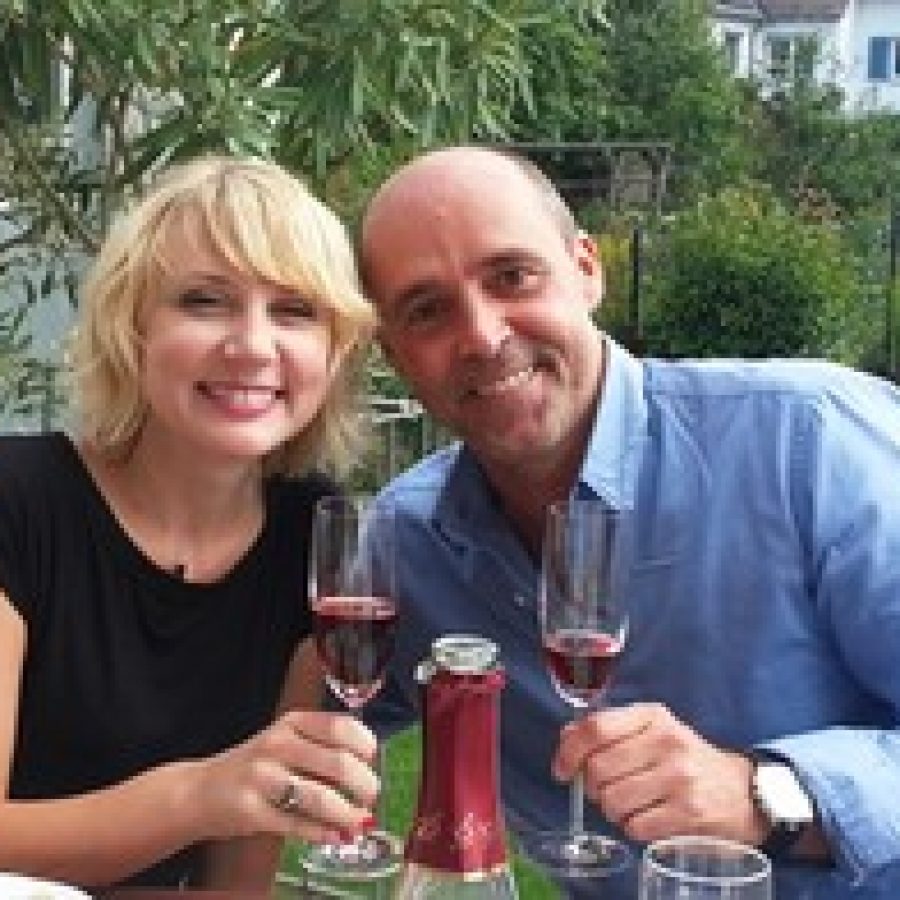 The story of former south county resident Amanda Pope Trybula's battle with leukemia recently became an international one when she and her family traveled to Germany to visit her bone-marrow donor.
Trybula, a former Call employee, began the fight of her life on March 24, 2010 — the day she was diagnosed with acute myeloid leukemia at the age of 24.
Her sister, Justine Pope, was not a match and Trybula's medical team at the Siteman Cancer Center at Washington University in St. Louis-Barnes Jewish Hospital searched the registry for a donor.
Her fight against the disease was a long and difficult journey that ultimately led Trybula to receive a bone-marrow transplant from Bernd Lang of Freimersheim, Germany, on July 20, 2010.
The International Bone Marrow Registry keeps all international donor contact information private for two years, but Lang wrote a letter to her in August 2010 and they began writing letters through the registry until they could finally exchange contact information last November.
Lang and his son Joshua traveled to the United States in March to meet Trybula and her family.
"Meeting my donor was incredible," Trybula recalled. "Bernd and I have a special bond. He invited us to Germany. I know that I am blessed to have a donor who feels connected enough to me to open his home and welcome us into his family."
In August, Trybula, her husband, Bob; her parents, Brad and Cathy Pope; and her sister traveled to Germany to visit Lang and meet his family. Cathy Pope is a longtime Call Newspapers employee.
A German television crew met Trybula and her family at Frankfurt International Airport along with Lang and his wife, Sonja. They spent the day filming at Lang's home and the home of Lang's parents.
Trybula also was interviewed by a local radio station and several newspapers.
"I was very happy to have the opportunity to share our story and inspire others to join the registry. It gives me purpose," she said. "I hope I can raise awareness and help someone on their journey."
Trybula and her family stayed with the Langs and their sons Joshua, Aaron and Jonathon at their home in Freimersheim, a village with a population of less than 1,000 that is surrounded by vineyards.
The American flag and the German flag were hung crossing the street in front of Lang's home. Lang hosted an open house that included musical performances, speeches, poems and delicious homemade German cakes and concessions. More than 200 were in attendance including family, friends, performers and German dignitaries.
"Everyone was so excited to welcome me to Germany," Trybula said. "They were proud that Bernd could help save my life.
"He is a hero. I was honored to be part of such a special day and meet so many amazing people."
The Delete Blood Cancer German Bone Marrow Center, or DKMS, was on hand to share in the celebration and sponsored a bone-marrow donor registration drive.
"Blood cancer knows no borders. Our goal is to find a match for everybody who needs a donation, all over the world," said Julia Runge of DKMS.
Trybula and her family spent a week with the Langs in their village, meeting many of their friends and enjoying German wine, beer and cuisine.
They also visited historic German castles, cathedrals, neighboring villages, a climbing park and took a cruise on the Rhine River.
"Visiting my donor in Germany is a trip I will always cherish. Surviving cancer is a challenging battle that makes the moments of joy that much sweeter," Trybula said.
Trybula and her family traveled to Paris and London before heading home.
To join the Bone Marrow Registry, visit bethematch.org or deletebloodcancer.org.