Stone Sour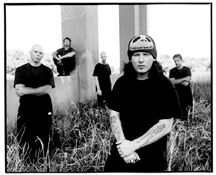 By ALAN SCULLEY

For the Call

Singer Corey Taylor doesn't hide his disappointment over circumstances that kept "Iowa," the second CD by his band, Slip-knot, from becoming the kind of major hit most people expected.

The CD, which was released in late summer 2001 arrived shortly before the Sept. 11 terrorist attacks, and in the aftermath of the tragedy radio quit playing songs by many of heavy metal's more extreme acts.

Slipknot, with its scary masks and stage costumes, and music that was filled with rage and profanity, may have suffered more than any band from the caution with which radio programmers approached any songs with a hint of controversy.

After seeing its self-titled debut CD sell well over a million copies, Slipknot watched "Iowa" suffer a quick fall from grace.

"There were so many things that kind of got squashed because of 9-11," Taylor said. "And I think we took it really, really hard because it was almost like we were singled out. A lot of other bands weren't. We didn't understand why at the time. It was crazy."

Unlike most his musical partners in Slipknot, though, Taylor had another project on which he could focus his creative energies. Even before "Iowa" had been finished, he had begun working with longtime friend, guitarist Josh Rand, on a cache of new songs, many of which Rand had written while Slipknot toured behind its hit debut CD. Those songs eventually prompted Taylor and Rand to reactivate a group they had started in 1992 — five years before Taylor signed on with Slip-knot. That band is Stone Sour.

And now that Stone Sour's self-titled debut CD has gone gold, this success has left plenty of Slipknot fans wondering about the future of that band of masked rock'n'roll marauders. For his part, Taylor, in a recent interview, offered no firm predictions about the future of Slipknot. But he has his reasons to believe Stone Sour will exist long after the members of Slip-knot hang up their costumes for good.

"If I had my way it would be one more album with Slipknot and then call it a day and see what happens," Taylor said. "The great thing about Slipknot is you don't know how long it's going to last. It's just one of those things where if it lasts too long, it becomes less than it was. And I don't want to see that happen. I don't know anybody in the band who wants to see that happen. I won't be in the band if it happens.

"It's just that simple. And when I say that, it's more my opinion. I mean, I can't speak for everybody in the band. But in my opinion, we should make one more al-bum, maybe another one down the line, and just see what happens."

A key reason why Taylor isn't sure Slip-knot is built for the long haul is because the fairly narrow confines of the group's ex-treme brand of metal give the band only a limited amount of room to keep developing musically. The limited scope on Slipknot's sound was a key reason that Taylor was drawn to the idea of reactivating Stone Sour.

The Des Moines, Iowa-based group, whose original members — Taylor, Rand, bassist Shawn Economaki and drummer Joel Ekman — are joined by Slipknot guitarist James Root to complete the current lineup, play a far more diverse range of hard rock than Slipknot.

The "Stone Sour" CD does feature a few songs that verge on the scream-infested mayhem of Slipknot, such as "Get Inside" and "Orchids," but much of the CD takes a more melodic direction. For instance, "Cold Reader," "Blotter" and "Blue Study" are tunes that feature hard-hitting guitar riffs, but boast vocal melodies that enable Taylor to showcase a singing voice that goes essentially unused in Slipknot.

An even more melodic side of Stone Sour emerges on "Monolith," a slow-burning rocker and especially on "Bother," a hearty ballad. "Bother" first got attention as part of the "Spider-Man" soundtrack and served as a springboard for the release of Stone Sour's debut disc. Taylor said he always knew Slipknot couldn't accommodate the range of music he and Rand were writing, and he would need to earmark the songs for an outside project.

"It's one of those things where Slipknot kind of is known for doing what it does," Taylor said. "And unfortunately a lot of the fans of Slipknot, if you deviate from that, they will turn on you. And nobody knows that better than we do … We couldn't do a song like 'Bother' because it would be too much of a departure from it.

"Now Stone Sour, we have always been a very diverse, very eclectic, group of people," he said. "So we can do a song like 'Bother,' and in the same breath do a song like 'Get Inside.' It just makes sense to us."

Stone Sour plays May 2 at Pop's, 1403 Mississippi Ave., Sauget. Tickets for the 8 p.m. show, which also features Powerman 5000, Ra, Outspoken and Systematic, cost $25.