Stenger signs executive order renaming Clydesdale Park in honor of fallen officer
City of Green Park conducts first event at renamed park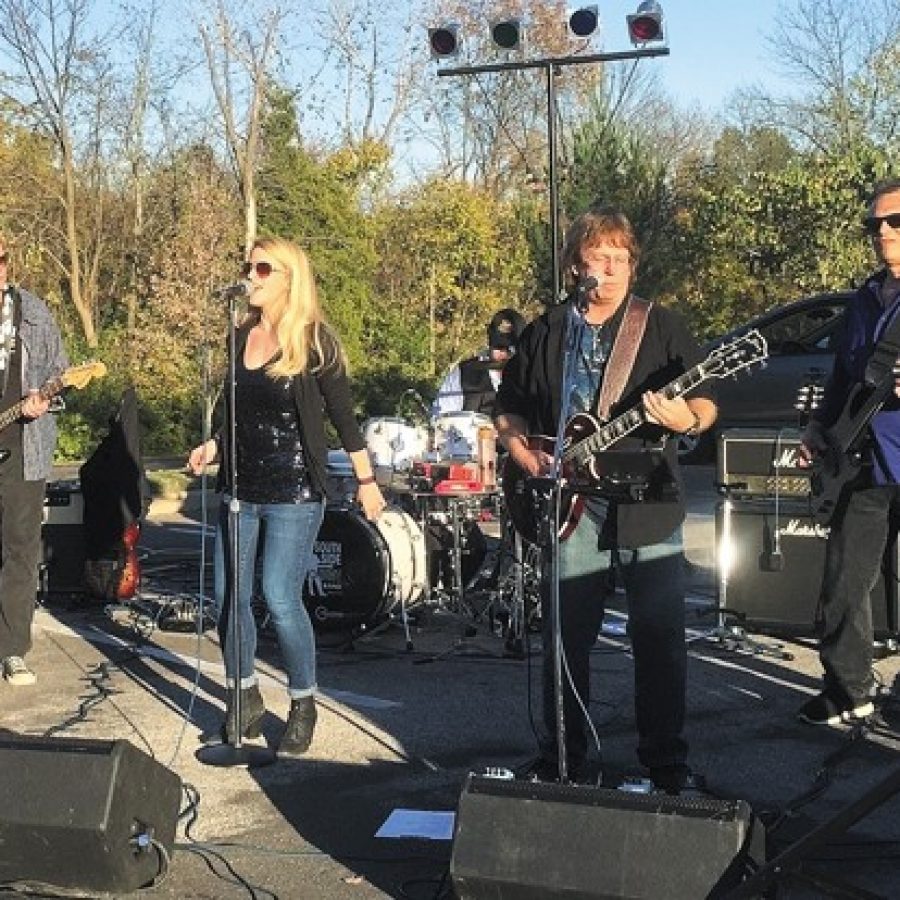 In what has to be record-setting speed for St. Louis County government, in the span of a few days last week, Clydesdale Park got a new name, new signs and a new purpose as a lasting memorial to fallen police Officer Blake Snyder.
On Oct. 17, Green Park officials were busy planning their kickoff "Groovin' in the Green" event in the 117-acre park that was then known as Clydesdale Park — a park so key to the city's identity that it takes its name from the green expanse.
The next day, County Executive Steve Stenger responded to thousands of residents who had signed a Change.org petition to rename Clydesdale Park for Snyder with an executive order that changed the park's name to Officer Blake C. Snyder Memorial Park, effective immediately.
By Oct. 20, that change took a more visible form: The Clydesdale Park signs were switched out and new ones were installed, with blue ribbons honoring law enforcement swirling in the wind around them.
The signs were switched out exactly two weeks after Snyder was killed in what might have been an ambush responding to a domestic disturbance call in the 10700 block of Arno Drive in Green Park just after 5 a.m. Oct. 6. The block where Snyder died is one street over from the park.
Stenger signed and issued an executive order mandating the name change at the Oct. 18 County Council meeting, attended by Snyder's wife Elizabeth, Chief Jon Belmar and Elizabeth's brother, county Officer Justin Sparks. The signing got a standing ovation from Elizabeth and from the crowd of dozens of police officers who came for the occasion.
The county executive thanked residents for their unprecedented outpouring of support for Snyder, shown through countless memorials and more than $100,000 in donations to BackStoppers in memory of the fallen officer.
"We will not forget Blake Snyder's sacrifice, and we will not forget his family," Stenger said.
Clydesdale Park opened in 1976 as Gravois Creek Park and was renamed in honor of August Busch Jr.'s horses in 1983.
As the county executive rode in the 10-mile-long funeral procession after speaking at Snyder's Oct. 13 funeral, the outpouring of love for Snyder and law enforcement was obvious, with people lining every overpass in the 50 miles from Chesterfield to Snyder's hometown of Godfrey, Ill. Watching the people from all walks of life lining the roadways, Stenger told the Call that he searched for the perfect way for the county to properly memorialize Snyder.
The unprecedented turn of events that followed kicked into motion over the weekend, as Stenger became aware of a petition to change the name of Clydesdale Park for Snyder. The petition was spiraling through social media, gathering thousands of signatures, topping out at over 6,000 by the time Stenger made the change.
The petition was started by nearby Affton residents Kathy Bosch, who drives by the park every day, and Dawn Oppy, who lives next to it.
It was the perfect way to honor Snyder and his sacrifice, Stenger said.
"We saw the tremendous groundswell, and it's clearly what the residents want. I think it's fitting in so many ways to do, so we move forward with it," Stenger told the Call. "It is in the area where he patrolled, it was not far from the place where he lost his life, and the residents want to show their support."
In response to concerns that the name change dishonors past fallen officers who did not have a park named after them, Stenger said no fallen officer in St. Louis County is forgotten. They are remembered every year at a memorial breakfast where their stories are told, and he is open to any ideas to honor them.
Stenger did not contact any Green Park officials about the name change, citing the speed at which the decision was made, and no one from Green Park was at the signing.
But from the time they learned of Snyder's death, city officials have been pondering ways to permanently honor Snyder and his sacrifice on behalf of the city. City Hall was closed in honor of Snyder Oct. 13, the day of Snyder's funeral, and Mayor Bob Reinagel and Board of Aldermen President Fred Baras represented the city at his visitation.
"We tried to pay our respects to this young man for laying down his life, which was taken here in Green Park," Baras said.
But residents and city officials don't want the honor to end there.
At the Oct. 17 Board of Aldermen meeting, the city's founder, Fred Hoehn, asked the city to donate at least $10,000 to BackStoppers for Snyder's family.
"I know the city will do the right thing — I also know the city is a cash cow," Hoehn said.
He also suggested that the city rename its meeting room at City Hall after Snyder.
"I'd like to see a plaque with his picture on it so when people come to visit, et cetera, they know what kind of sacrifice he made for the city of Green Park," Hoehn said.
At the suggestion of Ward 2 Alderman Tim Thuston, the city is inviting BackStoppers to attend its next meeting to discuss how and if the city can join the organization's membership program as a platinum member, starting at $10,000 a year. City Attorney Paul Rost cautioned that such a move might run up against state law, which bans using public dollars for private causes.
Although residents have speculated what could have been done differently by Green Park to prevent Snyder's death, the city's dedicated police officer, Officer Matt Kappler, said the streets of Green Park are safe and residents have no need to worry.
In Kappler's monthly report, he gave a tribute to Snyder, noting that the officer was "survived by his wife, son, he was a son, a brother, and he was a friend to many."
In response to citizen concerns, Kappler clarified that while the investigation is ongoing, the county Police Department had never responded to a previous call at the house where Snyder was killed, despite unverified media reports to the contrary.
Trenton Forster, 18, pleaded not guilty last week to first-degree murder in the death of Snyder. Addressing another misconception, Kappler said that Forster did not live in Green Park.
He continued, "As the Green Park officer, for Capt. (Jeff) Fuesting, Sgt. (Ray) Absalon and the men and women of the 3rd Precinct, I want you to know, the mayor, the aldermen, the city, the fine citizens of Green Park — know that our city is safe. It's a great place to live, you can be outdoors for your kids to play out there, free and without fear. That's all I have to say about that."