Speaking as a 'taxpayer,' Englund believes negotiations 'could have been done better'
Roughly 170 attend meeting; 15 speakers address board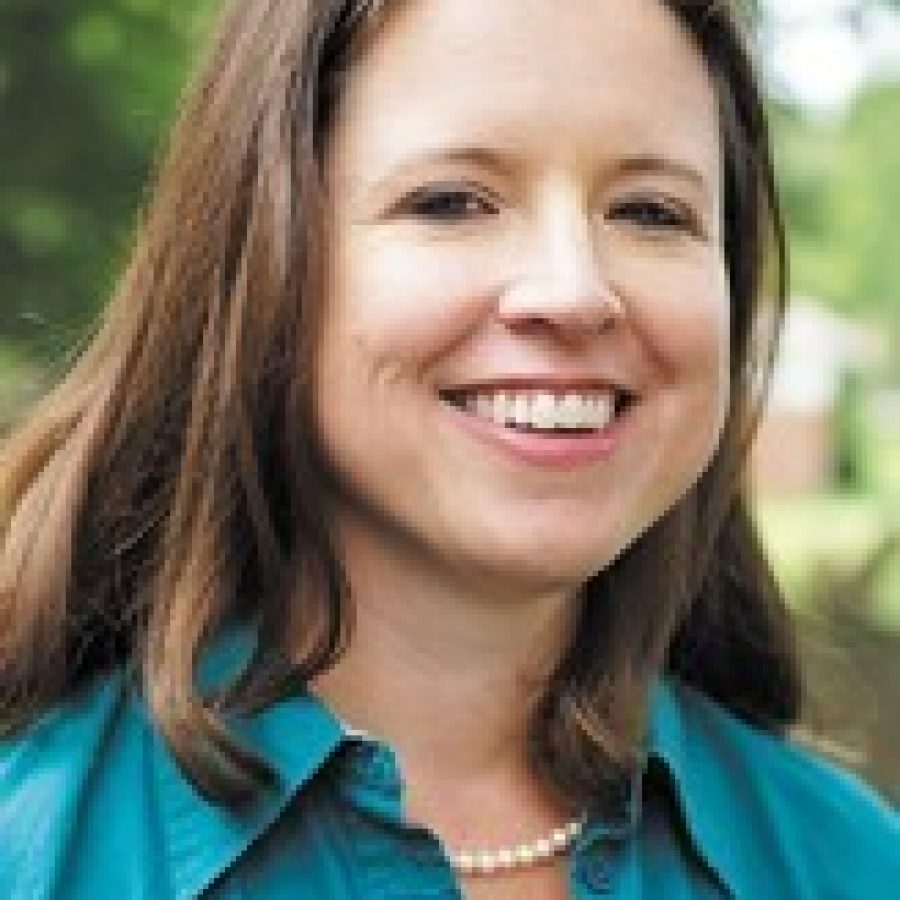 Speaking as a "taxpayer" and not as a Lindbergh Board of Education member, Treasurer Vicki Englund said last week that negotiations with district teachers "could have been done better this summer."
Teachers speaking on behalf of the Lindbergh National Education Association, or LNEA, first accused district officials and board members of not bargaining in good faith in July. At the August and September board meetings, teachers and their supporters have urged administrators and board members to reopen negotiations.
But Lindbergh officials remain firm that negotiations will not be reopened until Feb. 1. Under board policy, negotiations with teachers will begin no earlier than Feb. 1 and conclude by June 1.
Roughly 170 people — primarily district teachers — attended the Sept. 8 school board meeting, which took place in the Lindbergh High School Auditorium.
At the meeting, eight teachers, four parents, a former student, Englund and board member Kate Holloway addressed the board. The majority of speakers urged the board to reopen negotiations, reiterating concerns that bargaining was not conducted in good faith, and also contended teachers are not being treated with respect because they are not being paid what they deserve.
LNEA members voted 182-23 May 20 to reject the district's offer of an average 3.2-percent salary increase and a salary schedule crafted by their own leadership. Teachers sought a 3.5-percent salary increase — an additional $29,000 — which unless other items were cut would have resulted in a deficit budget for 2015-2016.
In June, the school board adopted an operating budget with a surplus of $449 that provided an average raise of 3.2 percent for all district employees. After teachers rejected the salary schedule, Chief Financial Officer Charles Triplett used the amount of money approved by the board to craft a salary schedule in which every returning teacher received a raise, 53 percent of teachers received a raise of more than 3.2 percent and almost two-thirds of the steps on the schedule increased in value.
Englund stepped down from the stage and addressed the board, saying, "… I'm standing at the microphone as a taxpayer. I am not — nor should I speak as a board member because a board member is one of seven people. So my comments here are strictly my own. They're not to be construed as anything the administration says or the board does, and I want that to be perfectly clear."
"There are very few things said tonight that I disagree with …," she added, noting that the International Baccalaureate diploma she earned as a Lindbergh High graduate enabled her to be the first member of her family to attend college.
"… We do have the best teachers at Lindbergh. We all know it. The board members know it — I mean as a taxpayer I would assume board members know it," Englund said. "And I would assume the administration knows it, too. I can tell you that a lot of the sentiments that have been expressed tonight were also expressed at previous board meetings. The format that we have for this forum, this way to communicate, is a one-way street. It's everyone in this room, as a citizen, gets to talk to the elected leaders of the community about what we're feeling.
"There are a lot of things about the Lindbergh community that we all agree on, and there are a lot of things in my personal opinion that could have been done better this summer with negotiations and with, more importantly, communication. As has been said and I as a personal, individual taxpayer, agree that communication could have been better, and the communication will be better. As an individual, as a mother, I hear you. I can't say we hear you because I'm only talking about me. I hear you and I want the audience to know that we are a big family, and we are working on it. There have been things, there has been progress that has been made over the past month …"
Englund, a Democrat and former state representative, is again challenging her frequent opponent, Rep. Cloria Brown, R-Lemay, for the District 94 House seat.
Asked by the Call to elaborate on her comments, Englund cited a change in the LNEA's leadership when Long Elementary teacher Kim Scronce succeeded former President Mike Kuhn.
"I know there was a lot of communication back and forth between the school district and the teachers, and I know that there was a change in leadership of the teachers, as far as their union and their negotiating team and whatnot. So I think there was a lack of communication that kind of happened all around the whole scenario," she said. "So I think there were points at which where the district did a really good job of communicating and there was a point in time where the teachers did a good job of communicating, but with the change in leadership …, the deadlines the board has in place could have been better communicated to the teachers, given the fact that they had a change in their leadership structure."
Asked what steps have been taken to improve communication, Englund said, "… That's one of the reasons I spoke at the meeting, because the types of things that we heard at Tuesday night's meeting were the same things we heard a month ago, and in that month's time, there have been meetings with district administration and with the teachers. They've talked back and forth about other things we can do, other frustrations that the teachers have, and so there's a plan in place to address those concerns.
"And I wanted to make sure that everyone knew that progress had been made because the way that the comments were going Tuesday night, I didn't want anyone to be misled to think that the board and administration hadn't done anything since the month before."
In her remarks, Holloway noted that she was not speaking on behalf of the board and praised the contributions of the district's "dedicated" and "passionate" teachers.
"… I appreciate everything that the teachers do, and I appreciate the Lindbergh community as a whole in what they do …," she said, enumerating a list of reasons why the district and community are "blessed."
Holloway also spoke of sacrifices that need to be made in life to provide opportunities for children.
"… It takes all the pieces to the puzzle. It takes all that support, and not in good conscience should we exceed — if it were on salaries — exceed the trust of the entire community in going into deficit," she said. "I speak this individually because I feel I need to say that, because we do make sacrifices and we do give. We continue to give. And I know that teachers are wonderful. We need you. We are blessed to have all of you …"
Holloway said she hoped the differences that exist can be resolved "on the basis of continuing the traditions that we have here because that is the true foundation of civility, and we've got something really wonderful here in Lindbergh …"