South county native set to take part in Olympics
Fusco got his start caddying at 12 at Sunset Country Club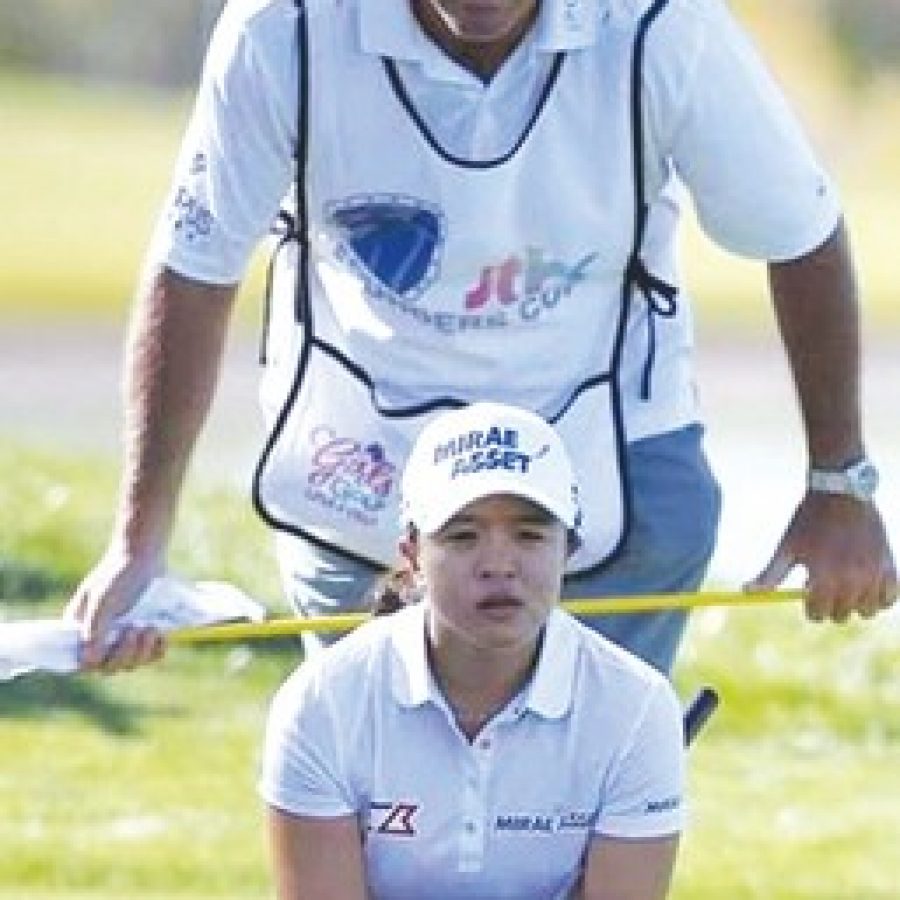 A south county native will participate in the Olympic Games in Rio de Janeiro starting this week, caddying for one of the top golfers in the world as the sport makes its Olympic return.
Paul Fusco, 48, who grew up in Oakville, will caddy this week for South Korean golfer Sei Young Kim as competition begins in women's golf.
Ladies Professional Golf Association, or LPGA, player Kim is currently ranked sixth in world rankings.
As part of Kim's team at the Games, Fusco gets many of the same perks as the Olympians themselves.
"I get to stay in Athlete's Village with all the other athletes — I'm going to be taking so many selfies," Fusco told the Call before he left for Rio last week. "I'm pinching myself — wow, this is really happening."
Golf is returning to Olympic competition for the first time since the 1904 St. Louis Olympics, when golfers competed at Glen Echo Country Club in north county.
Women have not competed in Olympic golf since the 1900 Paris Olympics.
Participating in the Olympics was never a dream that Fusco could have as he first started caddying at Sunset Country Club in Sunset Hills when he was about 12 years old.
All he knew then was that he loved caddying.
"The week after I started, I knew this was what I wanted to do," Fusco said. "It was just something I really liked, and I had a knack for it. I just like helping people. I get a lot of reward from helping people and making a difference. The sport, the game of golf, it's different than any other sport, there's so many elements to it with the human element."
The aspects that drew Fusco to caddying don't necessarily draw him to actually playing, however — it's been two years since he played golf himself.
Fusco now lives in Jacksonville, Fla., but often returns to Oakville.
He is the son of Dorothy and Rudy Fusco, who were married 59 years before Rudy died in January.
He is the youngest of their seven children: Gina, Lisa, Donna, Rudy Jr., Linda and Nancy.
Paul, a graduate of St. John Vianney, is the only one of the Fusco children who did not attend Oakville High School.
After continuing to caddy every summer through junior high and high school, Fusco attended the University of Missouri-Columbia and then headed to California to start working as a professional caddie, with a little help from his mother.
"I had a Ford Escort or something at the time," Fusco said. "My mom won $500 at bingo, and I took off with it and started chasing my dream. I tell all the young caddies, if you have a dream, just chase it and don't let anybody tell you no."
After a few years working in Palm Springs, Fusco met golfer Vijay Singh in Europe, and he caddied for Singh for five years, including several Professional Golfers' Association of America, or PGA, Tour wins.
Two-time Master's champion Singh was ranked the top golfer in the world for 32 weeks a decade ago, and has been the PGA's top money winner several times since.
Fusco has caddied for Mark Brooks, Steve Flesch and Brent Geiberger in the PGA, but he's now caddied for Kim on her first two years in the LPGA, where she's won five times.
Kim, 23, once joked in an interview that she admired Fusco's work for other players so much that she "stalked" him before she asked him to caddy for her.
Fusco said he took the job as her caddie on a hunch.
"I thought, I'm going to follow my heart and do this, she's the one," he said. "And she won three times her first year, she won Rookie of the Year, she won twice this year.
"She's just a cool kid, she's got the best personality, doesn't stress out at all. And her skill is unbelievable. I wouldn't work for anybody else."
The LPGA is dominated by South Korean players now, all part of a wave of young girls who became interested in the sport after now-retired golfer Se Ri Pak began competing in the LPGA nearly two decades ago.
"The whole country followed it, girl-wise," Fusco said. "And all the little girls that were watching her — all of those girls are the ones that are on the tour now."
So many of the world's top female golfers are South Korean that the 12th-ranked golfer in the world didn't make the Olympic cut for the South Korean team, Fusco said.
Kim appears to be a favorite to take home a medal, but Fusco said nothing is guaranteed in sports, especially golf.
"Golf's a funny sport," he said. "On paper, we've got a great chance, but that's why you play — who knows what's going to happen."