Six candidates seek two seats on Mehlville Board of Education in upcoming election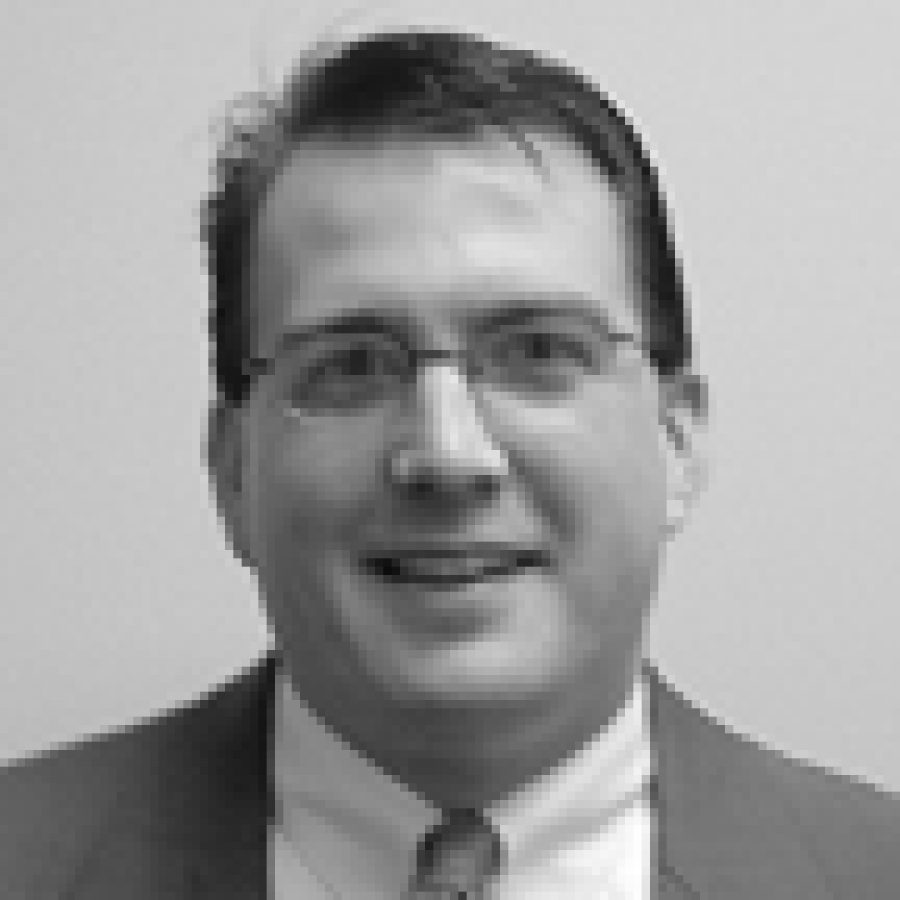 Four candidates are challenging two incumbents for two seats on the Mehlville Board of Education in the April 4 election.
Incumbents Mike Heins and William "Bill" Schornheuser are being challenged by Mark Counts, Tom Diehl, Theresa (Saunders) Kleusch and Micheal Ocello. The seats carry three-year terms. This article will focus on Counts, Diehl and Heins; Kleusch, Ocello and Schornheuser will be featured next week.
Asked to identify the most important issue in the race, the three candidates responded:
• "Finance and credibility are the two most important issues of the race. Proposition A failed leaving a deficit with no resolution. Its failure was based on issues of credibility and trust between the district and the voters," Counts stated.
• "Credibility — the Prop A vote shows that there is a huge gulf between this board and south county voters. The board must admit it, and as the trustees of our educational system, they must immediately make the first move to bridge that gap. The board has a responsibility to conduct business in an open and transparent manner. Above all else, board members need to be accessible and be good listeners. Board members need to inspire trust among the people they serve. They should conduct themselves in a manner that both demonstrates and earns respect," Diehl stated.
• "The voters must choose who will represent the values of this community. The choice is clear. Two of us have proven our commitment to our families, our churches and our schools. What can be more important for those making decisions about our children?" Heins stated.
Counts, 34, 6901 China Lake Court, 63129, is West Coast region manager in sales and marketing for a health-care industry company. He has a daughter who attends a Mehlville school and a 3-year-old son.
Counts, who is making his first bid for elective office, said he is running because "the school district is in trouble. The board is not asking the right questions to resolve our issues, the community has lost confidence in the district and I feel I have what it takes to think out of the box and challenge my fellow colleagues to come up with reasonable and logical solutions."
Diehl, 49, 5826 White Pine Drive, 63129, is a fund-raising consultant with CDS Consultants. He and his wife, Barbi, have one child who attends Mehlville schools. He serves on the St. Louis County Solid Waste Advisory Committee.
Diehl, who is making his first bid for elective office, said he is running because "I believe the Mehlville Board of Education needs to regain the trust of the voters. Beyond the philosophical and altruistic reasons to support public education, we need a strong public school system to maintain our property values."
Heins, 45, 5554 Limerick Drive, 63128, is pressroom supervisor at Quickpoint Inc. He and his wife, Susan, have two children who attend Mehlville schools. He served on the district's Elementary School Redis-tricting Committee and Middle School Redistricting Committee.
Heins, who currently serves as board secretary, said he is seeking re-election because "I believe the Mehlville Board of Education needs a person of integrity who is knowledgeable about its operations and deeply committed to the children of this district. I feel that my background, committee work prior to my election and the experience serving on the board will help me lead this district during difficult financial times."
The candidates gave the following responses to a Call questionnaire:
For the past two years the Mehlville has received 73 points on its annual performance report. As a member of the Mehlville Board of Education what do you propose to raise academic achievement?
Counts said, "This is a question that should be answered by the new superintendent and the educators. As a one member on a board of seven, I would ask the administration to establish goals and implement a plan to improve the district's score."
Diehl said, "You can't raise academic achievement by hiring more Central Office staff or spending $250,000 per year on public relations. We have to shift resources and staffing back to the classroom. Claiming that we are short on state-recommended administrative staff levels or that other districts spend more on public relations cannot justify inadequate staffing in the classroom. We have a large population of students who speak English as a second language. Within our district, 20 different languages are spoken. It is only logical that we need to have more, not fewer, teachers who can work with those students and others who need additional help."
Heins said, "First, academic achievement is at an all-time high at many levels, including mathematics. Notice that our high schools are starting to have National Merit Scholars/Finalists on a regular basis. Several students each year are achieving perfect scores on subsections of the ACT.
"The district has implemented the Tungsten Benchmark Assessment Program this year in grades two to eight. We currently measure the students against state standards on a monthly basis instead of waiting until the end of the year. This allows for quicker evaluation and adjustment of instruction. We have many areas to improve on that are not being addressed because of our financial situation. The scores of our children who join us from the city schools are below our resident and state standards. One thing that is very important to note is you can't compare one district's score to another's. Many of the scores are given based on improvement," he added.
Do you believe the Mehlville Board of Education has faithfully adhered to the letter of the Missouri open meeting and records law also called the "Sunshine Law"? What would you do as a board member to ensure the boards compliance with this law?
Counts said, "I believe every school board in the state does their best as ordinary citizens to follow a complex set of regulations set by the 'Sunshine Law.' As a member of the board and ordinary citizen, I would do my best to understand all facets of the law and make sure the district and my fellow board members comply."
Diehl said, "I believe the board has worried more about complying with the letter of the Sunshine Law rather than the spirit of the law. While personnel and student confidentiality laws must be protected, I believe the board has chosen to take possibly unpopular decisions behind closed doors by claiming that an issue 'may' become the subject of litigation. If you ascribe to that thinking, then just about every decision a board makes would qualify for closed session. That approach does not build trust. Without trust, the board lacks credibility. Without credibility, the district loses support. I will take a 'show-me' approach to take issues into closed session. I will ask for valid justification for why a decision should be made in closed session."
Heins said, "No, according to (former board member) Dan Fowler in a November (1992) issue of the St. Louis Journalism Review, 'the only illegal meeting I know of was a meeting (Call General Manager) Mr. (Bill) Milligan forced on the board in regard to the Mehlville Messenger.' Fowler said Milligan was 'very upset' at not being awarded the bid, and claimed he told Fowler in a later interview that 'the district would pay' for rejecting him."
With regard to Proposition P, at least one Mehlville administrator has said, "The voters approved a 49-cent levy. They didn't approve a $68 million dollar project." Do you agree or disagree with that statement?
Counts said, "I am missing the full context of the statement and would require more information before I could submit an answer."
Diehl said, "Here again, you have a case of adhering to the letter of the law rather than the spirit. In the run-up to the Prop P election, a capital improvements budget was developed. The primary message of the campaign was the cost of the improvements, not the wording of the ballot proposal. So while voters did approve a 49-cent levy, the vast majority of the people did so with the belief that the district would spend $68 million to $70 million."
Heins said, "It could be worded better. Try, the voter(s) approved a 49-cent levy. It was for a project that had an initial estimated cost of $68 million. Note that on Oct. 27, 2000, a Suburban Journal article quoted (former board member) Mr. Matthew Chellis as saying: 'It's not a bond issue."'
In your opinion, who or what bears responsibility for the cost of Prop P escalating from nearly $68.4 million to the current budget of $89.1 million?
Counts said, "Proposition P is in the past. The district is not in the position to spend more money worrying about the past."
Diehl said, "Historically, the Mehlville School District has had a reputation for being tight with a buck. The need for Prop P arose primarily from 30 years of deferred maintenance. The thinking of those who were advocating for the tax levy was that there was a limit to how much of an increase the citizens would accept and how much they would permit to be spent before viewing the proposal as extravagant. With that philosophy shaping the proposal, volunteers were asked to develop a budget. Without much professional input, rule-of-thumb estimates were developed. The two major projects, Bernard Middle School and Oakville Elementary, did not include the cost of furnishings. As with most renovation projects, cost estimates had to be made without knowing what would be found behind walls once work would begin. But, I believe the real problems began when it came time to bid out the work and award contracts.
"Contracts were awarded without legal review, change orders were permitted without board review and approval. The construction management agreement was quite costly. As some individuals in the district became aware that the $68 million estimate was inadequate, I believe decisions were made to avoid disclosure to the public, not due to any malfeasance, but to avoid criticism and embarrassment. I believe most, though not all, residents would have understood the underestimates and would have agreed with the necessity to do the work, but by claiming for at least a year that the project was 'on time and on budget' when they knew that wasn't so has hurt the district immeasurably. That lack of candor is what has destroyed the district's trust and credibility among the voters. I was also disappointed to see that to minimize the cost overruns, the board did not spend all the money that was budgeted for computers and technology. We have the worst student-to-computer ratio of any district in the county, and the request for more computers in Prop A just added to the credibility problem because many people thought that Prop P would bring our district up to date in that area."
Heins said, "Chuck Van Gronigen, he was president (of the school board) when the proposition was estimated, as it was explained to the community and as the general contractor's contract was established. He also chaired the Oversight Committee while most overages were approved during his tenure. He did a very good job with the information he had at the time and should be commended for his service to the district."
If elected, or re-elected, will you consent to face-to-face or telephone interviews by all media representatives?
Counts said, "Yes, provided the media establishes a time for the meeting/interview and is willing to submit a list of questions."
Diehl said, "School board members have to be accessible to the media. They are ambassadors for our public education system. They should be able and willing to justify their positions to the public. I don't believe that the media as a rule will seek to have board members disclose information that, by law, must remain confidential. But I also believe that the media is independent, and is not required to automatically champion decisions of the board and administration."
Heins said, "Yes, I enjoy a good relationship with all the media in St. Louis except for the Call. I have responded to all inquires made of me in the last three years. It is the Call that has restricted their conversations with me. Mr. Milligan has an irrational fear of me because I was in the military. As long as Milligan doesn't touch me or scream at me again, I'll talk to him."