School districts on edge over funding
Vouchers could be on the way under Greitens, GOP-controlled Legislature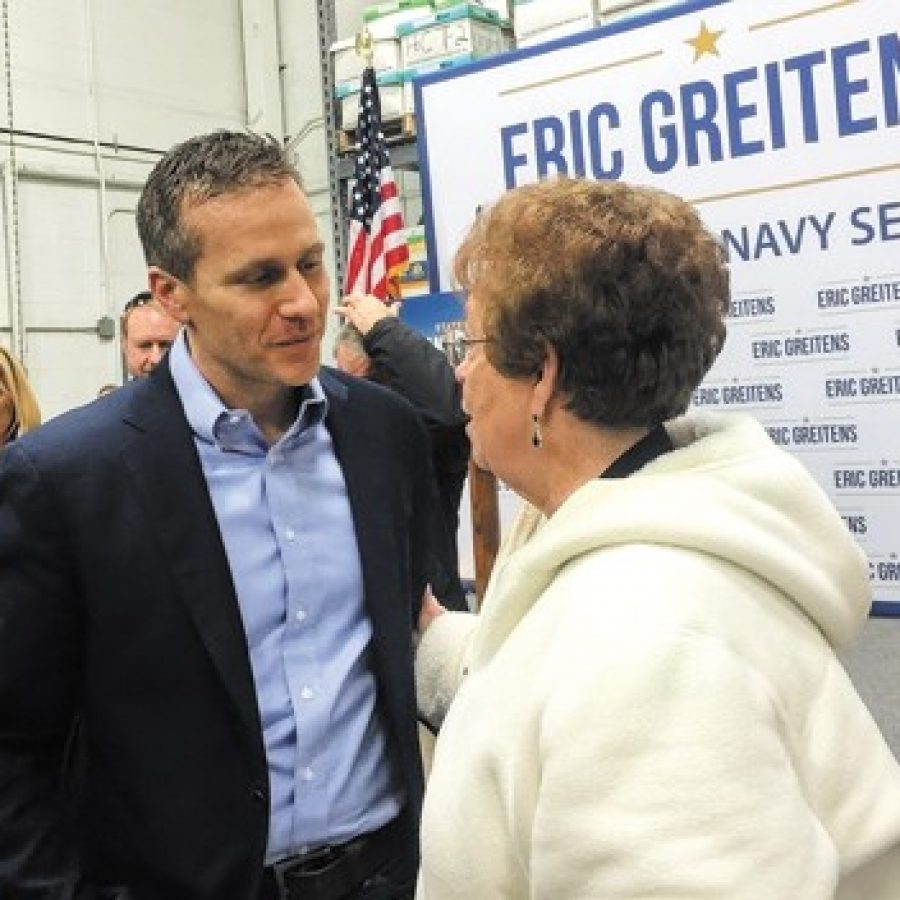 New Gov. Eric Greitens didn't say much on the campaign trail about education, and his inauguration last week has south county school districts on edge about what's in store for education funding in Missouri.
Political newcomer Greitens took office for a four-year term last week, but he made St. Louis County the last stop on his statewide tour in advance of taking office.
In front of a campaign banner that read, "Outsider. Navy SEAL" at the Jan. 7 rally in Maryland Heights, St. Louis native Greitens promised to improve education, but was as vague on the topic as he was on the campaign trail.
"It's really simple: What we're going to do is what we promised we're going to do," Greitens told reporters when asked whether he has a game plan for his first weeks and months in office. "And what you're going to see us start with on Monday is our agenda to clean up Jefferson City, bring more jobs and higher pay, safer streets and better schools."
He promised more details on his plans to tackle those issues in his State of the State address set for Tuesday — after the Call went to press. Greitens postponed a budget address to February on the heels of a report from the House Budget Committee that without budget cuts, the state could fall more than $400 million into the red.
With a Republican governor and a Republican-majority Legislature for the first time since 2009, education initiatives will no longer face the veto pen regularly wielded the last eight years by former Gov. Jay Nixon, a Democrat who rejected any bill that included vouchers, or public funding for private schools.
"Without a doubt, we will see significant changes in education laws in this state this year," Lindbergh Superintendent Jim Simpson told the Call.
Systemic changes could also happen at the national level.
President-elect Donald Trump — slated to take office Friday — could also impact local schools, which receive federal dollars for low-income families and school lunches.
Mehlville Board of Education member Larry Felton, who also serves as president of the board of the Missouri School Boards' Association, pulled no punches on the effect the Nov. 8 election would have on the finances of not just Mehlville, but every school district in the state.
"At 11:00 on Tuesday night, the economic outlook for education in this state changed," Felton said just after Greitens and Trump were elected.
Advocates for school choice see Greitens' election as an opportunity for a new era in Missouri education, in which students in failing schools can find a way out.
Greitens' entire education platform reads: "I believe every child in Missouri has the right to a first-rate education. Too many Missouri children and parents are trapped in failing schools. I will lead efforts to provide more choices and opportunities for kids who need it most. I strongly oppose 'Common Core' and believe local parents and teachers — not Washington bureaucrats — should be in charge of our children's education."
In a video posted during the campaign, James Shuls of the Show-Me Institute said, "We're never going to get the type of schools we want or the type of system we want when we are residentially assigning students to schools and telling them where they must go. The only way we're going to get the schools that we need is through school choice."
And while school choice means different things to different policymakers, it likely means charter schools and vouchers. The latest trend in school choice is an updated form of vouchers called education saving accounts — a pre-loaded debit card parents can use to pay for not just tuition, but textbooks, tutoring or transportation.
Mehlville Superintendent Chris Gaines believes the state's Blaine Amendment, which bans public dollars from going to religious schools, will stifle any attempt at vouchers. But Simpson is less skeptical.
"We are bracing in the educational community for really radical changes in public education laws," Simpson said. "We feel certain they're heading our way because for the first time in the history of Missouri there's no veto, there's no real reason for those things that have bubbled up every year in the past not now to become reality, including vouchers …"
As it stands, school officials believe Missouri has underfunded the education formula for years, an ongoing shortfall of hundreds of millions of dollars, Simpson added.
"So anything given out to private schools will come directly out of the pockets of public schools," he said. "It's just cutting the pie in a new slice and handing it out, but the pie gets no bigger. So it's less pie left, less funds left for public schools to operate. That will hurt public schools."
But Rep. Cloria Brown, R-Lemay, said Greitens' election won't impact education funding as much as people think, since the Legislature approves the budget.
"There's no reason to think that things will be better or worse," she said. "If the money's there, we will give the money."
Funding probably won't change in the short term, but long term is an open question, Gaines said.
"I would argue that school choice in Missouri is really a taxation and assessment question, more than a school choice question," Gaines said. "Look at the number of schools that are primarily locally funded, so their tax rates are often way higher. When I was in Wright City, you could live on this side of the street, or you could live on that side of the street. Their homes were assessed differently because they were in different counties, and they paid tax rates that were a dollar apart because they were in different school districts. So should the cheap one be able to jump over into the expensive one? That's the question."
The coming changes factored into the Mehlville Finance Committee's decision to recommend against a proposed new elementary school of innovation, but at the same time might make the new school necessary as a way to compete for students under school choice, Mehlville Chief Financial Officer Marshall Crutcher noted.
"With the political landscape, if we get less funding, then it makes it harder to take on new systems — but if you have school voucher systems and people can go wherever they want, then you have to have a competitive school offering so people want to go to your school," Crutcher said. "So it's sort of a tough dilemma because both of those present two opposing problems."