School district will oppose mall plan as long as it has tax incentives for residential
Lindbergh officials discuss mall plan with UrbanStreet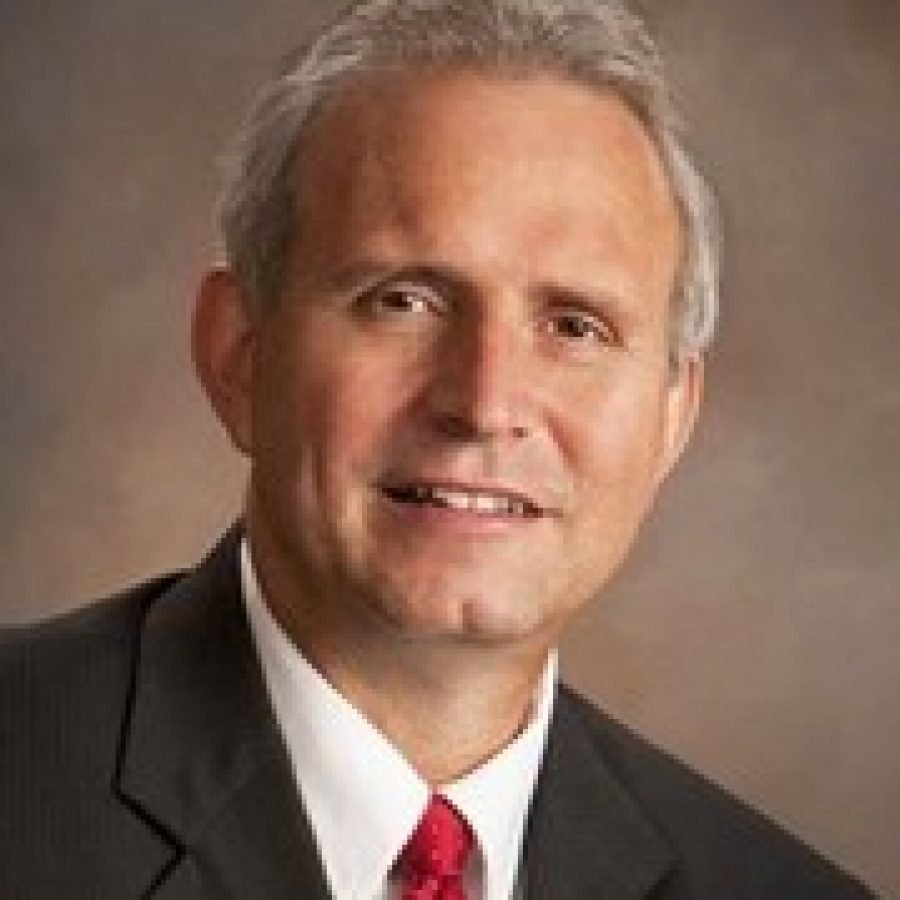 Lindbergh Schools officials will continue to oppose the proposal to redevelop the former Crestwood Plaza as long as the plan contains tax incentives for 225 apartments, according to Superintendent Jim Simpson.
Lindbergh officials hope a Crestwood alderman will make a motion to remove any tax incentives for residential development associated with the mall redevelopment, Simpson told the Call.
"We don't know if that will happen, but that's one of the things that we're looking for — a signal that we're looking for …," he said. "Any other signal is that we're simply moving forward with the apartments being tax-abated, which is going to mean that the district has to continue to move forward with opposition. And that's something we're not interested in, but we hope the aldermen and the mayor see the wisdom of the facts we're presenting."
Besides launching what Simpson termed an "awareness campaign" to inform the community about the district's concerns regarding the proposed redevelopment of the mall, the Board of Education voted unanimously last week to adopt a resolution opposing the use of tax-increment financing, or TIF, for residential development.
In a TIF district, tax receipts for school districts, fire districts and other taxing entities are frozen at existing levels for the length of the TIF, up to 23 years. As land within the TIF district increases in value, the incremental tax revenue — up to 100 percent of property taxes and 50 percent of sales and utility taxes — is used to retire the TIF obligation.
The Chicago-based owner of the mall, UrbanStreet Group, is proposing a mixed-use redevelopment — including the 225 apartments — at the 48-acre site at Watson and Sappington roads. UrbanStreet, which submitted the only response to the city's request for proposals to redevelop the site, is requesting nearly $28 million in tax incentives, including TIF, for the roughly $99.5 million project.
As first reported by the Call, Simpson believes UrbanStreet's plan to construct apartments at the mall site "is the worst scenario for Lindbergh Schools," as it would exacerbate the aggressive enrollment growth that already is challenging the school district.
Simpson met for the first time last week with UrbanStreet, represented by managing partner Bob Burk. Mayor Gregg Roby and City Administrator Mark Sime also attended the May 5 meeting, but did not participate in the discussion, according to Simpson. Roby was unavailable for comment before the Call's press time.
At the meeting, Simpson said he reiterated his request that the tax incentives for the 225 apartments be removed.
Lindbergh officials estimate the 225 apartments would be valued at roughly $30 million, which would generate about $200,000 annually in property taxes for the school district. If UrbanStreet is unwilling to remove the tax incentives for the apartments, the district would like to receive $200,000 annually as part of the redevelopment agreement for the project, according to the superintendent.
"Thirty million dollars' worth of apartments only generates for the school district's portion of the tax base a little over $200,000," he said, noting that with per-student tuition at more than $10,000 annually, that's just 20 students. "So that tax base is only going to really educate 20 students. We think that it's very, very likely that more than 20 students will come out of 225 apartments …"
However, Simpson said the developer is taking that $200,000 "to the profit side of his equation. He's saying, 'I want that $200,000 as profit. We're saying we want that $200,000 because of what you're building is going to pump a school bus of students to us — or more — and we need that $200,000 to educate those kids.
"It's going in none of our pockets. It's going only to the kids. So they understood that. Bob Burk — he sees our side very clearly. His side is, 'Well, I'm a businessman and profit is the name of the game. If that changes that profit, that is a concern to me.' We get that. However, Bob Burk is a businessman from Chicago. Bob Burk openly says if there's a good price made on his development at any time, he will take it … (There's) nothing wrong with that — except, except the kids for 23 years have to be educated out of that property he developed. And so if he goes back to Chicago with a good profit, good for him, but we're left with 23 years of students to educate …"
Simpson anticipates far more than 20 students would come from the apartments.
"If there's 40 or 50 students coming out of there, that will be up to us to find a way to educate them. We get that," he said.
But nothing was settled last week.
"… We both left with an understanding that he has a profit side. He's not coming to Crestwood for anything but profit, but no developer would. That's not a criticism, that's just simply how that plays out," he said. "And he left with the idea that for 23 years, you've got apartments that are going to have kids coming out of them and we've got to have that $200,000. And you've got $100 million in the project. You've got tens of millions in tax abatements from the local citizens and it all should work.
"You get the lion's share of it. We're just asking for the smallest little portion to help us with our kids. So I think we left that meeting with that, and nothing's settled. It's simply I see your side of it, you see my side. But it was amiable …"
Simpson said Burk did agree to revisit his calculations and see what impact the loss of the $200,000 would have on UrbanStreet's profit margin.
In the meantime, Lindbergh has had "an extremely positive reaction" to its awareness campaign.
"… The school district, it's very clear, that we are not asking for much, and we're asking for the benefit of children and their education. And on a $100 million project, we're being very modest and actually linking our request to the apartments …," Simpson said. "We're getting tremendous positives. We're feeling really good. Actually, the community is well behind what the district wants, and they're happy that the district is working with Crestwood in trying to make them aware of the district's concerns …"
Lindbergh officials are waiting to see if city officials will work to address the district's concerns, he said.
"We're waiting to see if the city will help us with what our concerns are and we'll be following the process very closely. We will keep our awareness campaign in high gear to try to make that awareness pay off by (obtaining) what we need for the children and students of the Lindbergh School District," Simpson said.