Schoemehl, Haul square off in District 100
Republican newcomer looks to unseat incumbent Democrat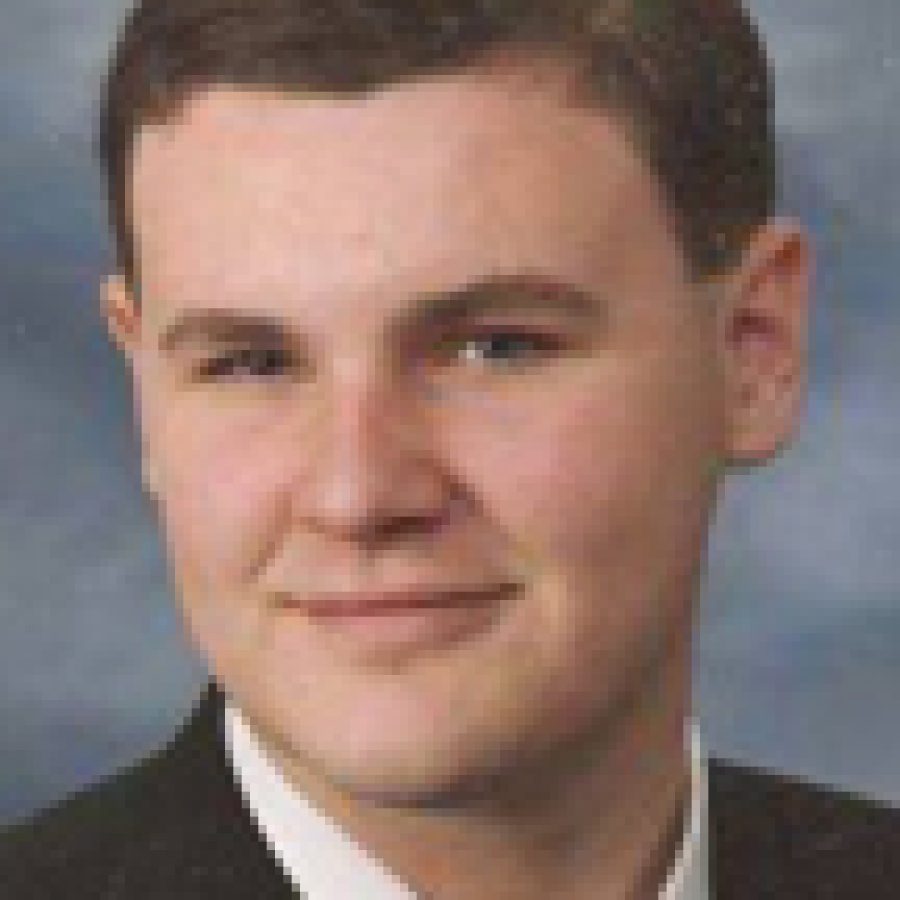 A Republican political newcomer is challenging Democrat Sue Schoemehl as she seeks re-election Nov. 4 to the District 100 Missouri House seat.
Nick Haul is looking to unseat Schoemehl in her bid to retain the House seat she's held since 2002.
Asked to identify the most important issue in the race, the candidates responded:
• "I think fighting the trash districting because the rights of the people in Oakville have been ignored," Haul said.
• "Health care — reinstate Medicaid cuts; opportunities for small business to participate in a larger pool of insurance benefits for themselves and their employees; and preventive care coverage. I am working to ensure our senior citizens have access to home health-care services and affordable prescription drugs. I voted to provide tax relief on property tax for our seniors," Schoemehl said.
Haul, 25, 5480 Fireleaf Drive, 63129, is a banker. He is single.
Haul, who has not held elective office, said he is seeking election to the 100th District House seat "to give a voice to the people of Oakville since our current rep is constantly silent."
Schoemehl, 54, 2629 Bluff Ridge Drive, 63129, was elected to the Missouri House in November 2002. She and her husband, Chris, have two grown children.
Schoemehl is seeking election to a fourth two-year term "to continue serving my community of Oakville."
What is your position on abortion?
Haul said, "Pro-life. Life begins at conception."
Schoemehl said, "I am pro-life and endorsed by Missouri Right to Life."
What is your position on the death penalty?
Haul said, "In favor. Some crimes warrant the loss of the criminal's life."
Schoemehl said, "I am generally opposed, but feel some heinous crimes should receive further consideration for the death penalty."
Would you support placing a constitutional amendment before voters that, if approved, would repeal the supermajority requirement for school-district bond issues?
Haul said, "No, since this is a decision that greatly impacts all citizens, not only ones with children."
Schoemehl said, "Yes. I have filed a bill each year that proposes a constitutional amendment allowing approval of school-district bond issues with a simple majority vote on general municipal election days or general election. Unfortunately, my bill has never been sent to a committee to be heard.
"I am prepared, have witnesses to testify and will refile this bill in December."
Are changes needed to the state's foundation formula for funding education?
Haul said, "Yes. We need a more fair system for funding our schools."
Schoemehl said, "Yes. St. Louis County school districts do not receive their proportional share of the funding formula. With corrections to the property assessments in our state, I believe fairness would prevail. Under-assessed property in some areas of Missouri are not paying their fair share."
Are changes needed to the law allowing citizens here to carry concealed weapons?
Haul said, "No. I believe people have a right to defend themselves, but should be licensed."
Schoemehl said, "My district voted 86 percent against the conceal-carry law. My vote reflects my district on this issue. I have no problem with responsible gun ownership."
Are changes needed to the state's current Open Meetings and Records Law?
Haul said, "No, but access to info should be less restrictive."
Schoemehl said, " Current law should be strictly enforced and there should be legislative review on issues of fine enforcement. School board and governmental meetings should be open meetings that are welcoming to all."
What is your position on tax-increment financing? Are changes needed to this law?
Haul sad, "Yes. TIFs are over used and need to be re-evaluated before being put into use."
Schoemehl said, "Tax benefits that are issued from TIFs are beneficial if used in the proper way. Because of the potential for abuse, the statute will need to be revised from time to time. Certainly a cost-benefit analysis should be completed be-fore any credit is given."
Are changes needed to the state's eminent domain laws to prevent abuse?
Haul said, "Yes. The right to property is a fundamental one that must be protected."
Schoemehl said, "I value private property rights. Methods of common sense must be developed to protect the individual and the land owner while having the opportunity to adjust for public projects and the jobs they create."
What measures, if any, will you propose to encourage economic development in this area?
Haul said, "Tax incentives if businesses are willing to bring their operations here."
Schoemehl said, "Our state and local levels need to work to develop the local economy, but need to realize we are mainly a residential community. We need to have an appropriate blend of residential properties and small businesses working along with the South County Chamber (of Commerce), state and local officials to create a favorable climate to meet our needs."
What do you propose to make health-care accessible and affordable to Missouri citizens?
Haul said, "I think many options need to be explored as I have not heard a perfect answer yet."
Schoemehl said, "When providing preventive care for our citizens, we all benefit by decreasing use of our emergency rooms.
"We have health-care clinics that provide education and care to all regardless of age. Our residents can take advantage of quality health care at a federally funded Family Health Care Center like the one located on Holly Hills Avenue."