Riverview Gardens students welcomed to Mehlville School District
District administrators greet students, families on arrival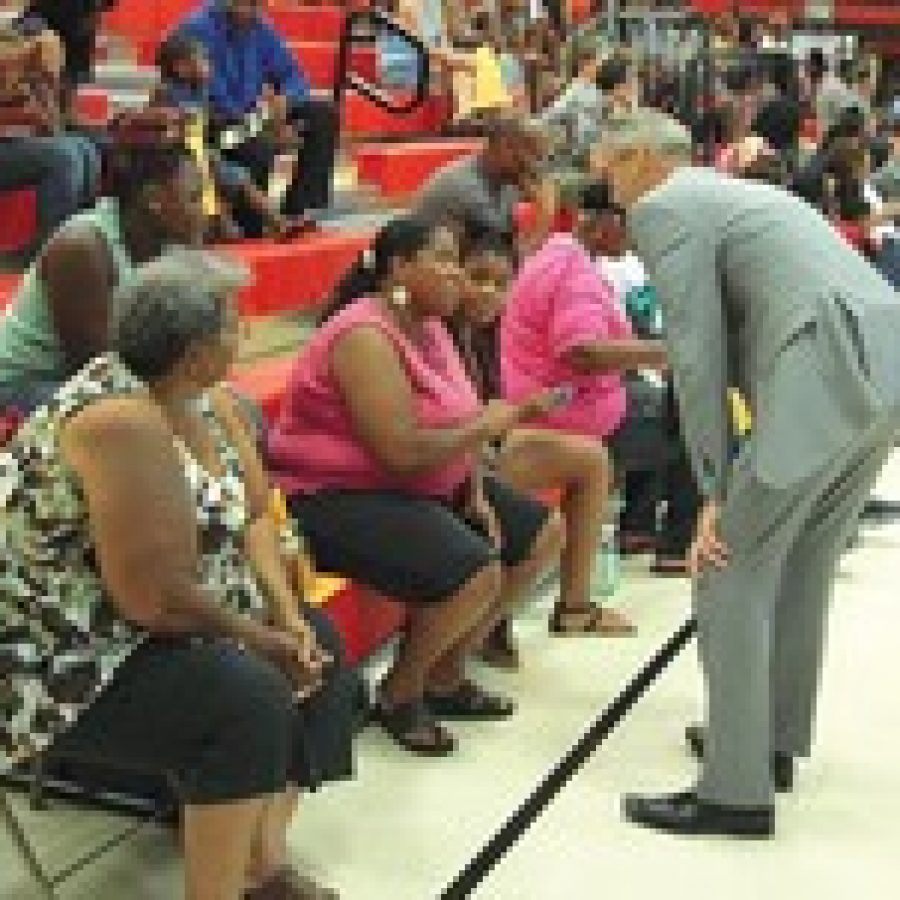 Mehlville School District administrators and Board of Education members welcomed more than 150 Riverview Gardens students and their families to the district during a "meet-and-greet" event last week at Oakville Middle School.
"… I just want to dismiss any fear whatsoever that you are not welcome in our school district. You are," Superintendent Eric Knost told Riverview Gardens students and their families. He has received an outpouring of phone calls from residents who "want to make sure that I convey to you that message of warmth and welcome. So please hear that, understand that …"
Mehlville Board of Education members and administrators, including ones from Central Office, along with principals and assistant principals, greeted Riverview Gardens students and their families on arrival.
"… You will not find a better group of administrators in any school district," Knost said. "I've been in this school district for 12 years. I've had a lot of hand in assembling this team. I'm very proud of this team … I don't think anybody can hold a candle to this administrative team, and they are your principals — those people that will meet with, work with, nurture, love (and) care for your children in their buildings …"
Riverview Gardens' plans for transporting its students to Mehlville schools had not been announced at the time the Call went to press.
Knost told Riverview Gardens students and their families that transportation "is not in our hands. We do not have any say-so in that. We do not have the ability to set it up and we have not had the kind of communication that I would like on this topic …"
He later said, "These are our kids, and if you had any idea what lifelong educators feel like when they say, 'Here's your new kids, and by the way, you have no control over how they're going to get to your buildings,' that's stressful for us …"
The superintendent also discussed Mehlville's diversity, noting the district continues to participate in the voluntary transfer program with city schools.
"We also have a lot of ethnic populations. We have over 50 languages spoken by our families in this school district and that took me a long time to really get a grasp on what that meant," he said. "We have families that represent 50 different languages, which means the language they talk around the dinner table is not the language we talk during the day at school.
"So we have quite a bit of diversity spread throughout our district and I think you'll realize that right from the beginning."
A welcome video prepared by the district's Communications Department was shown, and Knost encouraged Riverview Gardens students and their families to visit the Mehlville school they would be attending. Maps to the schools were provided to the Riverview Gardens families.
At the Call's press time, at least three organizations threatened separately to sue Mehlville over its decision to limit the number of transfer students.
But Knost encouraged Riverview Gardens students and their families "to not get distracted by all the legal jargon, by all of the talk. I want to make you rest assured that we came to the table to figure out a way that we could help by accepting transfer students while maintaining the excellence that we've worked on.
"We want your children to experience the excellence, too. We had years in our buildings where we were busting at the seams, so we are moving forward to help as many students and families as we can. And we just want you to know that. There's not anybody in this system that is not happy that you are here."