Rift between Lindbergh NEA, district could end up in court
Simpson disputes LNEA's accusation that district has not bargained in good faith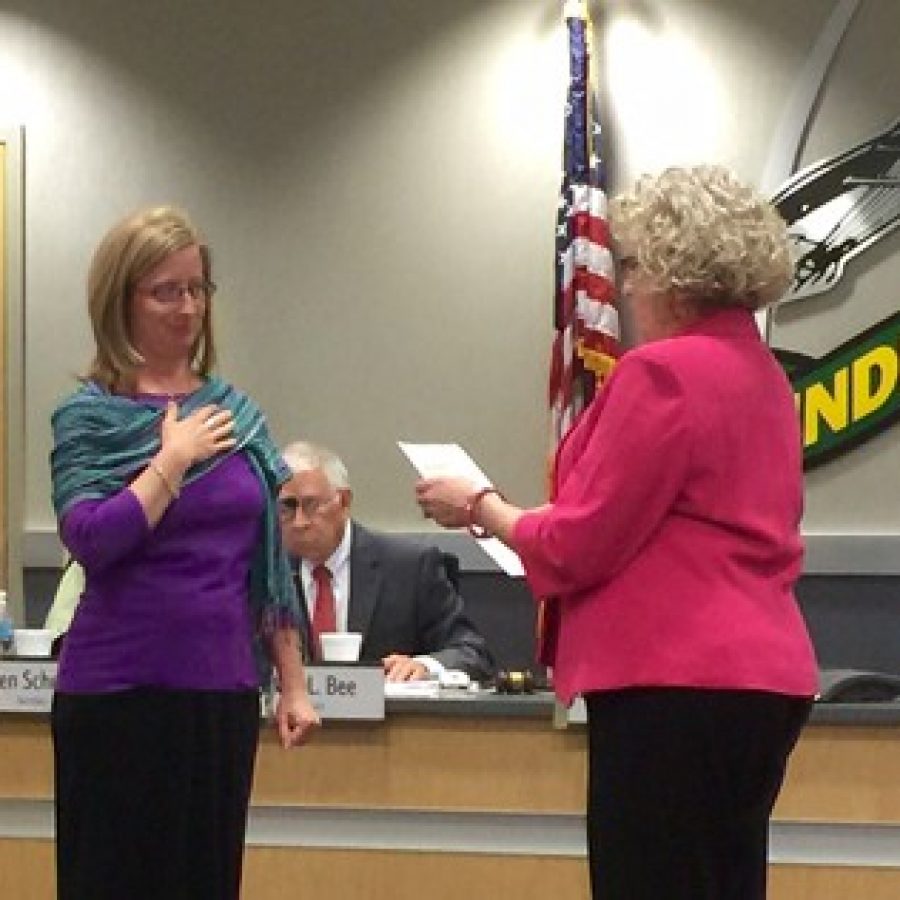 First of two parts
A dispute between Lindbergh Schools teachers and district officials could be headed to court.
Teachers last week accused district officials and Board of Education members of not bargaining in good faith, and said they are prepared to take legal action if negotiations are not reopened. But district officials are adamant that negotiations will not be reopened.
Both sides say they are on solid legal ground.
Several teachers, speaking on behalf of the Lindbergh National Education Association, or LNEA, asked district officials to reopen negotiations at the July 14 Board of Education meeting, which attracted a standing-room only audience comprised primarily of district teachers.
LNEA members voted 182-23 May 20 to reject the district's offer of an average 3.2-percent salary increase.
Teachers sought a 3.5-percent salary increase — an additional $29,000 — which unless other items were cut would have resulted in a deficit budget for 2015-2016.
In June, the Board of Education adopted an operating budget with a surplus of $449 that provided an average raise of 3.2 percent for all district employees.
LNEA officials report that 53 percent of teachers received a salary increase of 3.2 percent or more and 47 percent received less than a 3.2-percent increase.
"LNEA believes that the district has not bargained in good faith, something it has legally been required to do since 2007," Sperreng Middle School teacher Gretchen Moser told the board. "Good-faith bargaining is the legal right of all Missouri public employees. Though the board policy says that the negotiations should take place between Feb. 1 and June 1, the agreement between the teachers and the district states that matters will not be discussed again until the regularly scheduled negotiations, except by mutual agreement.
"The teachers have asked to do so, but the district has refused. And the teachers are prepared to seek legal action if the district continues that stance. We hope the district will reconsider …," said Moser, who also is co-chair of the LNEA Crisis Committee.
Superintendent Jim Simpson disputed the LNEA's accusation that district officials have not bargained in good faith.
"… We believe that we have not only bargained in good faith, that we've probably been a model of how to do that," he said. "We've met many, many times over months. We've reminded the NEA of deadlines. We've encouraged them to meet those deadlines. It gets down to at a certain point in time, the board has to put in place the budget and has to set in motion a new school year financially. And you just can't keep going with negotiations on and on and on."
As for the 3.2-percent salary increase, Simpson termed it "generous and fair."
"And also, it was every last penny that we had," he said, noting the approved budget projects a surplus of $449. "Lindbergh is noted for its financial stewardship. We do not give salary increases based on a deficit budget. We do not go into reserves for continuing salary costs …"
Over the past two years, Lindbergh teachers have received "the largest salary increases in the region," Simpson said, noting that teachers a received a 5.3-percent pay increase last year. Coupled with this year's 3.2-percent hike, that is an 8.5-percent pay raise over two years, he said.
Among the areas of disagreement between teachers and district officials are:
• Moser disagrees with Simpson's assertion that teachers have received raises totaling 8.5 percent over two years.
"I would like to take issue with his comment that our teachers received the biggest increase in the St. Louis County area over two years," she said. "That's incorrect.
"We have evidence that Pattonville increased their spending on teacher salaries 5.4 percent over two years and last year Lindbergh increased its spending (on) teacher salary by 3.628 percent and what they approved this year was an increase that is only .6 percent higher than what they spent last year on teacher salary."
Moser added, "What has happened is our district has benefited from the fact that we have had some retirees who were definitely on the top end of the pay scale and we're replacing them with people who are not, and that's partly why we can spend less. But for him to say teachers received a bigger increase, the biggest increase in St. Louis County over two years, is just simply false."
• As an example of negotiating in good faith with teachers, Simpson said the administration initially decided it could not offer more than a 3-percent salary increase. But twice teachers requested more money, which district officials found by cutting items in the budget, he said.
"… Twice more we upped it at your (teachers') request by cannibalizing other budget items and taking them out of the budget," he said. "So there are things that are not going to be in these elementary schools, these middle schools and the high school because they've been converted to cash so we could meet your demands. But at the $29,000 mark, the wheels came off the bus …"
But Moser disagrees with Simpson's assertion that district officials have been "a model" of good-faith bargaining. The state Supreme Court ruled in 2007 that teachers and other public employees have a constitutional right to engage in collective bargaining with their government employers.
"… In 2009, three districts that I could just name — Parkway, Rockwood and Pattonville — there was no discussion about their agreement, they added their entire teacher handbook and that was it," she said.
That same year, Lindbergh teachers unsuccessfully sought to expand the scope of negotiations to include topics that were considered matters of district policy, governed solely by the board. In November 2009, the board approved a three-year agreement with the LNEA in which the teachers' salary schedule, insurance and tuition reimbursement would be negotiated annually. Teachers endorsed the agreement by a 6-to-1 margin in October 2009.
The pact stated, "The Board of Education-Administration-Lindbergh National Education Association will meet and discuss with teacher representatives. The board is not required to agree to any proposed terms or conditions."
That agreement, with some minor revisions, was renewed for two years in 2013. The pact expired June 30.
Next week: A closer look at negotiations between district officials and LNEA representatives.