Ridder leaves a lasting impact on Mehlville
Ex-president credits Ridder for turning Mehlville around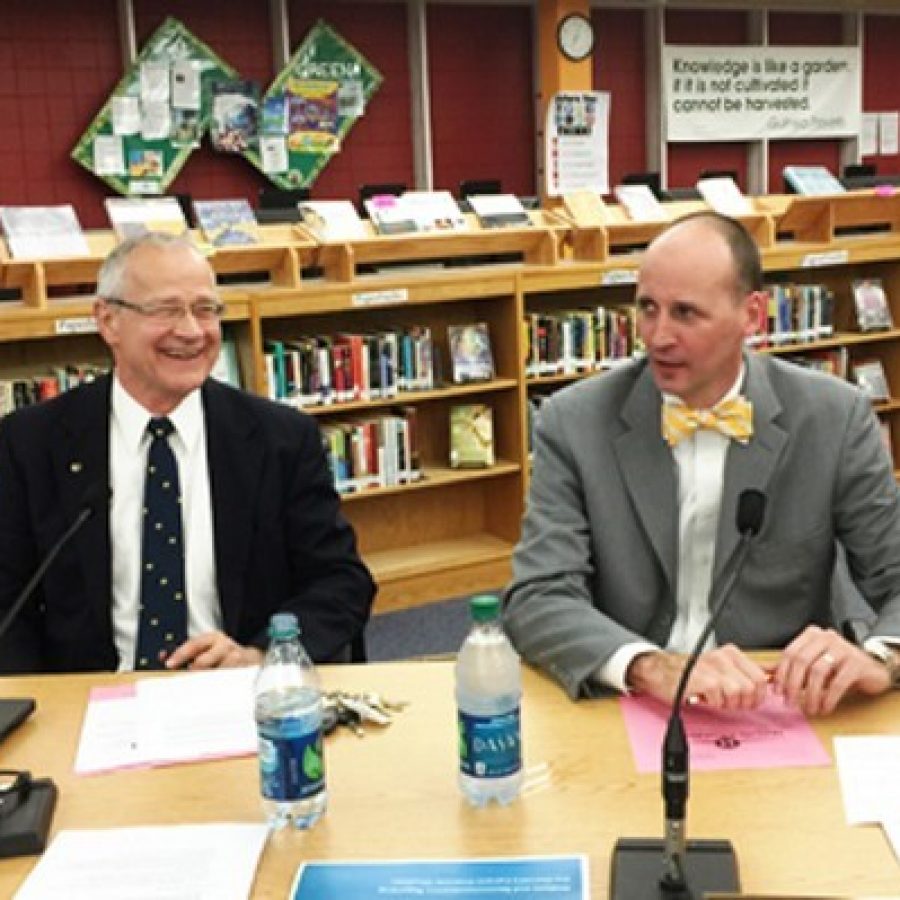 Interim Superintendent Norm Ridder has only spent a year leading the Mehlville School District, but district officials say the veteran educator's impact will be felt long after he leaves June 30.
As the Call went to press, Ridder was still interviewing for superintendent positions that he could start as soon as July 1, when Wright City Superintendent Chris Gaines takes over as Mehlville's next superintendent.
Wherever Ridder goes next, he will have a lasting legacy in Mehlville through the strategic plan that he spearheaded — and because Board of Education members and district officials are better decision-makers and leaders because of the time they spent working with and learning from him, board President Venki Palamand told the Call.
"Dr. Ridder has made a tremendous impact on Mehlville with his focus on strategic planning," Palamand said. "His impact will be felt long after he leaves the district."
When Ridder came to the district last year, things weren't looking up for Mehlville, former board President Ron Fedorchak noted in his parting remarks in April.
The school board had two new members, Samantha Stormer and Jean Pretto, and immediately faced decisions on $5 million and $8 million budget deficits with the imminent departure of former Superintendent Eric Knost. But then-Springfield Superintendent Ridder — known nationwide for his work in education — chose Mehlville over a larger urban district and turned around a situation that seemed hopeless, Fedorchak said.
"After one interview, I knew we needed him here to help pave a new direction for us," Stormer said. "Working with Dr. Ridder over the past year has inspired me to look deeper within myself, listen more to our community and make the best possible decisions for our district. I'm going to miss him not being here and being able to call him any time I have doubts about my decisions.
"While he has never said what to do, he has always made me think harder and figure it out for myself. That is what an excellent leader does."
Despite the disadvantage of following Knost, who had become the face of Mehlville, Ridder made himself known to the community through his strategic plan — which he talked about any chance he could — and the $4 million in budget cuts he mapped out to shore up the deficits the district already had when he started.
For the onetime leader of some of the largest districts in Missouri and Colorado, neither were anything new. But they were new to Mehlville.
Ridder's style immediately appealed to members of the Mehlville school board, who recognized what the strategic-plan surveys later confirmed: Residents did not trust them because past decisions seemed too random, not based on community feedback.
Whether that changes permanently after a year with Ridder is now up to the board, Vice President Larry Felton said. Along with the surveys, Ridder set up focus groups so the board could zero in on what parents, teachers, students and residents want.
"The way he brought the community voice back to the district — back to the board's presence and back as a participant in what we're trying to accomplish — I think that's a key thing that he accomplished," Felton said.
Board members delayed the superintendent search in the hope that Ridder would change his mind and stay. When they started their search, they said they wanted someone just like Ridder.
Trained in continuous improvement by Ridder, Gaines is committed to following the strategic plan, Ridder said.
"The future of the Mehlville School District has been vastly enhanced by having Dr. Ridder with us for only one short year," Pretto said. "His insight, experience, and most of all, common sense, is priceless. We should all be grateful."
Although he is now interviewing with large school districts, Ridder has also been pursued for statewide education jobs.
After he was named a finalist for Missouri education commissioner in December, Mehlville board members said that even if he left early, they felt he'd accomplished years of work already.
But Ridder was just getting started.
Surveys of frequent voters between then and now show that after Ridder's spring campaign to educate voters on the district's finances, the majority of voters would approve a 40-cent tax-rate hike, which could lead to the first tax-rate increase in 15 years in Mehlville.
"I have passed 11 initiatives in a row. I have not failed, and in more conservative communities than this," Ridder said before the survey. "And what you do is you basically become very scientific and you find out where the community's at."
Ridder would often say that being an interim superintendent allowed him to tell people the cold, hard truth, the things they didn't necessarily want to hear about Mehlville's financial situation. But he joked that there was another reason he could say whatever he wanted.
"I'm happily married, my wife Nadine's a kidney dialysis nurse, I have five children. My oldest son played football for the (Indianapolis) Colts and before that, Notre Dame," Ridder said at an April 1 community meeting at Andre's. "You don't want to mess with me — he's 6 feet, 7 inches, 335 (pounds).
"So if anybody has a hit on me, I'll tell you what, you're in trouble."
Growing up poor in Nebraska as the oldest son of 12 children, education became a way to move up in the world at the same time that Ridder ran the family's 180-acre farm as a 12-year-old — his first experience as a leader.
Trained in theology, Ridder first described himself to the Call as a "servant leader," and he is a deacon at a Catholic church and serves on the board of the South County YMCA.
He collaborated with former Board of Education President Dan Fowler to establish an advocacy group for children who live in Mehlville called Kids First, based on a similar umbrella organization of 50 organizations that he set up in Springfield with the same name.
It's the kind of game-changing initiative that is rarely set up by an interim superintendent, one of the reasons Gov. Jay Nixon tweeted last year that Ridder is an "outstanding leader committed to helping students succeed," and one of the reasons Fowler recently told Ridder, "You have not been a caretaker. You've been fully, totally engaged — more than any superintendent I've seen in years …"
If Ridder takes a job out of state, one of the many community-led efforts that will make up his legacy in Missouri is the Wonders of the Ozarks Learning Facility, or WOLF, a conservation-science learning center that he set up for Springfield fifth-graders as a joint venture with Bass Pro Shops founder Johnny Morris.
Ridder said of WOLF last year, "This is the way you do education — this is the way you live life. To the fullest."