Residents of Grantwood Village hear St. Louis Zoo's pitch for Grant's Farm
Four Busch siblings are suing brothers to force site's sale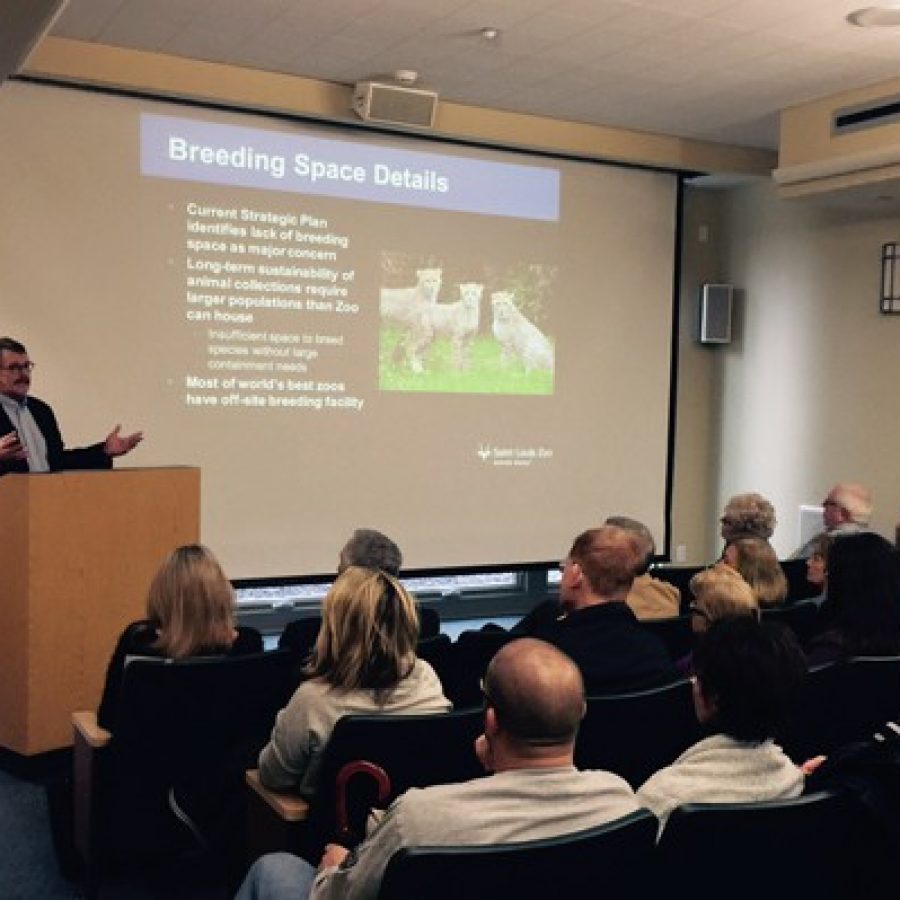 The future of Grant's Farm is still tied up in court, but the St. Louis Zoo and a Busch family member are asking the local landmark's neighbors to get behind their vision of it as a public institution.
Grant's Farm is owned by the Busch Family Real Estate Trust, comprised of six of the 10 children of Budweiser beer magnate August A. "Gussie" Busch Jr.
Four of the siblings are suing their brothers, Billy and Adolphus Busch, to force a $30 million sale of the 281-acre farm to the zoo. Adolphus Busch supports Kraftig beer owner Billy Busch's alternative proposal to buy the farm for $24 million and continue to operate it as a family attraction with a brewery.
In a meeting open only to Grantwood Village residents, St. Louis Zoo Executive Director Jeffrey Bonner and Busch sibling Gertrude "Trudy" Busch Valentine made their pitch Saturday to a packed house at the Ulysses S. Grant National Historic Site. Under the zoo, Grant's Farm would keep the Clydesdales and free beer cherished by visitors but add more exotic animals, a conservation breeding ground, veterinary hospital and, potentially, a night zoo and zip line.
Valentine said she and her siblings grew up on Grant's Farm in "this incredible village of people," and they want the spirit of the farm and its sense of community to live on for the people of St. Louis.
 "We really wanted to continue to go on, we wanted to continue to live on in perpetuity and we know that the zoo will do that, and they will do it with the same feeling that we would have," Valentine said. "It could go on to our children and future generations … That way Dad's and the family's spirit will live on forever."
The Busch family bought Grant's Farm in 1907 and Gussie Busch, then-chairman of Anheuser Busch, opened the farm and menagerie to the public in 1954. Once owned by President Ulysses S. Grant and home to a cabin the future president hand-built, the wildlife preserve had 550,000 visitors last year. It has free admission but visitors pay to park, and Anheuser-Busch InBev pays millions of dollars a year in operating expenses.
Wells Fargo, which is also a member of the Busch Family Real Estate Trust, approached the zoo in 2013 to say it was selling the property and wanted the zoo to buy it, Bonner said. A-B InBev would donate $30 million for the purchase.
The four siblings have hinted that going with Billy Busch's plan would make the property more likely to become a subdivision in the future since its operation would not be backed by taxpayer dollars.
If the four siblings prevail in court in March, the zoo could move forward with a sales-tax proposal the following year in the county and city that would provide the funds for the $3.5 million to $8.5 million the zoo would need for annual operating costs for Grant's Farm.
Giving residents the same presentation he initially gave for the Busch family, Bonner said if the zoo takes over Grant's Farm, the end result will be both familiar and completely new.
Anyone working in the zoo industry will agree that the St. Louis Zoo is one of the top five in the world, Bonner noted, but it stands out among the world's top zoos because it does not have land for a conservation breeding ground. It needs that land just to maintain the current animal populations at the zoo, he added. The space at Grant's Farm would be an internationally recognized breeding center, and its operation would kick up annual operating costs to $8.5 million.
The first visible changes under the zoo would include a new tram and new eight-foot fencing, replacing the chain-link fences but keeping the old-fashioned rifle-barrel fences. To keep its accreditation under the Association of Zoos and Aquariums, or AZA, the zoo would have to install multiple layers of fences and not have the free-roaming animals for which Grant's Farm is known.
Other more drastic changes could happen in five years if the zoo takes over, Bonner said. Neighbors told him they are wary of a zip line or skyride attraction, and Bonner said those are not required in the plan but just ideas of what could be possible.
One of the most dramatic changes could be which animals visitors would actually see at the farm. The scenic views of buffalo, elk, deer, cattle and mustangs at Grant's Farm are so cherished that they inspired the names of three new major developments across Gravois Road, including the Grant's View Branch County Library and two McBride Berra subdivisions.
But while the Clydesdales and free beer would stay, the large free-roaming animals synonymous with Grant's Farm would not be kept around if it became a satellite zoo, Bonner said. Cheetahs would be a more likely resident, he added.
"The others, we would find good homes for," he said.
The Bauernhof courtyard could become a farmer's market and farming demonstration area, which Valentine said she appreciated as a return to the property's roots as a working farm.
If a night zoo opened, lighting would be designed to not disturb animals or neighbors, Bonner said.
In response to residents' concerns that traffic already brings their neighborhoods to a standstill, the zoo director emphasized that Grant's Farm cannot handle any more visitors beyond what it has now.
Despite any evolution it would take under zoo ownership, Grant's Farm would remain a St. Louis institution, Bonner said, alluding to absentee St. Louis Rams owner Stan Kroenke.
"We're not going to pick up the St. Louis Zoo and move it to Los Angeles," he promised. "We've been around for 100 years, we'll be around for 100 years."
Among the public officials in attendance were the meeting hosts, the Grantwood Village Board of Trustees, along with Lindbergh Schools Superintendent Jim Simpson, Sen. Scott Sifton, D-Affton, 5th District County Councilman Pat Dolan, D-Richmond Heights, and Lindbergh Board of Education President Kathleen Kienstra, who lives in Grantwood Village.
The Grantwood board is not taking an official position on either plan and is looking to set up a similar event with Billy Busch, said board Chairman Kevin Kelso.
Sifton said he attended the event to learn more about the zoo's plan.
"People have strong feelings about Grant's Farm," he said. "I want to make sure that down the road, we do whatever we can to make sure that this is an area that is the way people think it ought to be."
But everything depends on the pending litigation, Sifton added.
"The question the community is going to have to answer is whether that change in ownership is going to mean a change in the use and character of how that land is used," he said. "The courts are going to have their say on that, and the community's going to have their say, too."