Residents divided on selling part of park for JB Cemetery
Final decision will be made by County Council members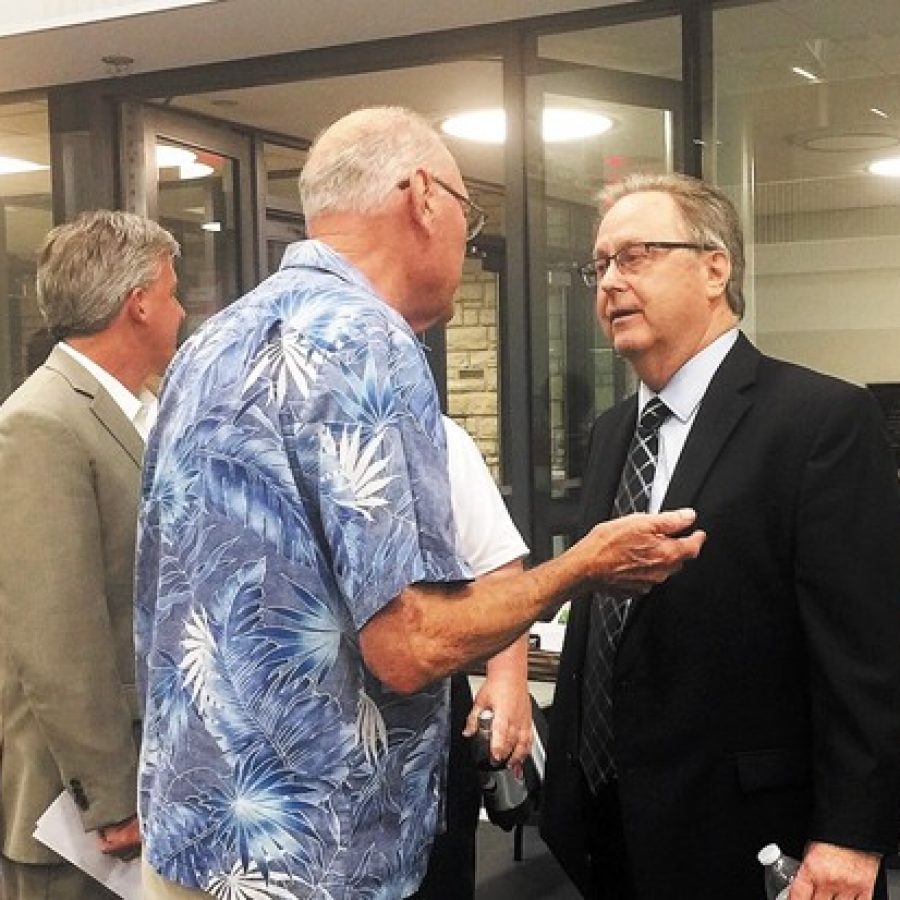 County officials looking for clear consensus on whether to sell half of Sylvan Springs Park to expand Jefferson Barracks National Cemetery didn't find it at two public hearings last week in Lemay.
In shows of hands at the end of two three-hour public hearings at The Pavilion at Lemay held July 21 and 23, 81 combined residents told county and federal officials they favor selling the park and 90 oppose the move.
Veterans Affairs, or VA, estimates that Jefferson Barracks, the fifth-busiest national cemetery in the country, will run out of gravesites by 2025 if it is not expanded.
County Executive Steve Stenger supports turning over 38 acres of the 72-acre park to the cemetery, but he has said public input will drive whether the county moves forward with the plan.
The roughly 500 veterans and south county residents who attended over the two nights of hearings were divided over the proposal.
Many park lovers said sacrificing Sylvan Springs would be at best only a short-term solution to the long-term problem of where Jefferson Barracks can expand.
The park property would bring seven more years of gravesites before running out of space again, which led Sylvan Springs supporters to say they fear the federal government — which cemetery director Jeff Barnes acknowledged has "no Plan B" for space — would take the rest of Sylvan Springs and then try to move into Jefferson Barracks Park.
Open Space Council Executive Director Kat Dockery noted that the addition of half of Sylvan Springs would only extend the life of the cemetery by 6.8 years.
"Now 6.8 years is not very long," Dockery said. "We've got to do better for our veterans. They deserve to be buried the way they want to be buried."
A series of residents at both meetings suggested the VA look into either purchasing or using eminent domain to seize the property currently occupied by Wal-Mart, which lifelong Jefferson Barracks resident Terry Barr noted makes his parents' grave site far from the peaceful resting place Jefferson Barracks promises to veterans.
"Their grave is right behind Wal-Mart," he said. "You think it's quiet there, peaceful? All that property should be taken by eminent domain. It's disgraceful … I think you should look at every option, every piece of land, before taking the park."
But many of the veterans who spoke said they earned the land through their service.
"What is more important, to bury a veteran or to have a place to walk the dog?" said World War II combat veteran Harrison Ochs, 93. "This is what we've fought for. This is an insult to every veteran sitting there. I think they deserve this ground."
Some veterans sided with the park, however, noting that they want other options to be explored first.
Others said green space can be found in the cemetery, which is "like the Discovery Channel," said cemetery worker John Nagel. "The wildlife is absolutely incredible."
Although federally owned land surrounds the nearby VA Hospital, VA officials believe it is easier to pursue more land through the county than trying to convince Congress to transfer federal land from one division to another.
The lack of a long-term plan on what to do for space led Sylvan Springs supporters to say they fear the federal government will eventually try to take the rest of Sylvan Springs and then Jefferson Barracks Park.
At least 15 property owners surrounding Sylvan Springs turned out for the public hearings, with many saying their homes will be jeopardized if the federal government begins to expand the cemetery into their backyard.
Speaker after speaker at the July 23 meeting told county officials that they believe the plan to sell the park is a done deal no matter what officials say.
"What are the long-range plans? Obviously there are none," Lynn Diedrickson said. "I hope this is not going to be one of St. Louis's famous, fast, shove-it-through decisions. All my family is buried there. I love the veterans, no one was more proud of his service than my father. This is not about people being against veterans and against giving veterans somewhere to be buried. This is about making sure that this is vetted properly."
Many veterans who spoke said they want all of Jefferson Barracks to be contiguous and rejected any option that could open a satellite cemetery in Illinois or Jefferson County.
"I don't want to be buried in Washington, I don't want to be buried in Virginia, I want to be buried in St. Louis," said St. Louis 12th Ward Alderman Larry Arnowitz, who is a veteran. "Nobody wants to take park land away … But I think there's room for everybody."
Others stressed the urgency of finding even a short-term solution.
"Yes, I walk my dog in this park," said Arnold Baum, a 26-year military veteran. "But please don't ask me to hurry up and die within the next five years so I can be buried next to my father."
Many of the veterans arguing against Sylvan Springs pointed out that it is not properly maintained by the county — its pavilion is in disrepair, and its bathrooms were closed down.
When neighbor Denise Bellville Allen asked Parks and Recreation Director Gary Bess why the county has neglected the park, he was straightforward that the lack of repairs was directly connected to the possibility of selling the park for cemetery space.
"Given that this portion of the park has been considered for sale since 2009, the desire to spend a lot of money on repairing, replacing and improving has been diminished," Bess said. "If the sale doesn't go through, it will be improved."
Two former county park officials argued in favor of keeping Sylvan Springs, including former Parks Director Bob Hall, who urged the VA to look at the surrounding federally owned property first.
"Why spend $1.7 million for a property here when you might be able to look at all the federal property in proximity?" Hall asked. "We've got about six years, and even this Congress can get that done in six years."
Those opposed to the plan are not "anti-veteran," said Marty Koch, who worked for the Parks Department for nearly 30 years.
"Every single person I've talked to wants to honor you. We just don't see this as anything but a stopgap effort," Koch said. "We see park land as being somewhat sacred. I respectfully ask that before we do this, every single other option is looked at. Believe me, if I thought this would solve the problem, then I would be 100 percent in favor of it. But I don't think it solves anything."
Residents can still weigh in on the proposal until the end of the month at an
.
Stenger is expected to take into account all the comments and a recommendation from the Department of Planning and make a final decision by the end of August, said Planning Director Glenn Powers.
Any recommendation would have to be approved by the County Council. Only two councilmen attended the hearings: 6th District Councilman Kevin O'Leary, D-Oakville and 2nd District Councilman Sam Page, D-Creve Coeur.